£100,000 Sport England funding gets girls moving in Sheffield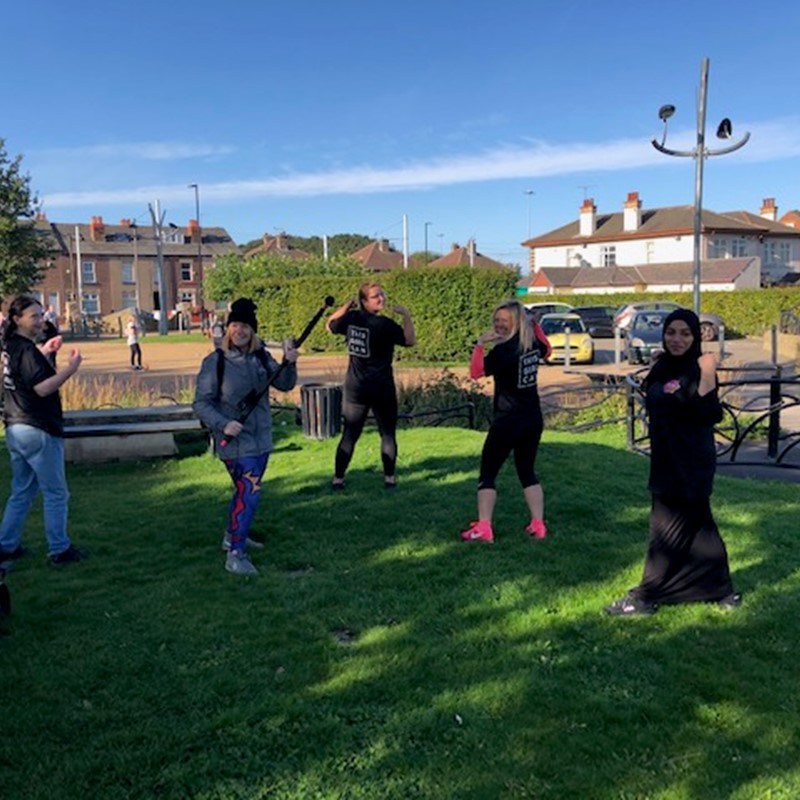 More women and girls in Sheffield will take up sport and exercise after we were awarded £100,000 of Sport England's This Girl Can funding.
The project aims to inspire more women and girls to get moving and to prove that the common barriers many women face such as judgement, time, money and energy can be overcome.
Sport England funding 
We made a successful bid to Sport England for the funding and is now working in partnership with local communities and community organisations to promote and deliver activities in a way that will reach more women and will help them to take up exercise that meets their needs.
Four community organisations; Manor and Castle Development Trust, Shipshape, SOAR and Zest, are leading this initiative across the city, each with a new dedicated This Girl Can officer recruited to work directly with women in the community.
Councillor Mary Lea, Cabinet Member for Culture, Parks and Leisure at Sheffield City Council, said: "Exercise has a huge positive impact on mental and physical wellbeing and we want all women to be able to enjoy being active no matter what barriers they believe are stopping them.
"This significant funding allows us to work closely with women and girls, getting to the heart of our communities so that we can identify the issues they face and tailor the way we deliver activities to overcome them.
"Exercise can be very easy here in The Outdoor City, where we have more than 800 green spaces, and whether it's a gentle walk, a short jog, fitness classes, or a walk or ride along the Trans Pennine Trail, we also have four fantastic dedicated women who are passionate about helping others become more active. Together we want to empower all women to find something that works for them, because we believe that in Sheffield, every girl can."
Since the funding was awarded in April, we have been developing plans to directly target local women and girls. After commissioning the four community organisations and recruiting the dedicated activity officers, community outreach work has already started.
Local This Girl Can officers
The local officers have been in post since the start of July and have begun conversations with women and girls across their local areas to identify activities they would like to take part in. This includes keep fit classes, online PiYo (a mix of Pilates and Yoga) classes and couch to 5k challenges.
As the officers immerse themselves in their communities, they will be looking to inspire more women and girls to take up physical activity and creating online communities to help support the women in their journey.
Monika is one of the officers on the Manor, their Facebook community now has 396 members talking, promoting and celebrating women who Move More.
Monika said: "This project means so much to me on so many levels and I am very grateful and honoured to be a part of TGC team.
"Our This Girl Can project has taken a flying start in our private Facebook group. We are aiming together to create a safe and positive space for all women, regardless of their age, shape, size or sporting abilities, and encouraging each other to move more.
"Women actively take part in sharing their daily achievements and inspirational journeys, taking family walks, doing Couch to 5K, wild swimming, cycling, yoga and so much more. Seeing women just like us, being active and enjoying life, supporting and building each other up, celebrating achievements, promoting body positivity, has a major impact on women's health and wellbeing, it motivates, inspires and empowers.
"It is an amazing opportunity to grow and influence a change, to share my personal journey, meet incredible women and spread positivity. I think introducing moving more gradually into life feels more natural, and doing it for yourself, measuring not inches or lbs, but feel good factor, doing whatever makes you happy and just have fun, can lead to a sustainable change.
"We hope that this project will leave a significant mark in each and every woman as well as the whole community."
Facebook member, Dawn, said: "I am having the best time sharing my experience. You have inspired me to push myself to look for new experiences and stretch my comfort zone. Like many of us I have struggled emotionally throughout the lockdown, I have had anxiety and felt a little low. After watching Kelly Anne and Dawn wild swimming I felt moved and just needed to try it. I am not a very strong swimmer and I am quite scared of dark water, but thanks to you I DID IT!
"It has made me feel energised, lifted and excited about what other new experiences are out there."
The project is funded for one year, during which time the council and community organisations will make the most of other schemes and activities such as Move More Month, Couch to 5k and the Walking for Purpose programme alongside other city wide physical activity initiatives, to motivate and encourage more physical activity amongst women.
For more information or to find out what's on or how you can get support to take up physical activity, contact Jo Pearce from the Partnerships, Sport and Health Team via email jo.pearce@sheffield.gov.uk