39 new council apprentices set to learn a trade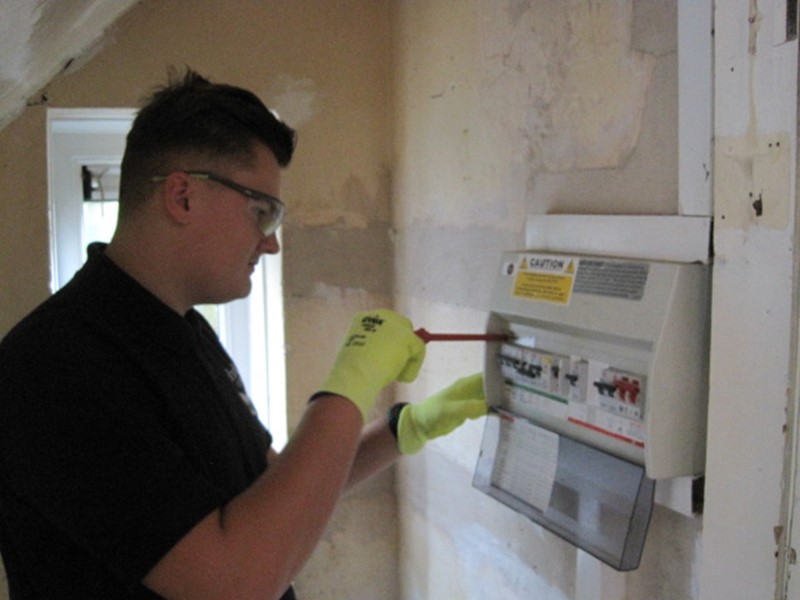 To create more opportunities for local young people, 39 new apprentices have joined Sheffield City Council this week, bringing our total number of apprentices up to nearly 100.
Ranging from age 16 to 21, male and female, our apprentices will learn a trade on the job, to become electricians, gas fitters, plumbers, joiners, plasterers, roofers, painters, co-ordinators or work in facilities management.
Based mainly at Manor Lane, they will carry out housing repairs on houses which are currently vacant, to bring them back to a standard where they can be rented out again. They will also work on building sites.
Learning a trade in this way leads to a National Vocational Qualification (NVQ) and each learning period lasts a minimum of two years, with gas and electrical training taking 4 years.
All apprentices are paid a minimum of £11,400, rising to a maximum of £17,900, the foundation living wage rate, dependent on age and duration of apprenticeship.
Councillor Paul Wood, Cabinet Member for Neighbourhoods and Community Safety said: "For the past three years we have taken on 20 apprentices each year so we've nearly doubled that number this time. It's a fantastic opportunity for our young people to gain employment and learn in-demand trades. We're responding to the current challenges of COVID by making sure we do what can to provide opportunities to our young people, who have so much to offer.
"The main thing is that local young people are getting the chance to be trained and we will look to employ them when their training ends if they are successful at their chosen trade. We're planning ahead as we want to employ local people on local projects as far as possible in the future. The repairs and maintenance work that we do as a council across the city employs 600 people locally via local subcontractors and we buy materials wherever possible locally too.
"We hope to see each our apprentices successfully graduate and maybe we will see some of them join our repairs and maintenance team which currently carries out 200,000 jobs per year with a budget of £38 million to maintain the homes and properties that are council-owned."
One of our current electrical apprentices, Jack, who is in his second year of his training said: "I'm enjoying my apprenticeship and learning a lot about the electrical side within Repairs and Maintenance. I made the right decision when leaving school to become an electrician and hopefully when I become fully qualified I'll be able to train and help future apprentices."
Lifelong Learning and Skills - apprenticeship awards
The council's Life Long Learning and Skills Team recently made a submission for apprenticeship awards around the work the council does with apprentices, from office-based to construction trades and to motor vehicle technicians. This also includes upskilling as well, with a number within Repairs and Maintenance Team currently following a team leader or management apprenticeship. Sheffield City Council was shortlisted for the Regional Yorkshire and Humberside Large Employer Award and at the virtual awards ceremony this week was announced as the regional winner. As regional winner the council team has now been automatically entered for the National Large Employer Award. The ceremony for this will be held towards the end of November.
Other stories you might like