48-hour trophies tour arrives in Sheffield on 200 days to go milestone until Rugby League World Cup kicks off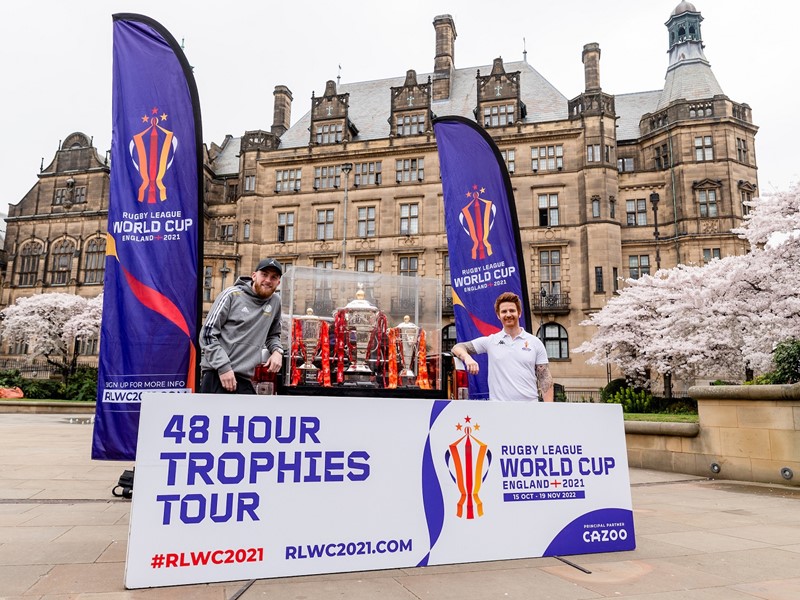 RLWC2021 mark 200 days to go milestone by taking the three trophies on tour to every one of its host towns and cities on a 48-hour tour
Starting in Newcastle and ending in London - the three distinctive trophies have been greeted by a unique event in each location, and were joined by RLWC2021 ambassador James Simpson, Sheffield Eagles, Sheffield Eagles Manager Mark Aston, Sheffield Sharks players Mike Tuck and Bennett Koch, as well as Sheffield United player, Oli McBurnie at the famous Peace Gardens in Sheffield.
A 48-hour ticket offer has launched where fans can buy a Category C ticket for a number of opening matches and get upgraded to a Category B, meaning you can secure the best seats in the house, with fans being able to secure an upgrade for England vs Greece at Bramall Lane.
Today (Tuesday 29 March) marks 200 days to go until the Rugby League World Cup 2021 (RLWC2021) makes a real impact across the nation when England take on Samoa in the tournaments' opening fixture at St James' Park, Newcastle on 15 October 2022.
To commemorate the milestone, the tournament has been undertaking a 48-hour trophies tour of the 18 host towns and cities in celebration of a 48-hour ticket upgrade offer, whereby fans can benefit from a ticket upgrade that is too good to miss. This means any fans that buy a Category C ticket for the men's fixture between England and Greece at Bramall Lane will have their tickets automatically upgraded to Category B.
The trophies tour, whereby the silverware from the men's, women's and wheelchair tournaments will be paraded around the towns and cities getting ready to host the 61 matches of the upcoming World Cup, commenced today (Tuesday 29 March) at 07:00 in Newcastle with RLWC2021 Ambassador Jason Robinson.
The tour then passed through Tees Valley, York, Hull and Doncaster before reaching Sheffield for its special event. Sheffield is playing a huge role in the tournament as England's group-stage clash against Greece takes place at Bramall Lane. The city will also host several of the wheelchair tournament's fixtures, including both semi-finals.
During the tour, the three trophies arrived at the famous Peace Gardens in Sheffield, and were be joined by RLWC2021 Ambassador and England Wheelchair international, James Simpson, and a plethora of Sheffield representing sports stars including Sheffield Eagles Manager Mark Aston, Sheffield Sharks players Mike Tuck and Bennett Koch, as well as Sheffield United player, Oli McBurnie.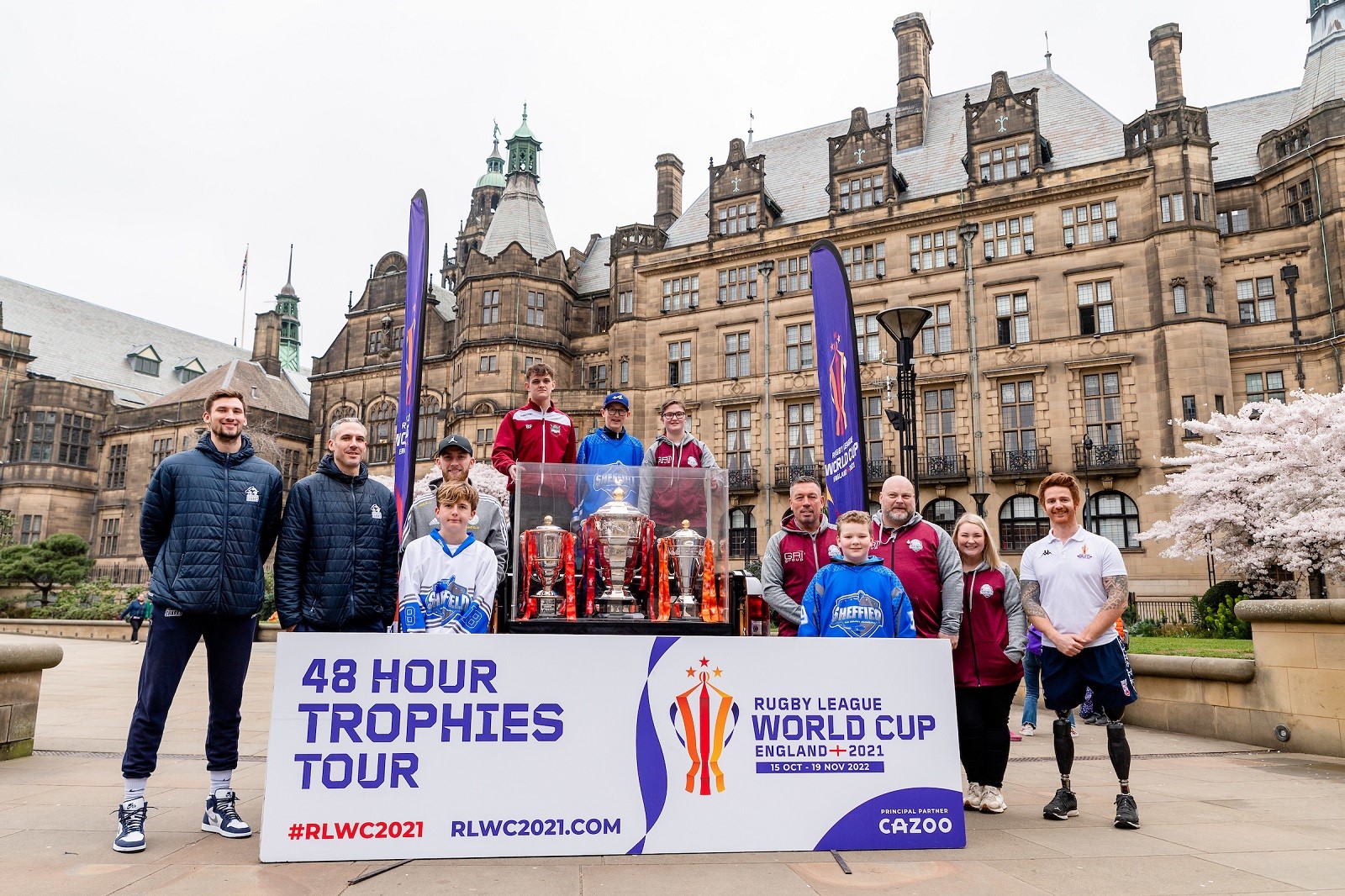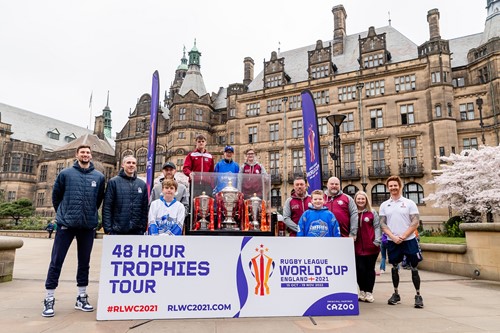 Sports representatives from across teams in Sheffield come together for the trophy tour.
The promotional tour features the tournament's new campaign 'This is Real Impact', to support ticket promotion and provide a platform to tell the many stories of the contribution the tournament is making in communities through its social impact programme and in respect to inclusivity in hosting the men's, women's and wheelchair tournaments under one World Cup for the first time in the sport's history.  
Jon Dutton, Chief Executive of RLWC2021, said:
"After an incredibly challenging couple of years for everyone, it is hugely exciting to be able to take our three unique trophies to each host partner as they put on their own celebration and make a 'Real Impact' in their local communities.
"We'd like to thank our partners in Sheffield for their brilliant event to mark the milestone. The road to RLWC2021 starts now and with this limited ticket offer and exciting new campaign being released, we hope to encourage fans up and down the country to obtain the best seats in the house at the best possible price." 
Gary Clifton, Interim Head of Major Events, City Centre and Markets at Sheffield City Council, said:
"It's great to welcome James and the trophies here today, bringing the tournament to life and celebrating just 200 days until kick off. In keeping with the tournament's inclusive values, we wanted to demonstrate that Sheffield is a diverse city of sport by having representatives from across the city's sporting disciplines and its fantastic to see them together here today.
"The Rugby League World Cup is yet another amazing opportunity for people in the city to experience world class sport on home turf and we can't wait to welcome players, visiting fans and local people to enjoy the excitement of the tournament."
Ticket prices for the tournament start as low as £2.21 for concessions, as the unique tournament will be one of the most accessible and affordable for fans with more than 80% of tickets priced below £50. Fans can purchase tickets via www.rlwc2021.com/tickets.
Follow the Trophies Tour live on RLWC2021's  official social media channels Twitter, Instagram, TikTok and Facebook, with exclusive content including interviews, event snaps and behind-the-scenes footage of the 48-hour tour.  
Other stories you might like