Artist chosen to create Sheffield's permanent Covid Memorial sculpture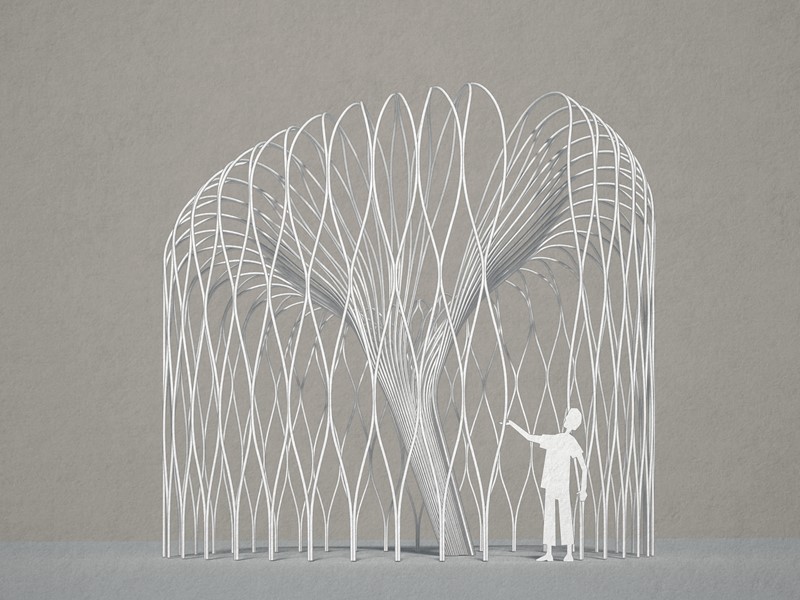 An artist has been chosen out of 14 entries to design and construct a permanent city centre Covid memorial sculpture, which will be located in Balm Green Gardens by Spring 2023.
George King, an architect and sculptor, of George King Architects, submitted a positive and confident application. He will use stainless steel to create a design based on a willow tree, and has already begun work on creating the sculpture.
The unique memorial, located in Balm Green Gardens, will be a meaningful, long-lasting, and creative tribute to those who have lost their lives, those who have worked above and beyond to keep people as safe as possible and those who have been affected by Covid.
This second phase of the Covid memorial programme asked artists to propose their ideas for how a memorial tree will reflect the thoughts, theme and sentiments gathered from Stories from the Pandemic, the first phase of Sheffield's Covid memorial programme. It is seen as significant artwork that will become a part of the physical and social fabric of the city.
The brief outlined that it was looking for artists with experience of producing work in the public realm and engaging with diverse, under-represented communities to develop ideas, build a sense of ownership and strengthen cultural provision. 
George said: "When we thought about Covid and how the pandemic affected so many people, the willow tree idea was powerful to us. A willow has a strong trunk which symbolises how people worked together to create the strength that was needed at such a difficult time. It is also a flexible and resilient tree, whilst also being delicate. When a storm hits, the tree bends with it. Its long branches sweep all the way to the ground and when it rains the droplets fall all the way down the branches like tears to the ground. When you stand underneath a willow tree you feel embraced and protected.
"It's an honour to have been selected to create this sculpture and it's a big responsibility. Covid affected everyone and we will take this project seriously to reflect people's experiences. We look forward to working with local steel fabricators in Sheffield and hope that people will be proud of the final piece, made in Sheffield for the people of Sheffield."
The memorial will be constructed using cast or fabricated metal to reflect the city's heritage and will include other durable materials. Its design will allow people to connect with it either by reading the stories and messages it holds or by attaching temporary messages or ribbons. Work will begin in the new year across Sheffield's communities focusing on how people can build a meaningful connection with the memorial.
Sitting within the planted garden, the sculpture will provide a focal point to the space for people to pay their respects and place tributes and memories and be a symbol that people from all cultures can understand and relate to and be accessible to everyone.
The existing Balm Green Gardens will be upgraded alongside this project, including creating better accessibility for anyone with a disability.
Councillor Terry Fox, Leader of Sheffield City Council, said: "We've worked hard to get this point so I'm really pleased that work can now begin on the sculpture which will serve as a permanent memorial to those who have lost their lives, those who have worked above and beyond to keep people as safe as possible and those who have been affected by Covid.
"It sounds wonderful, and I look forward to seeing it in place, as somewhere where anyone can go and just stand and look at it or inside it, to reflect, be thoughtful and show compassion. Covid was difficult for everyone in all sorts of ways, but for some people its effects will last a lifetime. We are acutely aware that some groups were disproportionately affected by Covid, and we are committed to making sure their voices are reflected in this memorial and committed to reducing the inequalities we see in the city as much as we can.
"It's good to see the involvement of Sheffield people, groups and organisations who have been helping to shape our memorial activity here by sharing stories at https://www.sheffieldstoriesfromthepandemic.com/ , getting involved in local memorial activity and by participating in this Balm Green Gardens project."
The selection process was run by Sheffield Museums on behalf of Sheffield City Council.
For information:
'Stories from the pandemic' is the first part of the memorial programme and residents, community and voluntary groups and city organisations have been responding to it by sharing their stories about the pandemic at https://www.sheffieldstoriesfromthepandemic.com/ or via postcards which are available in libraries, museums and other city venues.
The postcards have been designed to encourage people to share their stories, thoughts, or experiences about something small that made a big difference, something they are thankful for, a significant moment, the small acts of kindness they experienced or something they have learned or about their feelings of loss.
The project is being delivered by Opus Independents, Compassionate Sheffield and Sheffield City Council and its Sheffield City Archives Service, working with a range of organisations. The trailer at https://vimeo.com/691359219 documents some of the stories that have already been gathered to launch the 'Stories from the Pandemic' project. www.compassionate-sheffield.co.uk connects and supports people, communities, and organisations to harness the power of compassion. It was often the small acts of kindness that made the biggest difference to people during the pandemic.
Every story and experience collected will be made live at https://www.sheffieldstoriesfromthepandemic.com/ and plans are in development about exhibiting the gathered stories. They will go on to form a lasting archive of Sheffield's Covid stories, focussing on what the pandemic meant to our communities, and will become a part of our recorded history.
Local memorial activity is also part of the first phase of the overall programme, where community groups have recently been given the opportunity to bid for up to £2,000 per community group to carry out local memorial activity in their neighbourhoods.
The key focus of the overall programme is to make sure that Sheffield residents, community and voluntary groups and city organisations have tributes, locally and centrally, of which they can be proud.
Other stories you might like