Bin there, chuck that - new bin wraps appear across Sheffield

New colourful bin wraps have started to appear on litter bins across the city, designed by local artist, Luke Horton.
Following on from a successful 'Tek it ome' litter campaign across Sheffield's parks & green spaces last summer, the council's Highways teams have now teamed up with Luke to design new bin stickers for street bins.
Using local Sheffield slang 'Chuck it in' & 'Purrit int bin' it's hoped that the new vibrant designs will make the litter bins stand out and encourage people to dispose of their rubbish in the right way.
The council's highways contractor, Amey, have a regular schedule of litter clearance in areas across the city as part of the Streets Ahead programme. Working closely with community litter picking groups and local schools, they are also involved in several initiatives to help keep Sheffield a clean and tidy place to live.
Councillor Joe Otten, Chair of the Waste & Street Scene Policy Committee at Sheffield City Council said:
"We have over 3000 litter bins on Sheffield's streets that are maintained and emptied by Streets Ahead and it's been great to work with a local designer to make some of these bins brighter and more visible.
"The responsibility for keeping our environment clean and litter - free falls to all of us and we want everyone to make use of the bins available.
"Nobody wants to see litter on the streets and I'm hopeful that these new bin stickers encourage more of us to purrit int bin!"
Luke Horton, Sheffield – based Artist said:
"It's been an absolute pleasure creating these designs for Sheffield City Council, to help spread the important message about people using bins to get rid of their rubbish. I hope it makes a real difference and gets people thinking about chucking their litter in the right place."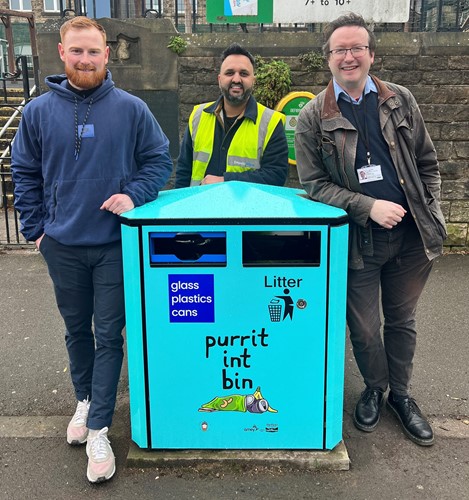 From left to right: Artist, Luke Horton, Khalid Mahmood, Imperial Signs and Cllr Joe Otten
The bin stickers have been evenly distributed across different prominent locations in the city as well as in busy pedestrian areas where it's hoped they will have the biggest impact.
Let us know if you spot one of our new bin designs by taking a photo and tagging Streets Ahead on Twitter @sccstreetsahead
Find out more about how the council manages litter or report any issues at: Litter and fly-tipping | Sheffield City Council
Other stories you might like