Brighter future for local cultural and creative industries

Cultural and creative industries in South Yorkshire are set to receive £1 million central government funding to support their work in the region.
The funding is in recognition of the value the cultural industry has to the local economy and the key role the sector will play in recovery and renewal, by creating jobs, enriching the lives of local people and reinforcing South Yorkshire's reputation as a tourism destination.
£280,000 has been allocated to Sheffield, with £120,000 added to the Freelancer Fund Round 2, initiated by the Sheffield Culture Consortium in the Spring and administered at no cost by Sheffield Museums and Site Gallery. 75 creatives will be supported directly along with 5 organisations working on collaborative projects.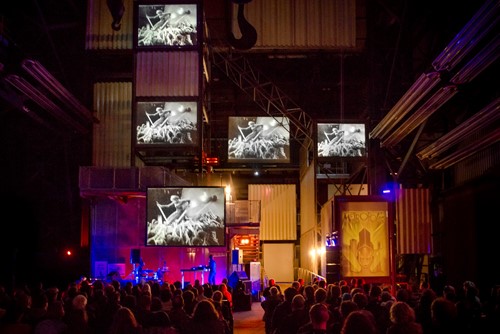 Film exhibition from Sensoria festival 
The remaining £160,000 has been divided equally between the four artforms of film, performing arts, live music and writing. The funds will be given to local organisations that aim to bolster Sheffield's cultural and creative sector through their strong networks and commitment to reaching a wide range of creative businesses and audiences:
an open call of small grants will be announced for film productions and events. The grants will help to sustain and increase film screenings and diverse exhibition projects in the city; stimulate new film/video production projects by local filmmakers and companies; enable completion of new film/video projects; support new film project releases including assistance with marketing and audience development or to support film release strategies. The project will include an independent assessment panel.
£20,000 will be made available in small grants of up to £4,000 to Sheffield-based performance companies and artists hit hard by lockdown and coronavirus-related restrictions, as well as local businesses that support them. Theatre Deli will directly commission Sheffield-based performance companies and artists to develop and perform new and existing work for its 2022 artistic and community outreach programmes.
Through a steering group including And Other Stories and The Poetry Business, the fund will support writers and poets who are seeking to develop their creative practice, to support diverse artists in their development.
The project will involve multiple grassroots, independent music venues to programme a series of free and diverse music trails for the public.  19 venues will be part of 'Sheffield Winter Music Trails', a replica of the hugely popular 'Sheffield Music Trails' that were carried out in the Summer of 2021.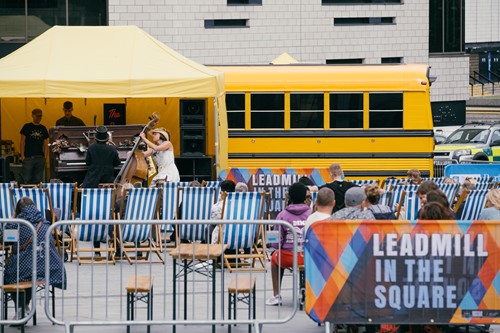 One of this summers' 'Leadmill in the Square' events in Tudor Square
This funding, provided through South Yorkshire Mayor, Dan Jarvis, will be independently evaluated, to demonstrate the value of economic recovery funding to creative and cultural organisations.
Councillor Mazher Iqbal, Sheffield City Council's Executive Member for City Futures: Development, Culture and Regeneration, said:
"I welcome this opportunity both to support creative freelancers in Sheffield who underpin the sector, and to build on some of the many strengths of the city's cultural and creative industries – music, film, performing arts and independent publishing. 
"We want Sheffield's creative businesses and freelancers to recover and thrive after the difficulties brought about by Covid, and as the challenges continue, this much needed funding will support that recovery.  Our diverse and eclectic sector make us proud of our city and have such an important role in our future."
South Yorkshire Mayor Dan Jarvis, said:
"There is no doubt that South Yorkshire is home to a wealth of creative talent.  The arts, culture and heritage sectors have been hit hard by the impact of the pandemic and investing in these areas is an essential part of their recovery and renewal.
"If supported and nurtured, the Creative Industries can help drive growth in our region and realise untapped potential. Culture adds colour to people's lives and I hope this funding will help make our region a great place to live, study, work, visit and invest in."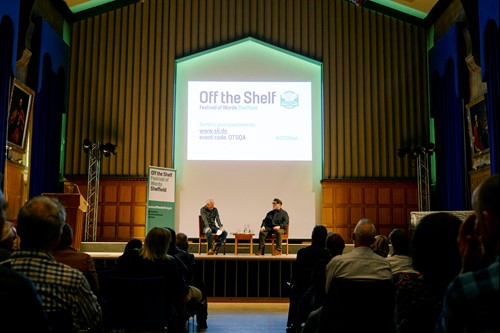 An 'Off the Shelf' event from the 2021 festival
Research by the University of Sheffield has revealed that the sector in South Yorkshire is one of the most affected by Covid-19 across the UK with an estimated sector output loss of 22 per cent - five per cent more than the UK average. This is thought to be because South Yorkshire has the highest share of jobs in the hardest hit sub sectors of arts, culture and heritage. 
Findings from the study captured the experiences of venues, freelance workers and audiences in Sheffield in particular throughout the pandemic. A major finding from the research revealed that lockdowns and restrictions have had a profound impact on the economic circumstances and wellbeing of freelance workers. 
To find out more about this funding and the associated projects contact:
Other stories you might like