Celebrate this Christmas in Sheffield city centre

Sheffield will come together this Christmas to celebrate the festive season, with the Christmas Lights Switch On event, a Christmas Market, Santa's Grotto, the big wheel, festive bars and more, kicking off from Friday 18 November.
The Christmas Market, festive bars, rides and big wheel will all open on the 18 November and the big light switch on event will take place on Sunday 20th.
Councillor Martin Smith, Chair of the Economic Development and Skills Policy Committee, said: "Christmas is a time when we come together with family, friends, and colleagues, lifting our spirits and bringing a lot of joy as the winter draws in.
"It's also a crucial time of year for independent businesses and our hospitality industry so it's more important than ever that we support them during this period.
"We've got all the usual festive treats and activities on offer for everyone to enjoy. A little bit of Christmas magic can bring a lot of cheer and I think we all need that right now."
What's On
Christmas Market – from 18 November
Sheffield's Christmas Market is back in the city centre from Friday 18 November until Christmas Eve.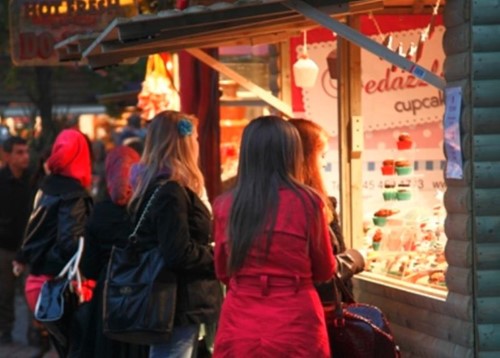 People browsing the Christmas Market on Fargate
Shoppers can enjoy that festive feeling as they browse a huge choice of seasonal goodies on offer from the traditional wooden cabins located on Fargate, Peace Gardens and the Moor. It's the perfect place to stock up on gifts, foods, and treats.
Traders will be selling a range of gifts, crafts and refreshments from 10am to 6pm each day until Christmas Eve.
Children's rides & Grotto – from 18 November
Children's rides will be around the Peace Gardens and the Big Wheel will be on the Moor.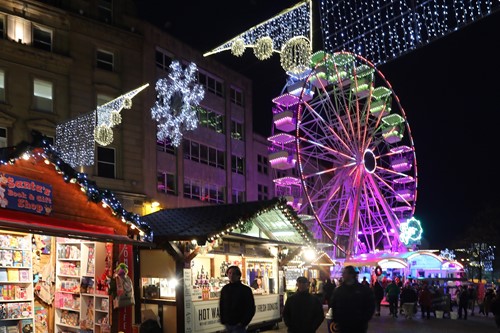 Big wheel on Fargate in 2021, this year it will be on the Moor
Santa and his elves are busy getting ready to visit Sheffield! They'll be in the grotto at the edge of the Peace Gardens on Pinstone Street from 18 November - 24 December. Come for a visit to let them know what's on your Christmas wish list - and if you've been naughty or nice! The grotto doors are open between 10am to 6pm weekdays, 10am to 7pm Saturdays and 11am to 6pm on Sundays.
Festive bars – from 18 November
The double decked Alpine Bar will once again be in the Peace Gardens.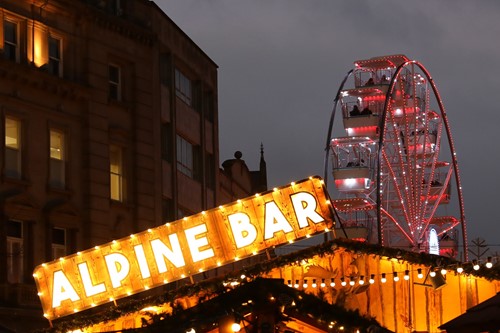 Festive Alpine Bars will be in the Peace Gardens and on The Moor
It's the perfect place to enjoy a hot chocolate or a glass of mulled wine (open from 10am – 10pm daily, until 24 December) whilst you're out enjoying the city centre.
The original Alpine Bar, usually at the top of Fargate will be located on The Moor.
Light Switch On – 20 November
This year's Sheffield Christmas Lights Switch On will get the festive season off with a bang as we celebrate the illuminations with fun and fireworks.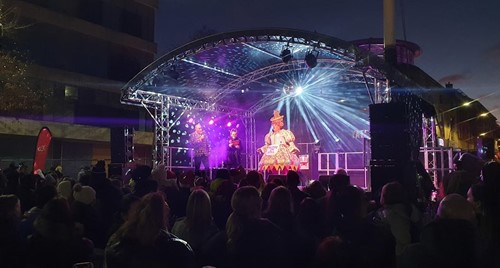 Heart Yorkshire's Dixie & Gayle on the stage with Panto Legend Damian Williams at 2021 light switch on
Taking place across the city centre on Sunday 20 November from 2 to 6.30pm, with a dual switch on of the illuminations from Barkers Pool and Town Hall Square at 6pm.
Activities include street entertainers, choirs, dance, panto and of course some special guests to switch on the lights, with a programme of music and entertainment from our Media partner Heart.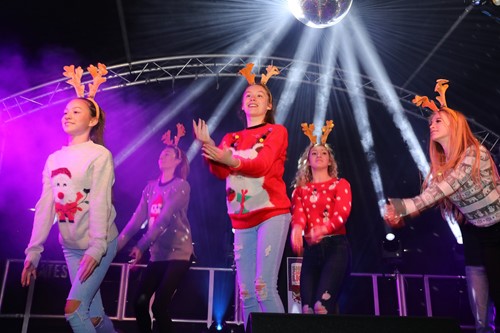 Festive dancers take to the stage in 2021
More details will be announced next week about who will be taking on the big switch this year.
Fireworks will follow the switch on and you'll be able to see them from Barkers Pool, Pinstone St, the Peace Gardens, Fargate, Surrey St and Cambridge St.
People will also be able to enjoy the market, bars, rides and Grotto stretching from Fargate right down to The Moor.
Events info
Follow Sheffield Events on Facebook or sign up to the regular events emails to keep up to date with the latest events information in Sheffield.
Other stories you might like