Chapel Walk transformation continues with £1.24 million investment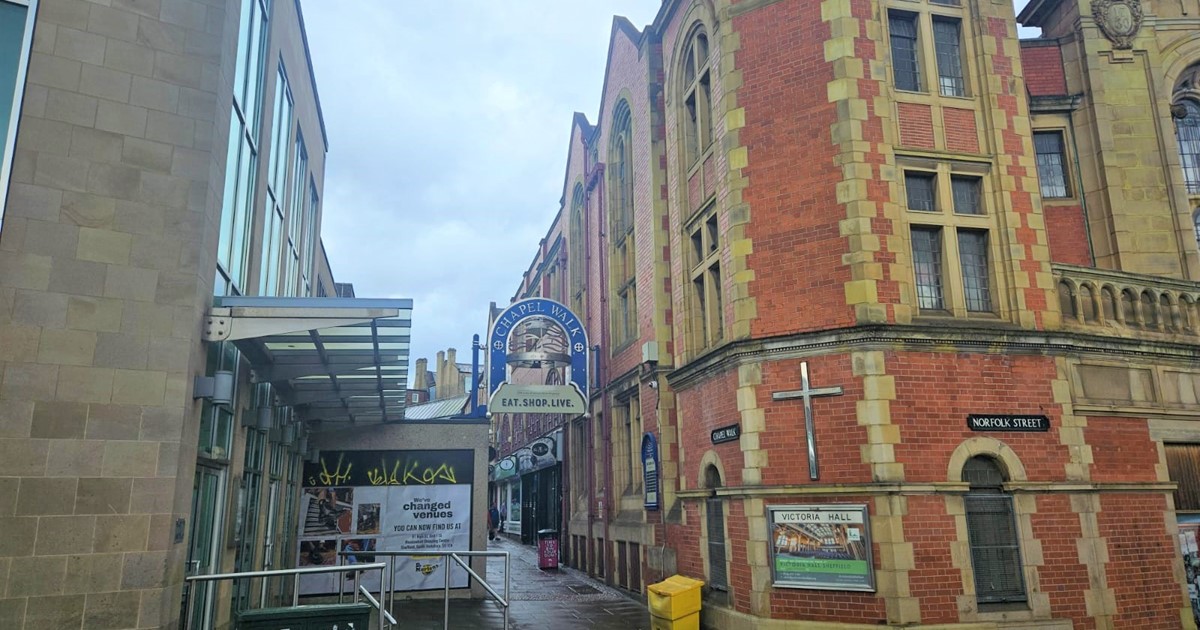 Chapel Walk's transformation is set to continue as Sheffield City Council awards £1.24 million to local businesses to create a vibrant city centre destination.
Two organisations will receive grants to improve shop fronts and increase accessibility to the upper floors of property on Chapel Walk whilst small or new businesses will be able to apply for funding to move into empty shop units. Funding for new public artworks will brighten up Chapel Walk for visitors.
The funding comes from the Fargate Front Door Scheme, a £4.015million investment in shop fronts, access, and environmental improvements to make the area more attractive and fill empty shops. It forms part of the Future High Streets Fund plan to regenerate Fargate and surrounding streets.
The scheme has already funded improvements to 33-35 Fargate, Orchard Square, The Montgomery Theatre and small businesses through ReNew Sheffield. The latest round of funding will focus on Chapel Walk and make the area more appealing and accessible to visitors, increasing footfall and supporting businesses.
The Sheffield Church Burgesses Trust will receive £250,000 to improve its shop fronts and support works to improve access inside the building to create new workspace in the empty upper floor. Whilst the Foundry Sheffield will receive £650,000 to improve its shop fronts, improve ground floor access and reconfigure upper floors at Victoria Hall.
£90,000 will be made available to help small and new businesses with fit out costs if they're moving into a vacant property. Another £250,000 will be used to install public art to make Chapel Walk a pleasant and interesting place to visit.
The funding is part of plans to regenerate Fargate into a lively and vibrant place to meet, eat, shop, work and play. The Future High Streets Fund project also includes plans to turn 20 – 26 Fargate into an events and cultural hub, and investment in public realm to create space for events, reduce crime and improve walking and cycling routes.  
Funding was approved by Sheffield City Council's Finance Committee on 10 July.
Councillor Ben Miskell, Chair of the Transport, Regeneration and Climate Committee said: "Chapel Walk has a proud history as one of the city centre's most loved shopping streets and this funding will give a new lease of life to the area, attracting new visitors and providing a boost for businesses.
"By enabling local organisations to upgrade their shop fronts, installing new public art, and providing grants to encourage small and new businesses to move into empty units, this funding will transform Chapel Walk into a fantastic place to visit in the city centre.
"Fargate is a hive of regeneration activity, with an incredible amount of work going on through the Future High Streets Fund projects. Once complete, Fargate will be a vibrant, welcoming and thriving city centre space that Sheffielders can be proud of."
Councillor Zahira Naz, Chair of the Finance Committee, said: "It is fantastic to approve spending to help transform Chapel Walk, as part of our wider plans to regenerate Fargate and the surrounding area.
"Investment in the area will unlock opportunities for new businesses, improve footfall for existing businesses and make the area more attractive for visitors. By investing in the Front Door Scheme we're making Chapel Walk and Fargate into a must visit destination to eat, shop and relax."
Rose Durrant, Chief Executive of Victoria Hall, said: "The team at The Foundry Sheffield are delighted that the Future High Streets Fund has recognised the Victoria Hall's place at the heart of Sheffield city centre and its place in the future growth of the community.
"The Victoria  Hall has served the people of Sheffield since 1906 and this funding will ensure that it continues to do that for future generations, ensuring the building is relevant for a changing society and enabling us to continue or expand provision for those most in need.
"The funding will see the installation of new lifts, giving better access to the main hall and all other areas of the building and there will also be new bathroom and kitchen facilities and investment in new frontages for the hall's Chapel Walk shops.
"As we continue to develop our reputation as a prime space for conferences, concerts and other events, this level of investment in the future can only help us to make even stronger our position as a major city centre venue and one that really is welcoming to all people."
Diane Jarvis, Head of Business Operations at Sheffield BID, said: "This is further positive, welcome news for the city centre. These latest investments will play a key part in continuing the regeneration story of the wider Fargate, High Street and Chapel Walk area.
"Anyone who has visited this part of the city centre recently will have seen that the whole area is going through a rapid period of change as the city centre continues to adapt to changes in visitor and consumer behaviour. The businesses in and around the area continue to deliver a first-class retail experience during the works on Fargate. We're confident that the end results will speak for themselves and Chapel Walk will once again be a 'must visit' destination for city centre visitors. These are exciting times for the city centre and, as funding partner to ReNew Sheffield, we're delighted to be playing a direct role in this transformation."
Other stories you might like