City centre reopens under stage 2 of Roadmap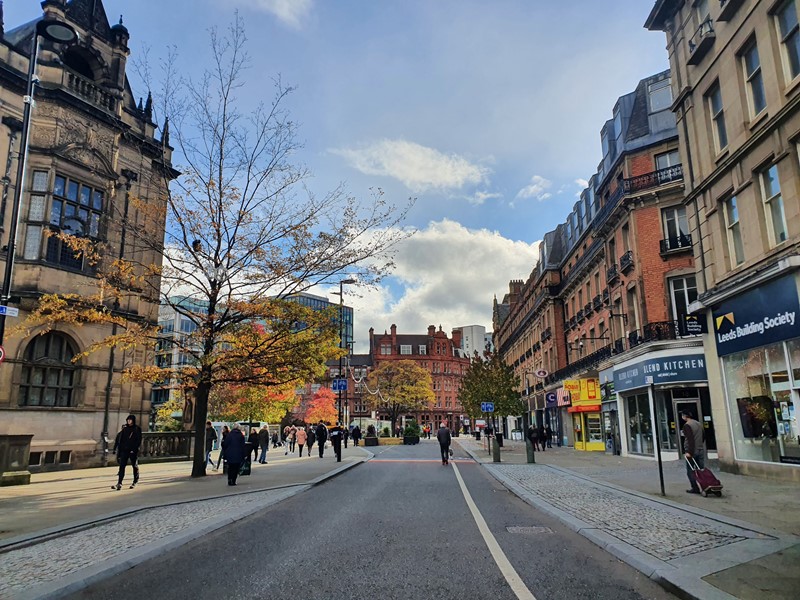 Sheffield's businesses reopened their doors this week in a welcome return to trading, with many people taking the opportunity to visit local shops, hairdressers, get back to the gym or outdoor sports and enjoy al fresco dining and drinks at their favourite restaurants and bars.
The Council has been working with businesses across the city to ensure that the partial reopening under stage 2 of the Government's Roadmap is taking place safely and that businesses are operating in a Covid-secure way. Business Sheffield's Information Officers have been visiting businesses to help them plan their reopening and to prepare for the next stage of the Roadmap, which will take place no earlier than 17th May. The team of retail and hospitality experts are working across the city centre and in district centres to provide in-depth support to businesses who have been severely impacted by restrictions during the pandemic.
As well as in-person support, the Council has also created a reopening guide for businesses able to reopen from 12th April, containing links to Government guidance, essential checklists and other information that businesses may find useful as they reopen. The guide is not intended to replace official Government guidance but is designed to help businesses navigate the large volume of information available online.  The full guide is available to download here.
The guidance will be updated to reflect new guidance from Government as it is announced and will be kept up to date with the latest advice and requirements.
The easing of restrictions on Monday has seen a significant rise in the number of people travelling to the city centre, with more than 40,000* people visiting the area on Monday, over double the number of visitors the previous week. To help maintain social distancing and ensure the safety of their customers, the Council has provided businesses in both the city centre and local high streets with floor stickers and signage to be used to control queues and remind people to socially distance.
Cleaning and graffiti removal has also taken place in the city centre and local high streets across the city, ensuring that the areas are refreshed following a long period of low footfall due to lockdown restrictions.
In total, the Council's Licensing, Environmental & Regulation, City Centre Management and Events teams have carried out over 11,000 interactions with businesses to support them to be Covid-secure, ranging from visits and phone calls to investigations following complaints.
Edward Highfield, Director of City Growth at Sheffield City Council, said:

"The past year has been exceptionally hard for so many businesses in Sheffield who have been unable to operate as normal due to the pandemic, so we know that the lifting of some restrictions this week has been a big relief to many business owners, as well as their customers. I'm really pleased to say that we've had an overwhemingly positive reaction to reopening so far and that people have generally been visiting premises safely and in line with the guidance. We've seen most businesses working hard to establish a creative, attractive environment to welcome people back, especially in sectors such as outdoor hospitality, and I think that reflects what Sheffield's business ethos is all about and the pride our local businesses have in what they offer. I hope everyone continues to support local businesses and enjoy them safely in the weeks ahead."
Richard Eyre, Interim Director of Operational Services at Sheffield City Council, said:
"Footfall in the city centre and district centres is starting to increase which is great for businesses and the city. We need to take small and careful steps as we start to come out of the lockdown and our teams will continue to visit businesses to work with them and make sure their staff and members of the public's safety is looked after.
"I'm pleased that the vast majority of businesses are pro-active and doing all they can, however there are still a minority that go against this and where this occurs we will carry out appropriate enforcement."
Outdoor hospitality has been one of the key changes in stage 2 of the Roadmap, with pubs, bars and restaurants now able to serve customers outside in groups of six or two households. To help businesses maximise their outdoor space, the Council created a free temporary 'Pavement Café Scheme' last year, which gives businesses the opportunity to use the pavement space next to their premises for tables and chairs, without requiring the usual planning permission, until the end of 2021. Over 60 businesses across the city have applied for the scheme so far. More information about the Pavement Café scheme, including how to apply, can be found on the Sheffield City Council's website, here.
Business Sheffield are on hand to provide support and advice for businesses on any aspect of reopening and Covid-19 restrictions. They can be contacted on 0114 224 5000 or by email at businesssheffield@sheffield.gov.uk.
Other stories you might like