City centre set for transformation as 20-year plan to be agreed
A new plan for the future of Sheffield city centre will see a host of new bars, restaurants, shops, and thousands of new homes springing up from the Moor to Castlegate over the coming years, following consultation with residents and businesses.
More than 1500 people responded to the proposals set out in our City Centre Vision, which will focus development in the city centre on a new set of priorities. Three quarters of people agreed with themes we identified as most important for future development, which include: quality green spaces, health and wellbeing, inclusive neighbourhoods and new homes, culture, heritage, leisure, retail, sustainability and net zero.
As part of the consultation, we asked people to share their views on options for the future of the former John Lewis site, Fargate, High Street and Castlegate. The feedback on Castlegate and Fargate showed strong support for the proposals and work has started on implementing the schemes.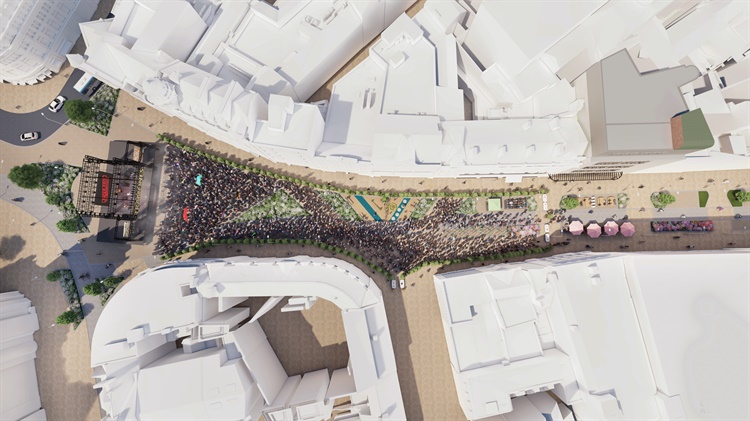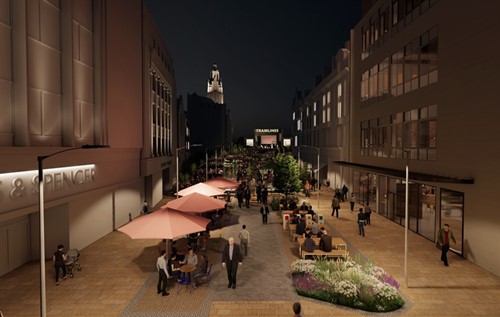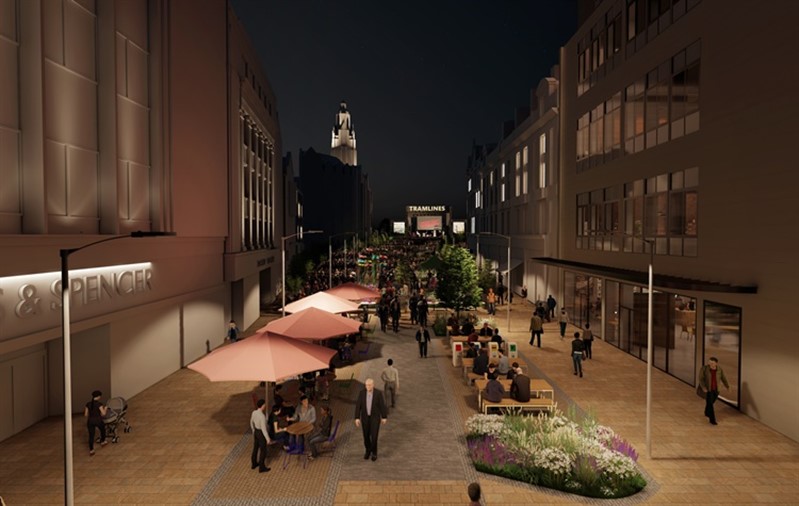 Artist impression of how Fargate could look under the council's plans. 
The consultation on the John Lewis site demonstrated a clear preference for replacing the current building with a smaller building and outdoor space.
Following the consultation feedback, we will now start to explore options for the future of the site, including welcoming proposals and interest from potential developers to redevelop, replace or reuse the building. We will assess all proposals and expect a final decision to be taken by the end of the summer.
In the meantime, we'll be removing asbestos from the building so that any new project has a head start. The removal works will begin in May and are expected to be completed by the end of the year.
Cllr Mazher Iqbal, Executive Member for City Futures: Development, Culture and Regeneration, said:

"Creating this shared Vision for the future of the city centre is a major step forward for Sheffield and will help us to make sure that our city continues to thrive for years to come.  It's clear for everyone to see that despite the challenges we've faced over the past couple of years, Sheffield isn't slowing down, and our city centre is quickly becoming a major destination for people to live, work and visit.

"This has been a really good opportunity to hear what people think about our city centre and to get residents and businesses involved in shaping our next steps together.  We will continue to deliver fantastic new developments that reflect what people really need and want, starting with seeking proposals for the former John Lewis building that will provide something special for Sheffield. We have already had a lot of interest in the site, and we are confident that we will receive some great proposals."
The Vision will build on work already taking place across the city centre, including the £470m Heart of the City scheme, which has introduced Marmaduke's, Monki, Weekday and The Furnace to Sheffield, to name a few. Changes to the city centre landscape are evident everywhere, from Leah's Yard on Cambridge Street, which is set to open in early 2023, to the construction of a Radisson Blu hotel on Pinstone Street.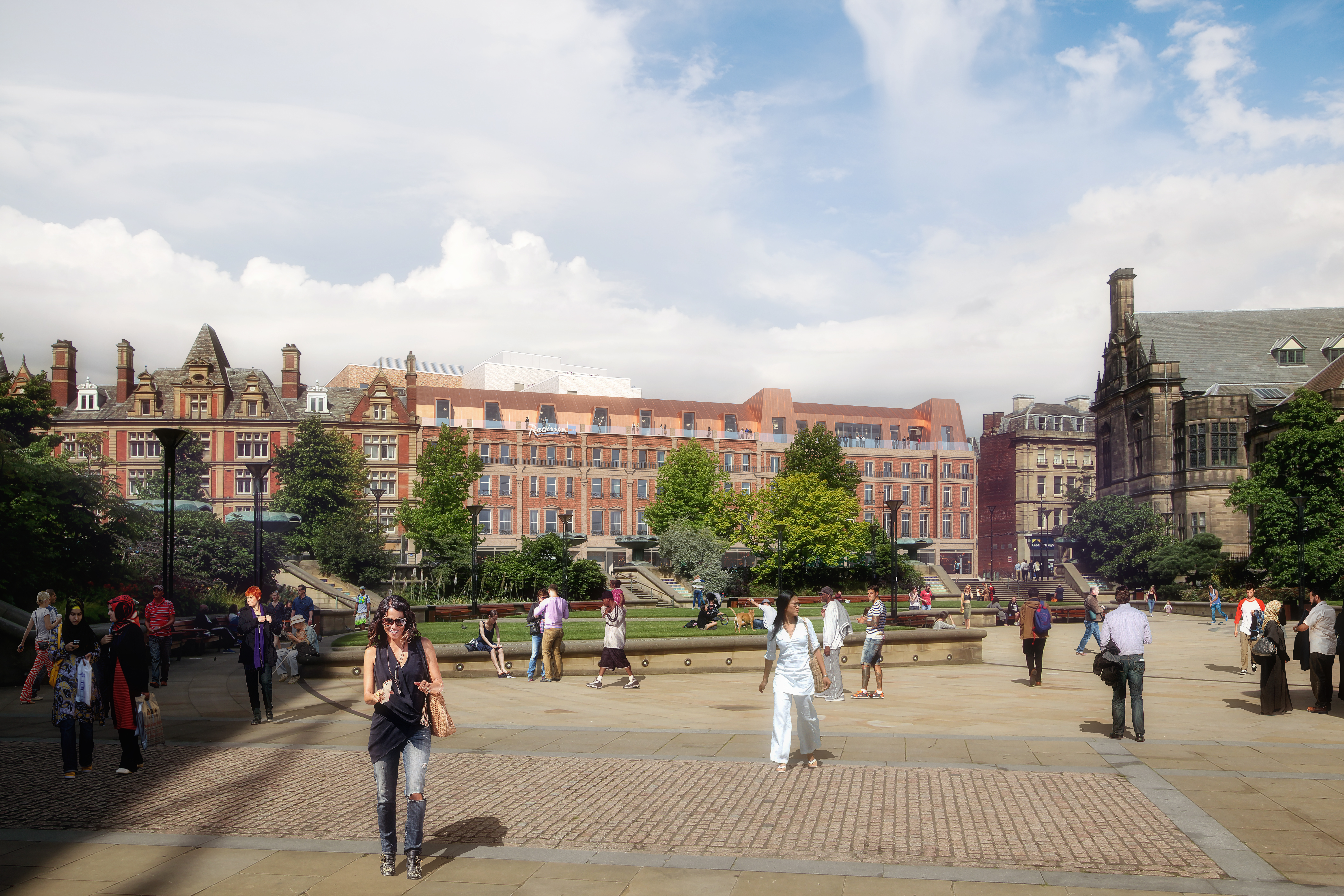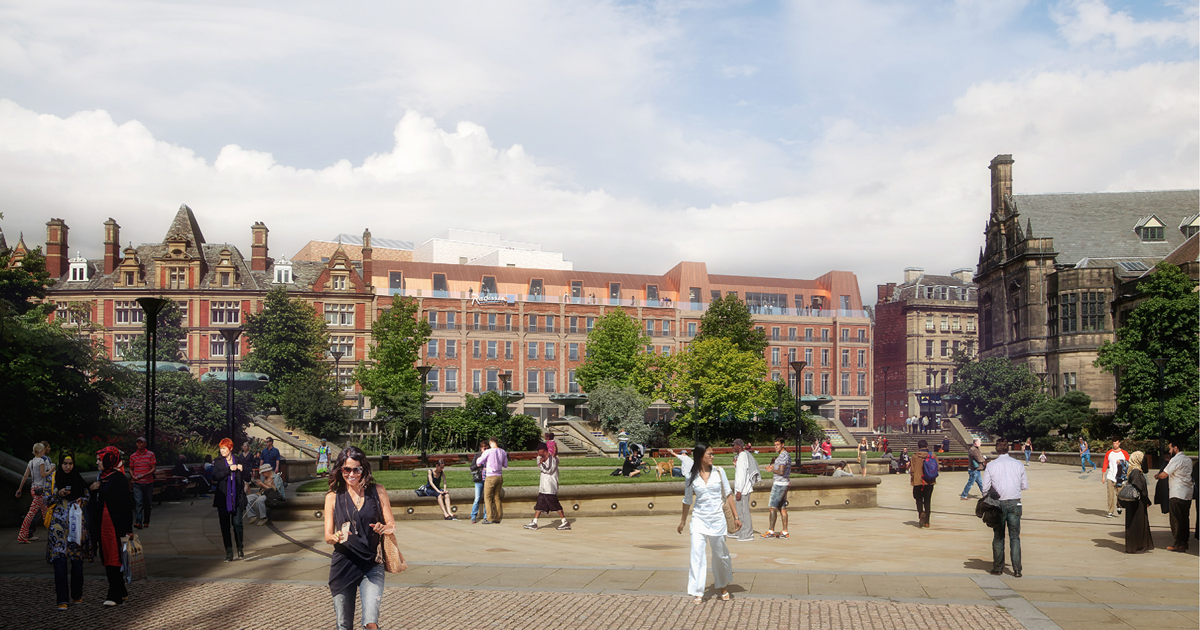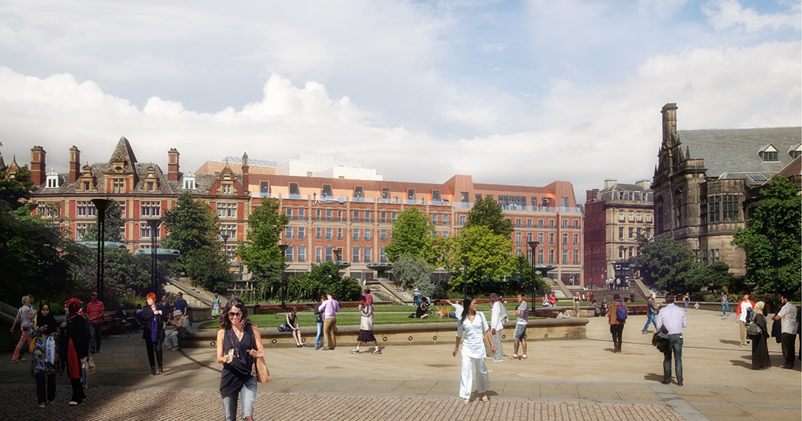 CGI image of Radisson Blu when completed on Pinstone Street.
Millions of pounds of investment have also been secured to rejuvenate Fargate, High Street and Castlegate. Event Central, a six-storey flagship building on Fargate funded by the Future High Streets Fund, will combine an event space with opportunities for people to meet and work. The area will be made more attractive, with a new focus on outdoor seating, building on the budding pavement café culture that has become popular in other parts of the city centre, such as Division Street. 
Castlegate is to receive £20m of funding from the Levelling Up Fund to restore its reputation as Sheffield's ancient hub and will see the River Sheaf de-culverted to provide a new focal point in the area, with new greenery and public spaces making it an attractive place to visit. The fund will also help create two new arts destinations in the city centre in a boost to Sheffield's creative scene: Park Hill Art Space and Harmony Works.
The regeneration work taking place means that quick, efficient transport links are more important than ever, and travel is also being revolutionised across the city through Connecting Sheffield. New cycling and walking routes and quicker bus journeys will give people better choices for their trips in and around the city centre.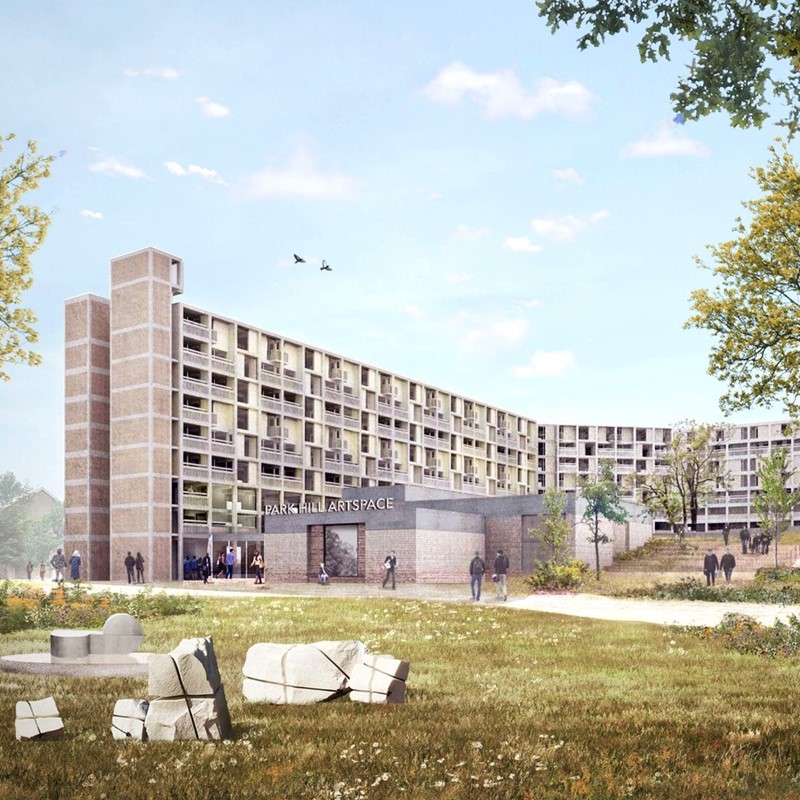 CGI image of Park Hill Arts Space, which will be funded by the Levelling Up Fund. 
Improving walking, cycling and public transport routes is key to addressing the climate emergency Sheffield is facing, and is one of the ways in which the city centre will be a blueprint for future growth, with sustainability underpinning all aspects of the City Centre Vision.  Building new homes in the city centre will relieve the pressure for development elsewhere and protect biodiversity, whereas championing green space will help to create a healthy, resilient city for generations to come.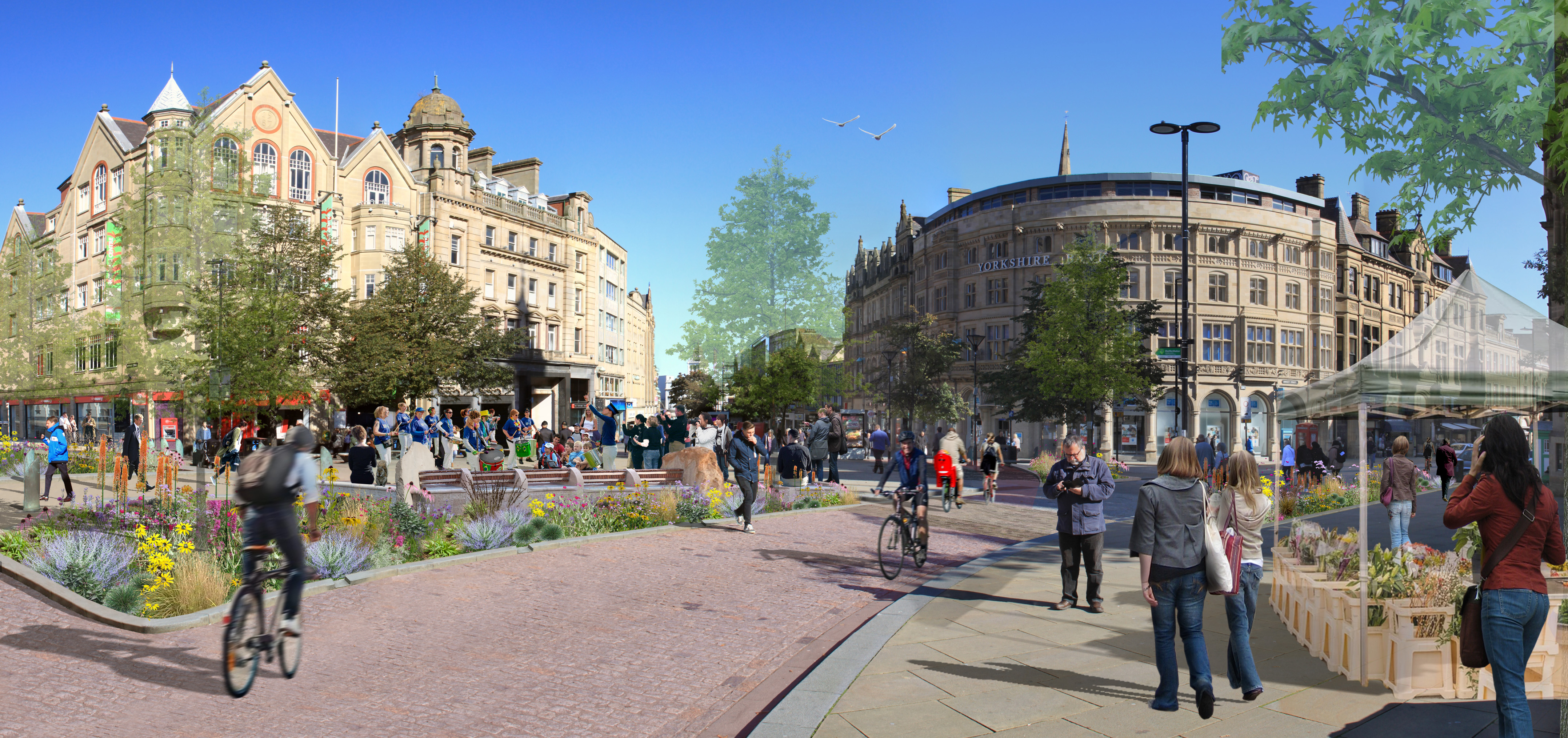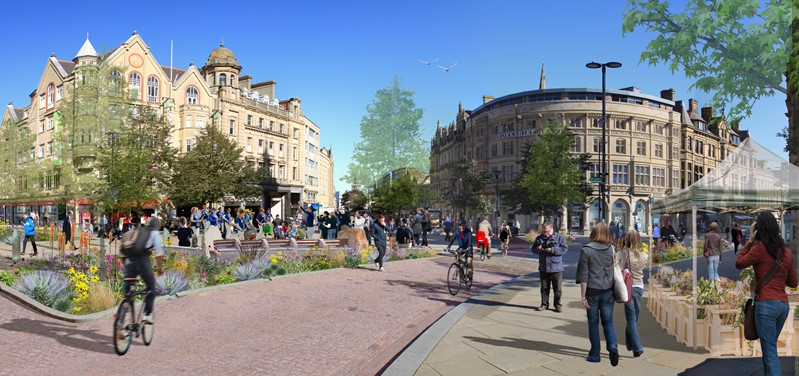 Artist impression of Fargate with improved scenery and walking and cycling routes. 
More information about the City Centre Vision can be found at www.ourcitycentre-shf.com/the-next-phase, or by downloading a copy of the Vision here. 
The City Centre Vision will be presented to the Council's Co-operative Executive on 16th March.
Other stories you might like