City set to celebrate Jamie's Sheffield roots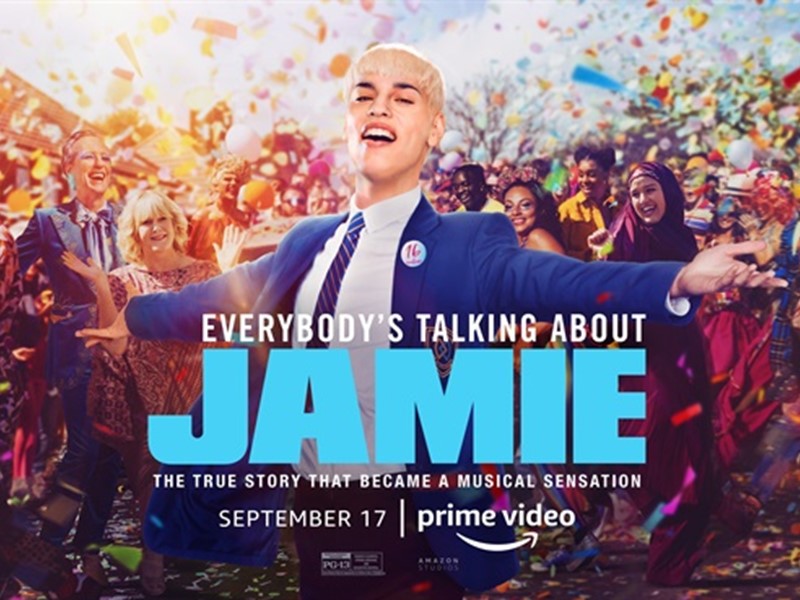 Sheffield is set to welcome Jamie home with a very special premiere of Everybody's Talking About Jamie, the film adaptation of the hit musical, on 17th September – the same day it launches on Amazon Prime Video around the world.
In recognition of the central role Sheffield has played in the film, a premiere will be held at the Crucible and Tudor Square (where there will be a red carpet welcome) on the evening of Friday 17th with the stars of the show paying homage to Sheffield Theatres, who originally commissioned and staged the musical that the film is based on. There will also be special fan area with spaces for a lucky 96 members of the public on the day. The film was produced and directed by Sheffield-ers, Warp Films and Jonathan Butterell; with filming taking place in and around the city, and featuring
many actors and supporting cast with Sheffield roots.
To celebrate this special event and the history the Jamie story has with the city, Sheffield City Council are teaming up with Warp Films (who produced the film) and Prime Video, to showcase a free display of props and costumes in the Winter Gardens from Friday 17th to Saturday 25th September for anyone to come along and get closer to the fabulous story of Jamie. The Council are also funding Sheffield based Cinema For All to organise free community screenings around the city, taking place in sync with the premiere at the Crucible, to ensure wider access and inclusivity to this great cultural production. The venues with Cinema For All screenings are:
Film Unit at University of Sheffield
Abbeydale Picture house (who will also be hosting an afterparty)
Kelham Island Film Club
The Civic in Barnsley
On top of this, there will be afterparties happening in various places around the city. Participating venues have been given special permission to use logos and artwork from the film by Prime Video, and these are being distributed by the Council once ideas and plans for venue parties/menus etc have been submitted.
More information, including how to try to get one of the lucky fan spaces in Tudor Square, the costume and prop display, how to book a free ticket for a Cinema For All screening, or how to find out which venues are hosting parties can all be found online at www.welcometoSheffield.co.uk/jamie
Everybody's Talking About Jamie will be launched on Amazon Prime Video on 17th September and will be in selected cinemas across the country, including Sheffield Showroom, from the same day.
Councillor Terry Fox, Leader of Sheffield City Council, said:
"It's fantastic to see the support in Sheffield for this brilliant film and the really positive impact it's had on people across the city who have been involved from the start – from sharing local knowledge of the best locations to working on the production as cast and crew.
"Our city is known for its warm welcome, grit and vibrancy and you can see those themes running right through Everybody's Talking About Jamie. Sheffield-ers can be proud of the finished product and it's only right that we celebrate it here. I hope everyone can get down to the display for an added experience that celebrates the whole story."
Jonathan Butterell, Director of Everybody's Talking About Jamie, along with
writer Tom MacRae and composer Dan Gillespie Sells, said:
"We couldn't be more proud that Jamie New is coming home. On September 17th our film Everybody's Talking About Jamie goes out to 240 countries and territories across the world on Amazon Prime Video and to cinemas across the country.
"From the Crucible Theatre and in the streets of our wonderful city and region we will celebrate our glorious rainbow diversity and come together in this place where we all belong to sing and dance and revel in the fabulousness of each and every one of us.
"It's gunna be chuffin' marvellous. See you there."
Mark Herbert, joint CEO of Warp Films, said:
"To have our fabulous film celebrated back where it started at the iconic Crucible in our home city is a dream for us all. Forget the last 18 months for a night, get your best frocks on and party like only us Yorkshire folk can!"
Dan Bates, Chief Executive of Sheffield Theatres, said:
From seeing Everybody's Talking About Jamie's very first steps at the Crucible to it flourishing in London and beyond, we couldn't be happier to welcome the film home.We're so very proud to see how the show has grown from Sheffield Theatres' original commission for the stage. Jamie holds a very special place in the collective heart of Sheffield, and it's a delight to watch more and more people embrace Jamie with open arms. We're sure the film adaptation will spread just as much warmth, joy and sparkle as the theatre show continues to."