Cliffhanger back for Summer in the Outdoor City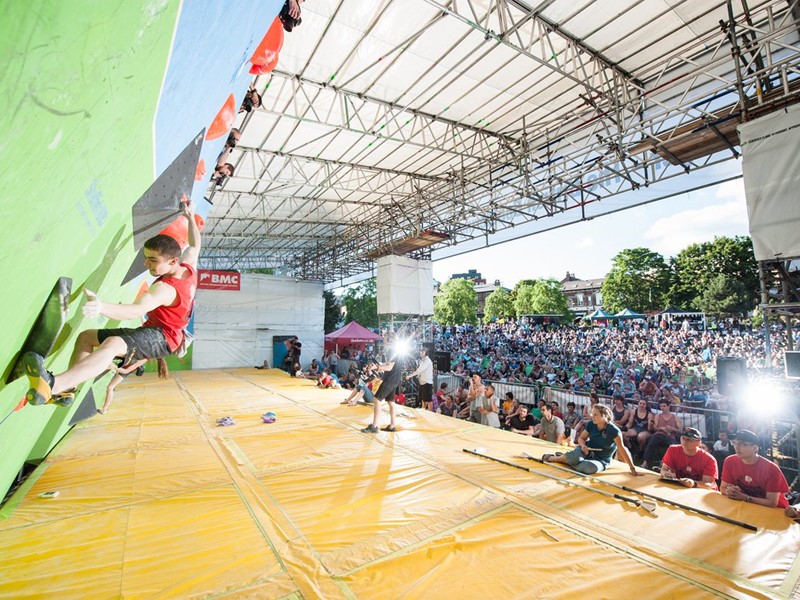 Following the recent launch of Sheffield's new Summer in the Outdoor City initiative, Cliffhanger, in association with Sheffield Business Improvement District (BID), is set to take place, with the return of the BMC British Bouldering Championships on Devonshire Green, on Saturday 10th and Sunday 11th July.
The two-day festival is being organised and run in accordance with the Step 3 reopening guidance issued by the Government.
To allow the event to go ahead safely, plans have been adapted across the city centre and Sheffield will once again celebrate all things outdoors - showcasing the nation's elite bouldering stars as well as other covid safe activities around the Peace Gardens, Millennium Square, Fargate and Barker's Pool.
If witnessing the best of British Bouldering isn't enough excitement, thrill seekers can catch the latest high-octane adventure films from ShAFF (Sheffield Adventure Film Festival) showing at the Showroom Cinema and with some screenings available at the Peace Gardens.
Cliffhanger goers can also have a go at climbing, a Tough Guy challenge, skateboarding, zip line, jump on fairground rides, watch exciting demos and more.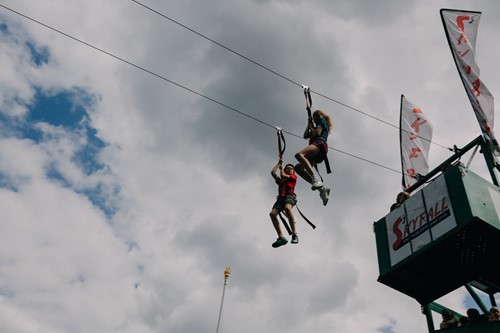 Those visiting for the festival can also make the most of Sheffield's independent shops, businesses and diverse selection of places to eat and drink – why not check out our handy guides for food and drinks and Sheffield's Indie retail scene, you'll be spoilt for choice.
Councillor Julie Grocutt, Deputy Leader of Sheffield City Council, said: "We're really excited to be bringing Cliffhanger back to the city centre this year as part of our Summer in the Outdoor City programme.
"It's the perfect chance for people to get out and have a taste of that festival vibe in a controlled and safe setting. We know it's going to be different this year with the various measures in place but we're bringing live elite sport back into Sheffield and that summer festival atmosphere, two things that the city is not only well known for but has sorely missed.
"Events play a huge role in our economy and it's crucial that we support the sector not only to help our local businesses but to aid our economic recovery.
"As the UK's climbing capital, it will be fantastic to see once again the best of British bouldering return to its rightful stage here in Sheffield and I hope we'll see lots of local people coming out in support.
"I do have to remind anyone coming along to stick to the guidance, to remember hands, face, space, and if you have any symptoms please stay at home and self-isolate. This is really important in our efforts to return to normal life and keep infection rates low."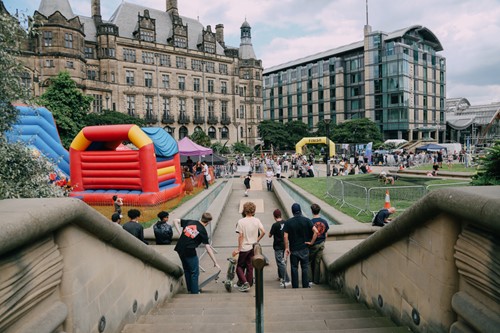 Diane Jarvis, Head of Business Operations at Sheffield BID said: "We are delighted to welcome Cliffhanger back to the city centre's streets this summer. Big events, like Cliffhanger, provide a much needed boost to the local economy whilst bringing colour and excitement back to the city centre. It will attract more people to visit, to stay and to spend in Sheffield.
"There really will be something on offer for everyone across the city centre during the weekend of Cliffhanger, so we would encourage everyone to get behind great events like this whilst enjoying summer safely this year. Sheffield BID have been supporting Cliffhanger since 2016 and we are proud to be able to continue our association with such a prestigious event for the city".    
Safety measures in line with Step 3 guidance 
The huge 25x14ft climbing wall will be erected for the BMC British Bouldering Championships, as normal on Devonshire Green. Entry to the championships will be free of charge. Capacity has been reduced by 50% to 2,000, and the Green will be fenced off with controlled entry and exit ensuring numbers on the site are maintained at the correct level.
Stewards and Covid Marshals will be in and around Devonshire Green to manage crowds in line with outdoors events and social distancing rules, and provide advice and support to spectators.
There will be no alcohol on sale as table service is required for ordering, serving and consuming, and spectators will not be permitted to bring any on site.
Food stalls will be available around the site and will be managed in a covid secure way. Once purchased, people will be asked to move away from the stall and sit whilst eating.
The NHS 'track and trace' system will be in place, as well as Covid and health information signs at all entry points and hand sanitizers throughout the site.
All athletes competing at the event will use their own entry and exit point and must show a green lateral flow test before entering.
Anyone with Covid symptoms should not attend and should stay at home and self-isolate.
Everyone over the age of 18 is now eligible for the vaccination and getting the jab is the best way to protect yourselves and others, and keep the city open and moving forward. Vaccines can be booked now on the NHS website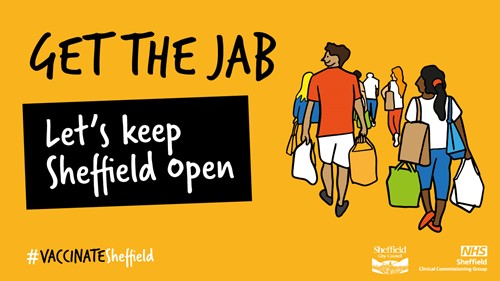 Event itinerary 
Devonshire Green
BMC British Bouldering Championships
Have a go climbing walls
Peace Gardens / Millennium Square / Fargate / Pinstone Street
ShAFF – screenings from Sheffield Adventure Film Festival, 50 headsets are available for each film, for a small charge
Tough Guy course
Inflatable
Go karts
Gladiator ride
Zip line
Mountain bike display
Barker's Pool
Fairground rides
Skateboarding 
Food and drink stalls will be available across the city centre and inside Devonshire Green.
All the latest updates, event info and timings for Cliffhanger will be shared on The Outdoor City Website and @TheOutdoorCity on Twitter and Instagram.
Other stories you might like