Cllr Peter Rippon Remembrance Page and Condolences

We share with great sadness that Councillor Peter Rippon passed away on Sunday 20 December. 
A remembrance page has been set up in memory of Peter, where memories and messages of condolence can be shared.
Peter served as a councillor in Sheffield for 17 years. He was elected to Council on 1 May 2003 representing the Shiregreen & Brightside Ward and later went on to represent the Richmond Ward. Peter also served as the 118th Lord Mayor of Sheffield between 2014 and 2015.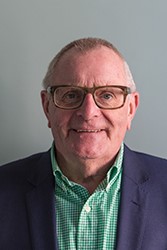 Cllr Peter Rippon
His duties also included being Co-Chair of Planning for the last 5 years and sitting on numerous Scrutiny Committees during his years of service, as well as being the Labour Group Whip.
Peter was a very kind and thoughtful man who touched so many people's lives in so many different ways. He worked tirelessly to ensure that Sheffield is a great place to live for everyone, and was dedicated to improving the lives of his constituents and the citizens of Sheffield.  
He was very passionate about Sheffield and worked consistently to raise the city's profile and the recognition it deserves.
Peter will always be highly thought of and missed very much by all his colleagues and friends at Sheffield City Council.
Other stories you might like