Committee to consider approving grant to install new on-street electric vehicle charging points
On Monday 16th October, the Finance Committee will consider whether to approve grant funding to install 11 on-street electric vehicle charging points.
The proposed locations for the new charging points are in areas where residents don't have private off-street parking.
To improve the availability of local charging points in residential areas, Sheffield City Council is purchasing and installing a number of on-street charging points in locations around the city using funding from the Office for Zero Emission Vehicles. Introducing on-street electric vehicle charging points is a priority for the council, as it seeks to give people more choice about how they move around the Sheffield, including boosting the number of electric vehicles on the city's roads.
This will be a pilot project for Sheffield, with the council selecting areas where residents often have to rely on on-street parking and where local people have already requested charging facilities.
The rollout of the on-street charging points would also be an opportunity for the Council to learn how best to implement the technology on a larger scale, with further roll-out expected to follow on shortly, if approved. 
The proposed locations for this pilot project are:
Six of the 11 double-headed charging points on-street at:
Stainton Rd/Louth Rd, S11
Slate St, S2
Upwood Rd, S6
Bishopsholme Rd, S5
Flodden St, S10
Balmoral Rd, S13
Other charging points in public residential car parks at:
Hope St, S36
Freedom Rd, S6
Station Rd, S9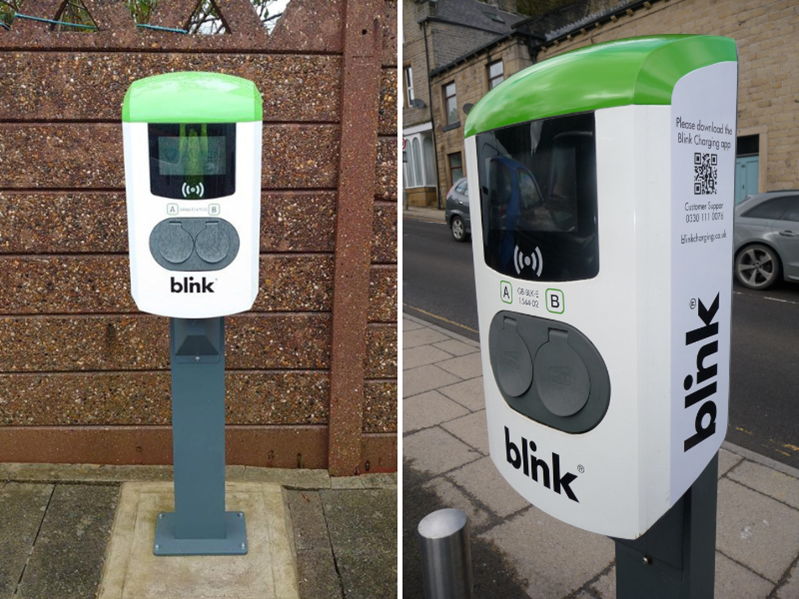 Caption: Examples of the EV chargers proposed. Credit: Blink Charging UK Ltd. 
Residents at the six on-street locations will receive a letter about the project including how to raise any queries.
A Traffic Regulation Order (TRO) will be advertised on the Sheffield City Council website. It will provide the opportunity for residents to raise any formal objections. The TRO will see existing parking bays turned into electric vehicle parking bays.
A TRO allows the Council as the local highway authority to prohibit, restrict or reduce use of a road by traffic.
Cllr Ben Miskell, Chair of the Transport, Regeneration and Climate Policy Committee, said:
"Electric vehicles (EVs) will be a game changer in Sheffield, helping to reduce air pollution and protect people from the damaging effects of dirty air. That's why I'm pleased that we are trialling new ways to charge EVs, for those people in Sheffield who don't live in homes that have drives.
"By increasing Sheffield's charging point provision, we hope to reduce some of the obstacles residents face when considering upgrading to a cleaner vehicle, such as access to chargers close to home."
For information
Bidding for On Street Residential Chargepoint Scheme (ORCS) funding to test a number of residential charging solutions was agreed as an action within the Transport Regeneration and Climate Committee report Electric Vehicle Public Charging Infrastructure Update and Short-Term Action Plan that was approved in September 2023.
Further details about the scheme can be viewed online. 
Other stories you might like