Community Covid bus helps boost city's vaccination rates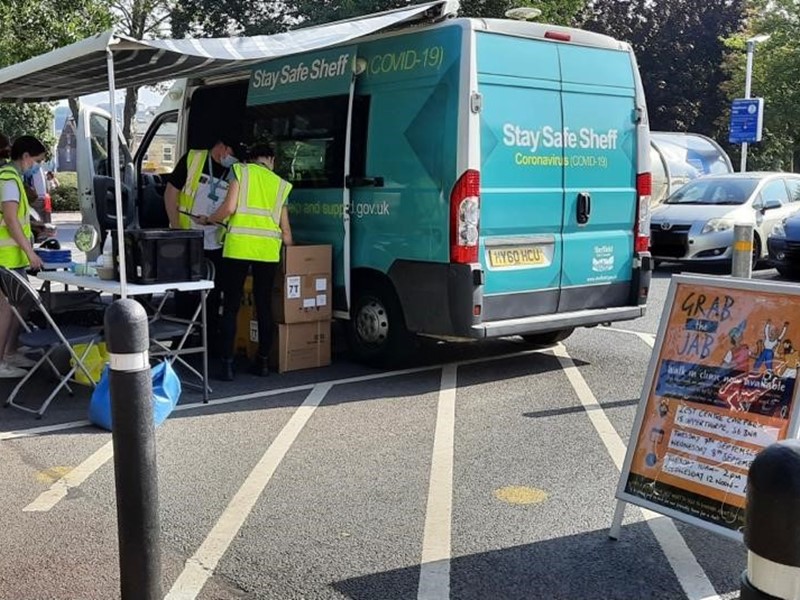 Sheffield's Community Covid Bus is a one-stop place for all things Covid-related, travelling all over Sheffield to parks, schools, community events and vaccination clinics. Open to everyone, the bus has been taking Covid 19 information and guidance, LFD tests and more direct to the heart of communities across the city since it launched in June.
Now with two buses in operation, Sheffield City Council has been working with the NHS to deliver a mobile vaccination offer to residents in easy to reach locations.
No appointments are needed and anyone can turn up on the spot to have their Covid19 vaccination or get a lateral flow test if they don't have any Covid symptoms.
For those who need further support and advice, colleagues at the minibus signpost residents to other organisations that can help such as voluntary and charity organisations. Staff on the bus speak a variety of languages and provide information in different languages or accessible formats.
Delivered by the Covid Response Hub at Sheffield City Council, the collaboration between NHS partners and with support from the voluntary, community and faith sector organisations, the approach has been received positively by local residents.
Ruth Granger, Health Protection Manager at Sheffield City Council said:  "We've been supporting the NHS to increase vaccination uptake by providing additional logistical support to help bring local drop-in mobile clinics across Sheffield. To support the provision citywide, we set up a summer vaccination programme between partners to encourage as many people as possible to access a vaccine. Listening to residents and learning from community organisations we work with, we understood clearly that not everyone has been able to take up the offer. We're pleased to say that by working together we've now achieved one of the highest vaccination rates of major cities in the country and we'll be continuing to work to increase these rates over the next few months."
Councillor Julie Grocutt, Executive Member for Community Engagement and Governance and Deputy Leader at Sheffield City Council said: "This is such an achievement to see the high vaccination rate for Sheffield and I'm thankful to all those who have worked so well together to make this possible. Partnership working and listening to people to find out exactly what they need is key. The bus is delivering a localised offer which has encouraged people to attend without the need to book an appointment, be registered with a GP or to be asked for documentation on site."
Ways to get your Covid-19 vaccine
There are many ways to access a vaccination for people in the city from booking an appointment directly to attending a walk-in offer available at the Sheffield NHS Vaccination Centre on Longley Lane, as well as those offered in parts of the city via GP clinics and Pharmacies. However, for those unable to do so the bus has been critical to giving as many residents as possible the chance to access a vaccination on their doorstep.
Professor Chris Morley, Chief Nurse, Sheffield Teaching Hospitals NHS Foundation Trust said: " Using a roving model to bring the vaccine offer directly into communities has been a huge success in terms of reaching people who, for whatever reason, have not been able to attend a clinic elsewhere in the city. Our team of vaccinators and administrators have worked seamlessly with the van team who, with their friendly supportive approach, have engaged brilliantly with residents in each location. The Covid Community Bus as a vaccination station has allowed us to reach people we may not otherwise have been able. This has been a huge collaborative effort with the NHS and Sheffield City Council and we're thrilled that so many more people have been able to grab the jab at their convenience."
It's important for people not to come to the bus if they have any Covid-19 symptoms and if they do have symptoms, to make sure that they don't use a lateral flow test and they instead book a PCR test at https://www.gov.uk/get-coronavirus-test or call 119 to book."
More information
Find out more about the Community Covid Bus at https://bit.ly/CommunityCovidBus
More information on vaccinations and where you can get a vaccination in your area is at Sheffield Teaching Hospitals
Other stories you might like