Countdown to Christmas starts as Sheffield is lit up for festive season

Sheffielders can start the countdown to Christmas by watching the light switch on online, with Heart Yorkshire's Dixie and Emma, Lord Mayor of Sheffield and the big man himself Father Christmas.
Lord Mayor, Councillor Tony Downing, was joined by Heart's popular duo to bring festive cheer right into your living rooms, as he pressed the plunger to turn on Sheffield's Christmas Lights, and handed over the 'clean and sanitised' key to Sheffield to Father Christmas.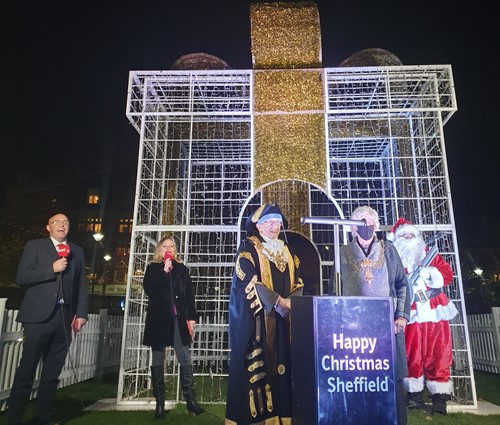 Lord Mayor and Lady Mayoress step up to take the plunge
Under normal circumstances Sheffield city centre and the Peace Gardens would be packed with tens of thousands of people waiting to countdown the beginning of the festive season in the city. This year due to Covid restrictions, a public event cannot take place so the event was pre-filmed and the switch on is available now.
Sheffield is illuminated across the city centre from 6pm today on Fargate, the Peace Gardens, Barkers Pool, Pinstone Street, The Moor and Division Street, right up to 5 January 2021.
Although people have not been able to come into the centre to watch the switch on, they can enjoy seeing it beautifully lit up while taking their time outdoors or shopping for essential items. 
It is hoped that restrictions will be relaxed by some level after the 2 December, when more shops and hospitality businesses may be able to open, allowing people to enjoy a fuller festive experience.
Councillor Mary Lea, Cabinet Member for Culture, Parks and Leisure, said:
"Our light switch on always signifies the start of the Christmas season and I know that many people will be disappointed that we can't hold a public event this year.
"Instead we are bringing the event right in to your homes, where everyone can watch safely as we light up the city, and hopefully lift people's spirits with some festive cheer.
"Our time away from the home should be limited but for those of you where it is safe to do so, I'm know you'll enjoy a walk around the city centre during the Christmas period, taking in the festive lights, grabbing a family photo in our Peace Gardens bauble and picking up a few gifts on your way.
"I wish everyone a safe and happy Christmas-time and hope we can all find simple ways to appreciate and enjoy the season."
Councillor Julie Dore, Leader of Sheffield City Council, said:
"Christmas is a time when we all want to be with our loved ones, coming together to celebrate and look forward to the year ahead. This Christmas is going to be different for us all in many ways, but I cannot stress the importance of acting within the current restrictions because nothing is more important than protecting ourselves and our loved ones.
"I want to thank everyone for the sacrifices you are all making and will continue to make this Christmas. Right now the best gift we can give is keeping each other safe and well so that we can all look forward to a happy and healthy new year.
"We will keep adapting swiftly as and when restrictions change to make sure people and businesses in the city can get the most out of and enjoy Christmas in Sheffield." 
People are reminded that the switch on is pre-recorded and should not visit the Peace Gardens on today to observe the event.
Under the current guidelines people can spend time outdoors with those from your own household or support bubble, or with 1 person from another household observing social distance. This means that people can visit the city centre during national restrictions to take in the Christmas lights and festive atmosphere.
Watch the switch on event on SheffieldCCouncil Youtube or Our Sheffield on Facebook. It will also be shared by Heart Yorkshire.
Other stories you might like