Latest update on Covid-19 testing units available to support local response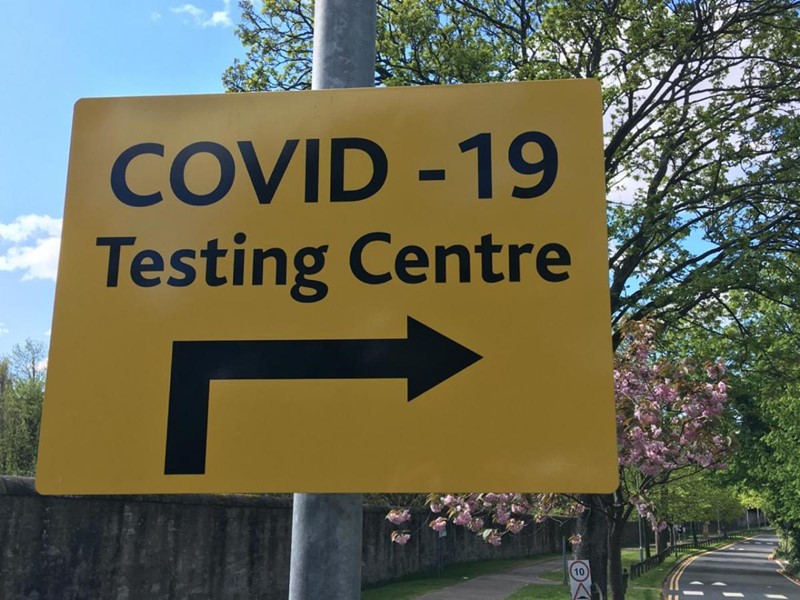 We're getting a significant increase in usage of the symptomatic test sites this week and unfortunately we've had to close one site in Darnall to further bookings (for 14 July only), due to concerns about the volume of traffic in the area. 
Demand for testing has increased so if a booking isn't immediately available please try again. The increase in testing rates does mean that results are taking a little longer than usual to process. Please contact 119 if  your results have not been received after 48 hours.   
Some sites are pedestrian-only and don't have drive-through testing available and for these sites we recommend that if you are please plan your parking in advance.
Testing is a vital part in our fight against the spread of Covid-19 and to help reduce the rate of people contracting the virus, your help is still needed as much as ever.

You can get a test at one of the testing centres by booking an appointment in advance. 

If you are showing any of the following symptoms of Covid-19, however mild, you need to get a test at a test centre (listed below) as soon as you can:
A high temperature
A new, continuous cough
A loss or change to your sense of smell or taste
When to book a test
You should only book a test at one of these centres listed below if you have symptoms of Covid-19. If you have Covid-19 symptoms, you need to get a test done within the first 5 days of having symptoms. If you have symptoms you must also self-isolate at home and only leave your home to get a test.

If you have symptoms call 119 or follow the testing information on the NHS website www.nhs.uk/coronavirus to arrange a test. 
Anyone without symptoms can now take a rapid Lateral Flow Device (LFD) test twice a week. These tests are available for everyone in England and there are several ways of getting them. Full details can be found at www.sheffield.gov.uk/covidtests.
What happens when you book a test
When you book your test you will be given a test site address, date and time.
Please DO NOT attend at any other site other than your allocated test centre as you will be turned away to go to the location listed on your test booking. 
You can only have a test at a test centre if you have booked an appointment. Please do not attend a site unless you have booked a test as you will be turned away and asked to book an appointment.  
If you cannot get an appointment right away, stay at home and self-isolate until an appointment becomes available.
Testing centre locations
Remington Road (Pedestrian and drive through) 
Remington Road, Sheffield. S5 9AG
Open 7 days a week
Open 9am – 3pm
Sharrow (Pedestrian)
Alderson Road Car Park, Sharrow, S2 4LG (down the road from London Road Pharmacy)
Open 7 days a week
Open 8am – 8pm for symptomatic (PCR) testing
Station Road car park (Pedestrian)
Station Road, Darnall, S9 4JU
Open 7 days a week 9am to 3pm
Burngreave (Pedestrian)
Gower Street Car Park, Burngreave, S4 7HA
Open 7 days a week
Open 8am – 8pm for symptomatic (PCR) testing
Upperthorpe (Pedestrian)
Shipton Street Car Park, Upperthorpe, Sheffield, S6 3EB
Open 7 days a week
Open 8am – 8pm for symptomatic (PCR) testing
Meadowhall Shopping Centre (Drive-Through)
Overspill car park, plot 7, S9 1EP
Open 7 days a week from 8am to 8pm
Halfway (Pedestrian and Drive-Through)
Halfway Park and Ride, S20 3GS 
Open 7 days a week 9am to 3pm
Hazelbarrow cleared site (Pedestrian and Drive-Through) (from 26th July) (Former Hazelbarrow school site) 
72 – 88 Hazelbarrow Crescent, S8 8AQ 
Open 7 days a week 9am to 3pm (times being reviewed 9th August)
PCR testing only
Bring your mobile phone with you if you have one, including photo identification such as a driving licence or passport. There will be someone on-site to register everyone onto the NHS Track and Trace portal. Most people will get their test results the day after taking a symptomatic (PDR) test. Some results might take longer, but you should get them in 72 hours.
For more information about NHS Test and Trace visit www.nhs.uk/coronavirus
Coronavirus Community Resources
For materials on Coronavirus support information in different languages and formats please visit Coronavirus Community Resources our online resources centre.
Other stories you might like