Covid, Claire and Collective Creativity – Writing Exhibition 11th August to 1st September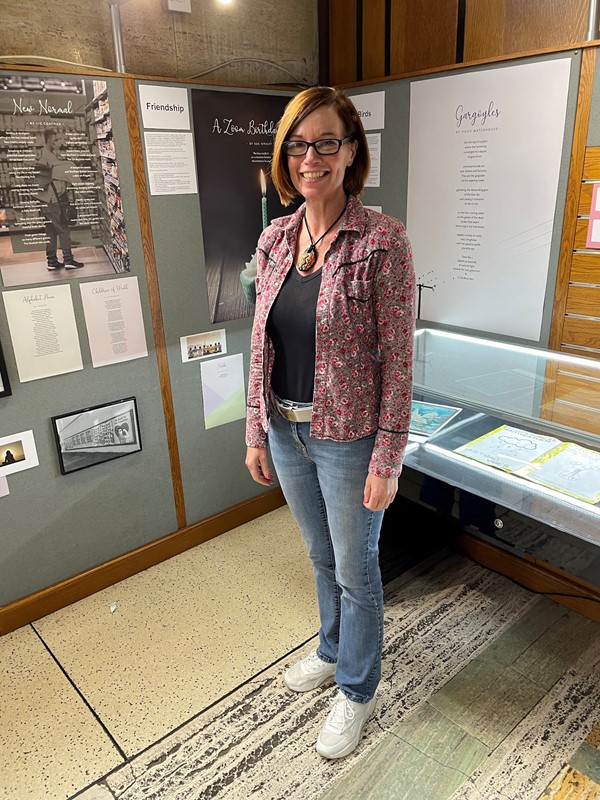 People across the city and staff at Sheffield City Council worked incredibly hard to keep our city moving and hopeful during Covid.
We were all experiencing a range of emotions as many of us were forced to change our daily lives when we began to realise that the pandemic was something very different to what we had ever experienced before.
During the first lockdown in March 2020, Claire Walker, one of our library officers went above and beyond to inspire people to get creative to help people through those difficult weeks.  Every day from the beginning of lockdown until July 2020, Claire posted a writing prompt to inspire others to write, feel or think imaginatively on the Sheffield Libraries Facebook page.
Claire was overwhelmed by the response and the impact this appeared to have on those taking part. The result was a huge amount of creative writing produced by Sheffield people which will be showcased in the Central Library foyer from 11th August until the 1st September. The library and the exhibition will be closed though on Bank Holiday Monday 30th August.
Creative Writing Exhibition
The Creating Writing Exhibition showcases a selection of the written work sent in by those who read the prompts and captures a glimpse of our shared experience.
Alongside the poems and writing, the exhibition includes the creative prompts, photographs and news articles from the early days of the pandemic, as well as display cabinets containing art and craft produced by Sheffield residents during that time. The comments on display from those involved will show those who visit the exhibition how important this work was to so many people. 
Whilst recognising the trauma of the pandemic over the last 18 months, we're also celebrating and showcasing the explosion of creativity that grew out of it as people used their imaginations to respond to what they were seeing and feeling. Through these displays we've captured a moment in time from these memories of last year and we'll be adding them to our Covid-19 archive for future generations.
Councillor Alison Teal, Executive Member for Sustainable Neighbourhoods, Wellbeing, Parks and Leisure said: "This is a good news story coming out of what was a terrible time for so many people in our city and around the world. It's wonderful to be able to highlight the dedication of council staff, the creativity of Sheffield people and the potential that libraries and the library service has to build community and impact on well-being. Thank you to everyone who was involved and I look forward to visiting the exhibition to see for myself what people created."
Exhibition details
The Creative Writing Exhibition is open to all from 10am to 4pm, Monday to Saturday, and entry is free. For more information visit www.shefflibraries.blogspot.com
Other stories you might like