Double celebration to mark Grey to Green flourishing in Castlegate and the Anti-Apartheid Movement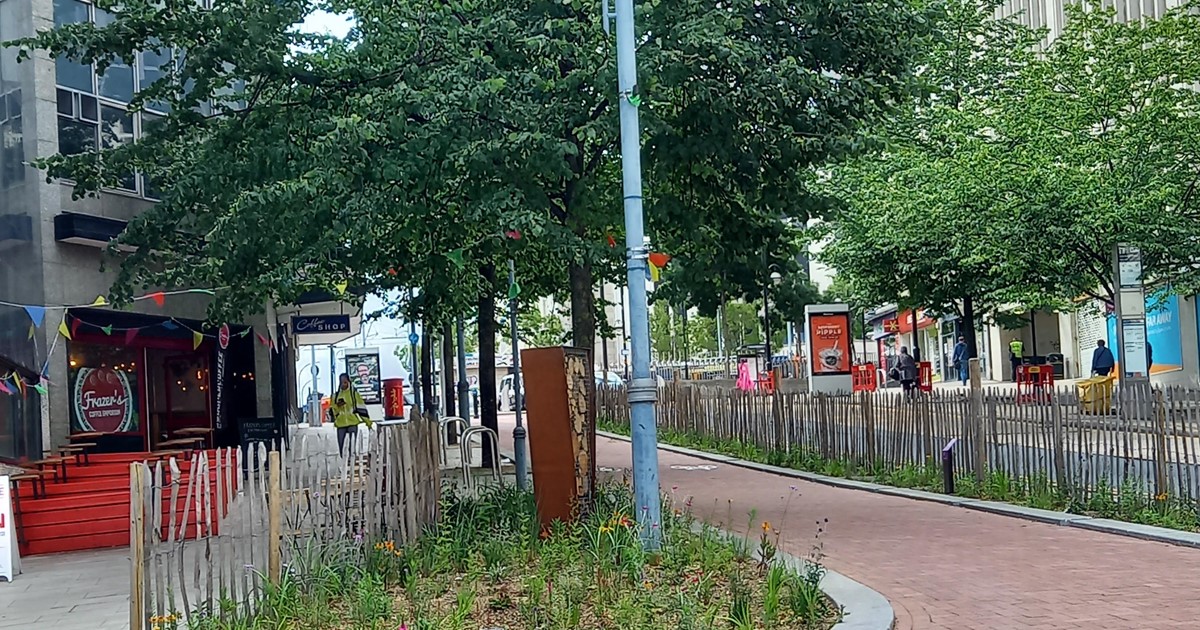 An opening ceremony for the completion of the latest phase of Grey to Green project on Angel St will be held on Saturday 16th July with live music starting at midday in a joint celebration as the city commemorates its support of the Anti-Apartheid Movement.
The Grey to Green project, which has seen wildflowers meadows, new paving and street furniture and cycle lanes across Castlegate, West Bar and Snig Hill, has now been extended to Angel Street, which has been redeveloped in recent years and is now home to popular food hub Kommune, as well as the National Videogame Museum.
The ceremony will be held on the open space at the bottom of Angel Street, where a plaque was laid in 1985 to commemorate Sheffield City Council's support of the Anti-Apartheid Movement. The new space, planting and trees will be rededicated to the memory of the Sharpeville Massacre in South Africa. The unveiling of a new plaque will be followed by a live performance by Khula Arts, an amazing band of players and dancers performing traditional South African Zulu dances, Ndebele and Xhosa traditional music, and dance and drumming of the Nguni people.
An exhibition commemorating Sheffield's role in the Anti-Apartheid Campaign will be officially opened then. It will be held at the Kommune throughout July.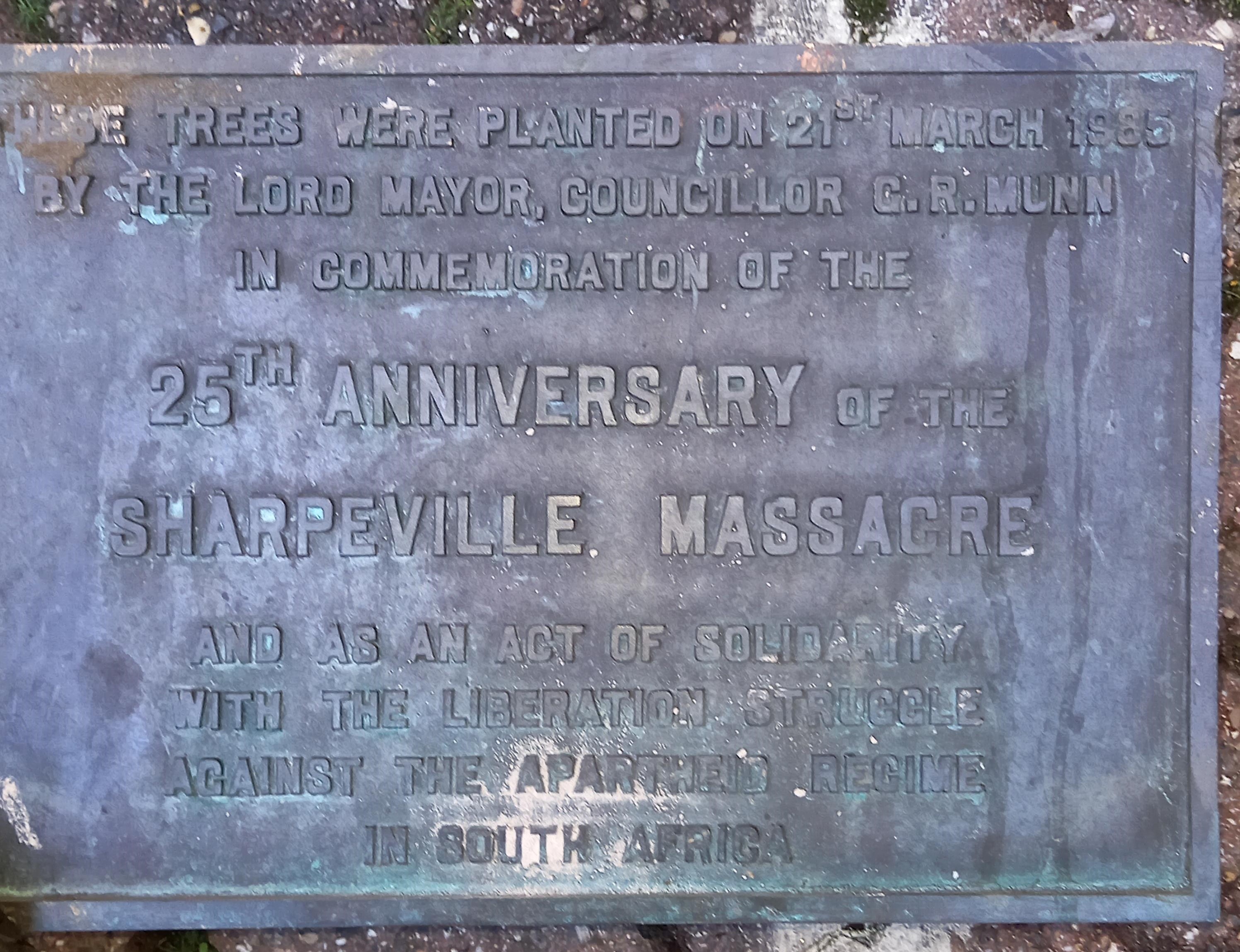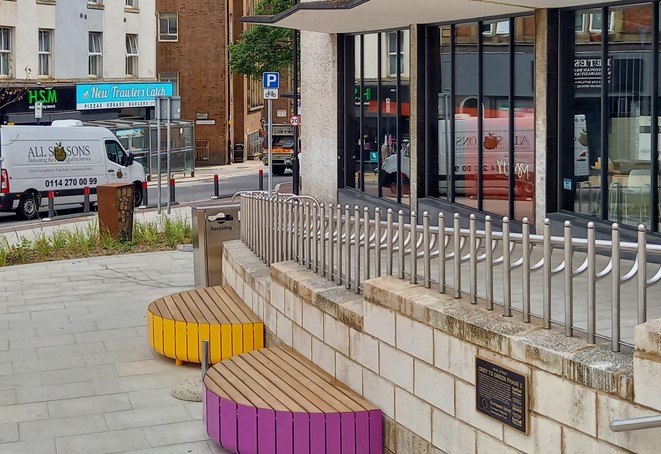 The event also coincides with a month-long Kurious World Festival at Kommune, which includes workshops, tasting sessions, film screenings from the around the world and art exhibitions all linked to the theme of curiosity. For more information, please visit: www.kuriousworlds.com/kommune-kurious-festival.html
Cllr Terry Fox, Leader of Sheffield City Council, said: "It is fantastic to see the next phase of Grey to Green flourishing and the positive impact it's had on the Castlegate area. The opening ceremony will be a chance to celebrate how far Sheffield has come, whilst also remembering our history and the struggles people faced and still do face every day. We know that there is much more work to be done to make Sheffield a more inclusive city and bring about real change and events such as these are important reminders of this.
"This is great opportunity for people to come down to Castlegate to see the new scenery for themselves and find out more about the Sharpeville Massacre, the story of South Africa's first apartheid massacre as well as Sheffield's support of the Anti-Apartheid Movement in the 1960s, 70s and 80s. Now, as then, we are clear that there is no space for racism and certainly no place for it in Sheffield."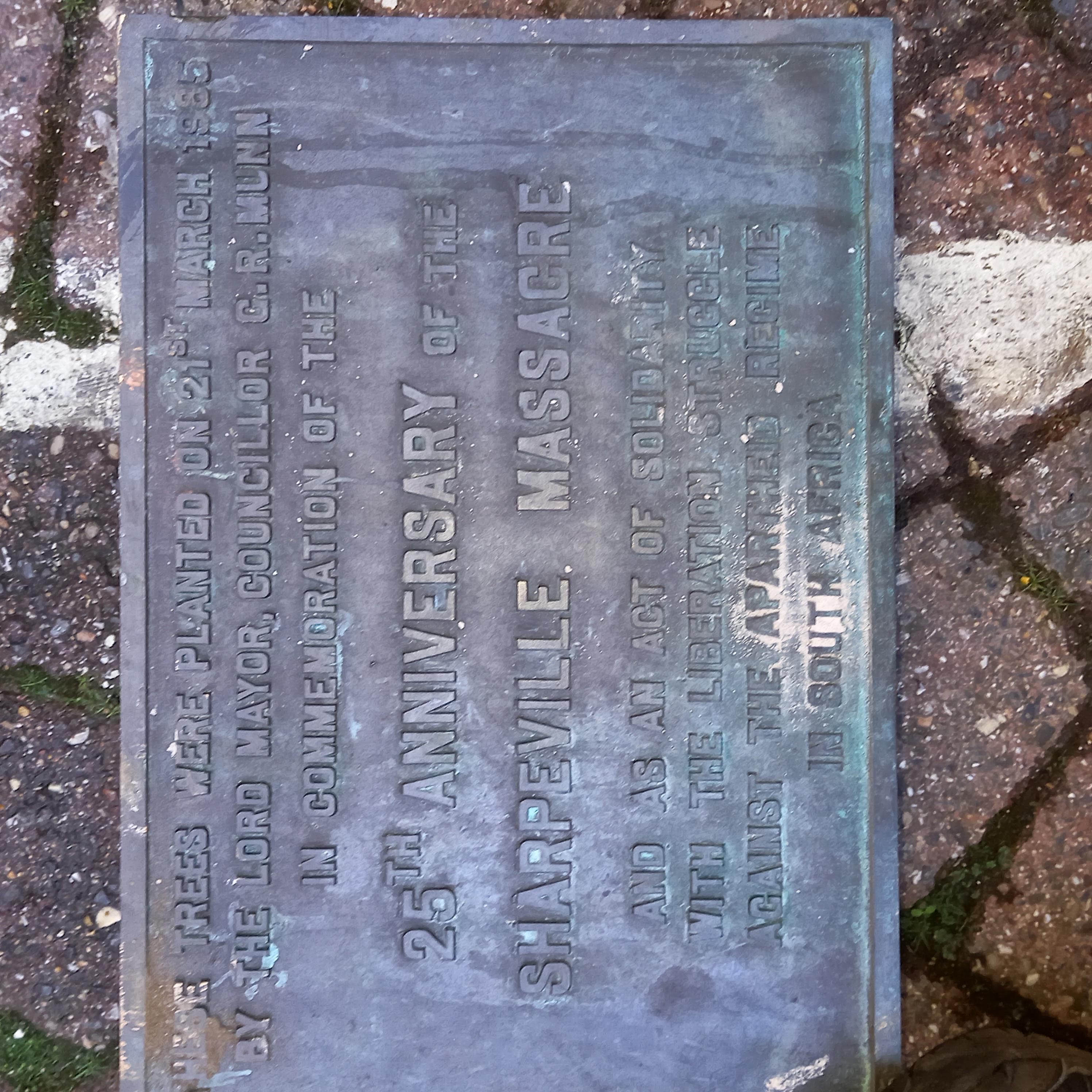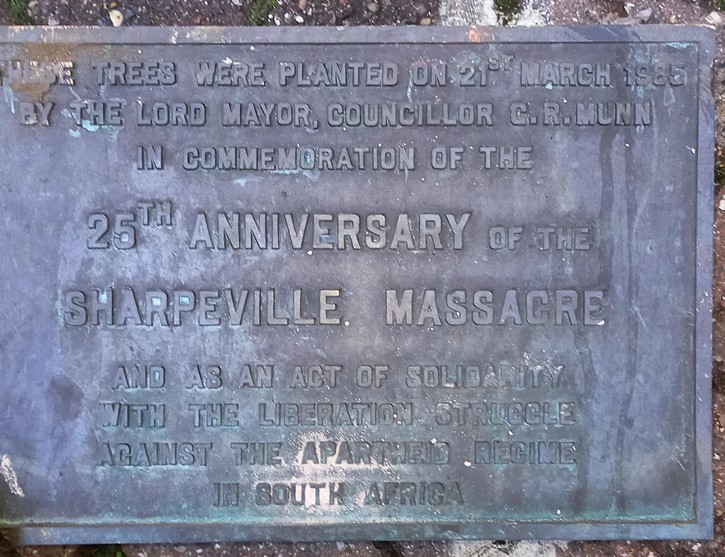 The original Sharpeville Massacre plaque
Olivier Tsemo, CEO of SADACCA, said: "I am proud of the continuing collaborative work to design our Grey to Green city and make it an outstanding place to live, work regardless of your origin, religion and sexual orientation.  I am also proud of the contributions of the Sheffield Anti-Apartheid Movement and others in making visible the atrocity that happened in Sharpeville on 21st March 1960.
"The significance of what happened in Sharpeville and the consequences (Black Consciousness Movement, Anti-Apartheid Movement, Stand Up To Racism Sheffield and many others) are a constant reminder of what can happen when we stay active when faced with racism and all other forms of inequalities.
"In my role as CEO of SADACCA, I always spoke about the need for people to think more collectively when solving problems. We need to constantly ask the question, "What is it we can do together?" The Sheffield Race Equality Commission report offers a thorough analysis of the issues facing our demographically varied communities and also provides recommendations to solve the problems.
"I am calling on Sheffielders to join us to celebrate the collective work in fighting racism and all forms of inequalities and also to pay their respect to the memories of the 69 peaceful South African protestors who were shot and killed by the police outside the police station in Sharpeville".
The Grey to Green opening ceremony and live music will take place from midday on Saturday 16th July, on Angel Street in the city centre. Please come and support!
For information:

Dignitaries in attendance for official ceremony:
Cllr Terry Fox (Leader, Sheffield City Council)
Paul Blomfield MP (MP for Sheffield Central)
Richard Caborn
Olivier Tsemo (CEO, SADACCA)
Schedule of events
11:30am - 12.15pm – Music by Khula Arts
12:15 – 12.45pm - Speeches by dignitaries Paul Blomfield MP, Olivier Tsemo (CEO, SADACCA), Cllr Terry Fox (Leader, SCC) and Richard Caborn, unveiling of new plaque and performance of the African National Anthem by Khula Arts
12:45 – 1.15pm - Live performance by Khula Arts
1.15pm - Opening of the exhibition "Sheffield and the Anti-Apartheid Movement (AMM)" in Kommune, free to everyone. Exhibition open until end of July.
Other stories you might like