Elm Tree Initiative marking 50th Anniversary of Woodland Trust protects tree and butterfly species in Sheffield

Four disease resistant elm trees were planted in High Hazels Park to celebrate the 50th anniversary of the Woodland Trust and to safeguard the precious habitat of the White Letter hairstreak butterfly.
The planting took place on Friday 2 December, with members of Woodland Trust, The Friends of High Hazels Park and the Darnall Community Allotment Project.
Sheffield City Council was awarded two years of the Woodland Trust's Emergency Tree Fund grant to build the capacity of the Community Forestry Team enabling more trees to be planted within local communities.
As a mark of recognition Sheffield Community Forestry team have dedicatde the new Elm trees (Ulmus 'New Horizon') to the Woodland Trust for its 50th Anniversary.
Over the past two years The Emergency Tree Fund has allowed the planting of 20,000 whips, 144 specimen heavy standards and 215 fruit trees across Sheffield, including many elms.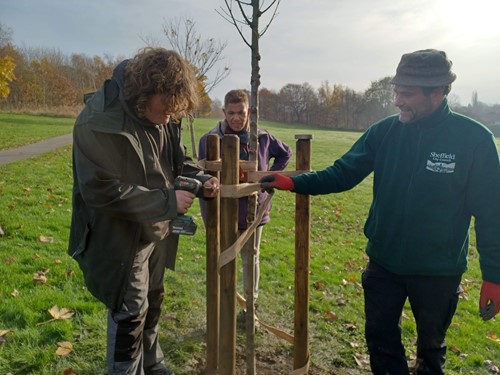 The Elm tree is fixed to posts after planting
Councillor Richard Williams, Chair of the Parks, Leisure and Wellbeing Policy Committee, said: "Our community forestry team work extremely hard to make sure Sheffield's trees, woodlands and green spaces thrive and enhance local native wildlife, and we couldn't achieve all we do without the fantastic working partnerships we have with organisations like Woodland Trust.
"We're proud to be part of this project and celebrate the significant work that Woodland Trust do both nationally and with us here in Sheffield. Through this initiative, together we are supporting the growth of our elm tree population, and also protecting the future survival of this precious butterfly species.
"It's really important to us that local people can be part of initiatives like this, to feel connected to the local environment and make a difference in their own communities. We'd love people to get involved with our tree planting events. As well as the elm initiative we have a series of events throughout the week to celebrate National Tree Week, plus frequent community activities, so please join us if you can."
Ruth Hyde, the Woodland Trust's Director of brand and comms, said: "This is a really lovely gesture to mark our 50th anniversary as a charity and Sheffield's involvement in our Emergency Tree Fund programme which is increasing tree cover across the city.
"We hope these elms will grow up to be a lasting symbol of how important trees and green spaces are to communities, particularly in urban environments where there is less space – and of course in aiding the area's and the country's fight against climate change and biodiversity loss."
Hear more from Ruth in our video from the tree planting event
Re-establishing the native English Elm population
The native English elm population began to be devastated during the 1970s with the advent of Dutch Elm Disease (Ophiotoma novo-ulmi), which has wiped out over 25 million trees in the UK. Only a handful of mature elms (which are resistant cultivars) survive in Sheffield today and as part of its Trees and Woodlands strategy the council aims to increase the diversity of species within the urban forest. 
Dutch elm disease is a fungal wilt spread by elm bark beetles. The beetles colonise the bark of dying or recently dead elms and the fungus grows within the breeding galleries.  As a result the trees die and are often removed for public safety.  Elm trees provide the habitat for various species but are the only known habitat for the 'priority' White-letter hairstreak butterfly.  As most elms do not propagate from seed, continuing to plant elm trees in Sheffield is a vital part of the strategy to protect this beautiful butterfly.
SCC Community Forestry is also working in partnership with Sheffield and Rotherham Wildlife Trust (SRWT) and Nether Edge and Sharrow Sustainable Transformation (NESST) to plant more disease resistant elms in public parks to replace those that still succumb to Dutch Elm Disease today.
SRWT and NESST have just launched an Elm sponsorship scheme to enable local people to fund the cost of a "Wingham" elm tree. Some will be planted in private homes, but alongside "Columella" and "Vada" elms funded by the Woodland Trust, some of the publicly sponsored trees will be planted in Sheffield's parks and open spaces. If you wish to sponsor an elm click here: https://www.wildsheffield.com/elm-initiative/
It is hoped this joint work with residents and partners will contribute towards the survival of the white letter hairstreak butterfly in Sheffield.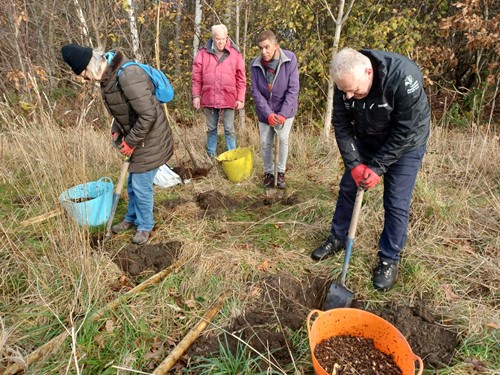 Members of the community get stuck in at the High Hazels tree planting
National Tree Week
As part of National Tree Week – 26 November-4 December – the Community Forestry held a series of community tree planting events throughout the week.
Local people were invited to come along and get involved to celebrate and support Sheffield's trees, woodlands and green spaces.
All upcoming events are free and listed on Eventbrite at SCC Community Forestry Events | Eventbrite 
Find out more…
More information about trees and woodlands in Sheffield is below – including the trees and woodlands strategy, community forestry, our partners, and the environmental issues affecting the elm tree population and white letter butterfly.
Other stories you might like