EU settlement scheme deadline just 5 days away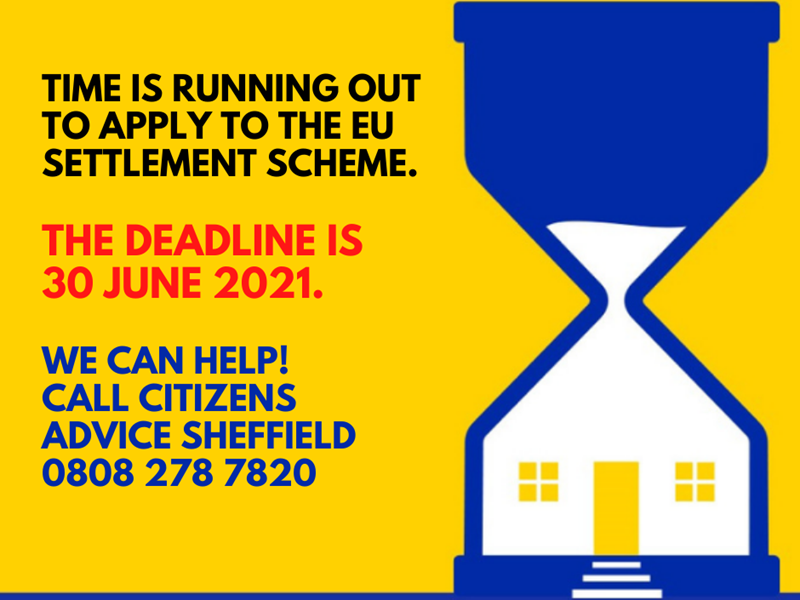 EU citizens who need to apply for 'settled status' have just 5 days now to retain their right to live in the UK.
Many people who have lived here for a long time think that they don't need to apply for this status, but they must apply so that they can continue to live in the UK after June.
30,000 applications have been made to the scheme from Sheffield, with more than 5.3million applications nationally.
Who needs to apply
Except in a few cases, you need to apply for settled status if you're an EU, EEA or Swiss citizen or if you're not an EU, EEA or Swiss citizen, but your family member is.
This means you need to apply even if you:
were born in the UK but are not a British citizen - you can check if you're a British citizen if you're not sure
are a family member of an EU, EEA or Swiss citizen who does not need to apply - including if they're from Ireland
are an EU, EEA or Swiss citizen with a British citizen family member
If you are an EU citizen and you have children, you need to apply for them separately or if you're an EU, EEA or Swiss citizen and you have a family member who is an eligible person of Northern Ireland, you may be able to choose which way you apply.  You should not assume that because your child was born in this country that they are automatically a British citizen.
Kate Josephs, Chief Executive of Sheffield City Council said: "It's so important right now for everyone to check their own immigration status and that of all members of their family in time for the 30 June deadline. Please do it urgently to avoid you or someone in your family losing their right to live, work or rent a house in the UK. Maybe offer advice to a friend or neighbour too if you think they would benefit from some help?  
"Remember that children also need to be registered unless they have a British passport, so please make sure you have registered your children - it isn't too late.
"It's a free scheme and it's easy to apply. It will simply mean that by registering you will retain the rights you have now. We're providing lots of help and support to assist you with the process if you need it."
How to apply
Registering under the scheme all needs to be done online so you will need access to the internet and an email address. The outcome of your application will be emailed to you. There is help available to anyone who needs support or advice to complete their application. This has been organised by Sheffield City Council and provided by Citizens Advice Sheffield (CAS).
The CAS Advice Line on 0808 278 7820 is open Monday to Friday 10am to 4pm and provides straightforward, free help to anyone who needs support and guidance through the application. If more support is needed through the process, including additional advice on issues such as immigration, help is available from CAS who can refer applicants to either Fir Vale Community Hub or Darnall Wellbeing for more support. They both offer bookable appointments and materials in different languages and have helped many people through the process already.
Clare Lodder, Chief Executive of Citizens Advice Sheffield said: "Our advisers are ready to help you through every step of the process. Even if you are not sure if you need to apply, phone us, email or text us and we will help you sort out your next steps. Where you need us to, we will provide that advice in your own language."
People can also apply for settled status for free through the Home Office. The steps that need to be taken to apply are at https://www.gov.uk/eusettledstatus and there's an online guide on how to apply at https://youtu.be/FGs1T5c4p5Y  Those who are ready to start their application can do this at Apply to the EU Settlement Scheme