Face Coverings Guidance for Sheffielders from 8 August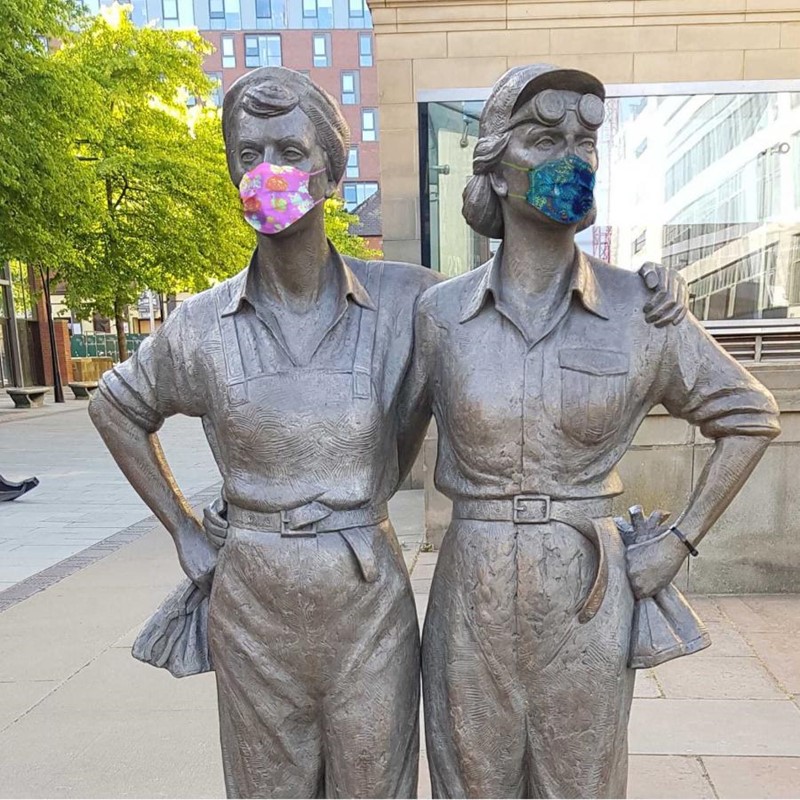 Watch the latest message on face coverings from Director of Public Health at Sheffield City Council, Greg Fell above.
Face coverings will be required in more locations across England when new Government rules come in from Saturday, August 8.

As we know, from the 24 July Government made it mandatory to wear a face covering on all public transport and in shops, including supermarkets, in England.

From August 8, face coverings will need to be worn in additional indoor settings in the following types of locations:
Auction Houses
Bingo Halls
Cinemas
Theatres
Community Centres
Concert Halls
Funeral Directors
Indoor Entertainment Venues
Libraries and Public Reading Rooms
Massage Centres
Museums, Galleries, Aquariums, Indoor Zoos or Visitor Farms, or Other Indoor Tourist, Heritage or Cultural Sites
Places of Worship
Premises Providing Professional, Legal or Financial Services
Public Areas in Hotels and Hostels
Social Clubs
Storage and Distribution Facilities
Tattoo and Piercing Parlours
Nail, Beauty, Hair Salons and Barbers
Veterinary Services
All Sheffielders will be required to wear a face covering in the above enclosed spaces where they can't keep a safe distance (2 metres) from others.

If you can wear a face covering but choose not to then you may be given a fine or refused entry/service. This does not apply if you have a legitimate reason not to wear a face covering or are exempt.

By wearing a face covering you may help protect those around you and slow the spread of the virus. Face coverings may help to stop the spread of the virus if you have COVID-19, especially if you don't have any symptoms.
Remember, if you do develop symptoms you should stay at home, self-isolate and book a test.
Why wearing a face covering helps 
Face coverings may help by catching droplets that leave our mouths when we talk or cough. If we talk loudly, shout, sing, or exhale more during moderate exercise then we exhale more droplets. These droplets can contain the coronavirus that causes Covid-19.

The face covering is designed to reduce the number of droplets that leave our mouths and can potentially land on other people however staying 2m or more away is a much better measure as we know that most droplets will fall to the ground and not reach other people at these distances. When droplets land on surfaces and we touch surfaces and then touch our eyes, nose, mouth we can transfer the virus so handwashing or using hand gels is also very important. Some people have the virus, but no symptoms and some people are pre-symptomatic meaning they do not yet know they have the virus but are still infectious to others. Wearing a face covering may help reduce the chance of these people accidentally transmitting the virus. If you do have symptoms you must self-isolate and seek a test through the NHS.

Face coverings are not the same as Personal Protective Equipment (PPE) or medical face masks, those are used in very specific circumstances like health and care settings. A face covering means a reusable cloth covering – homemade or purchased – or disposable covering. Homemade or purchased covering should contain at least 3 layers of closely woven fabric of which the outer layer should be moisture resistant and the inner layer absorbent with the middle layer acting as a filter.

There are some exceptions such as very young children, people who may find it difficult to breathe wearing a face covering, or people who due to disability are not able to comply.

This also includes children under 3 years old (there are certain exceptions based on age, for example, under 11s do not need to wear a face covering on public transport, read the Government guidance).

Please note that young children should have adult supervision when wearing a face covering. It can be dangerous for children or adults who are unable to remove face coverings unassisted to wear a face covering, particularly if they have breathing difficulties, so please use other measures instead such as social distancing, catch it/bin it/kill it for coughs and sneezes, and hand-washing.
What to do if you are challenged if you are exempt from wearing your face covering
If you are exempt from wearing a face covering please state your reason clearly and calmly. Individual places may have their own policies and may refuse you access if you do not comply with a request to wear a face covering. If you feel that they are being unreasonable or discriminatory – for example if you are unable to comply due to disability - please follow up with them through their complaints procedure. You do not have to explain to people – other than staff members – why you are not wearing a face covering. There are free exemption cards available through Travel South Yorkshire, Sheffield CCG, and the government but you do not need to show a card unless you want to.

For further guidance on getting tested and for testing centres based in Sheffield, please click here
Other stories you might like