First customers welcomed through the doors at Fargate containers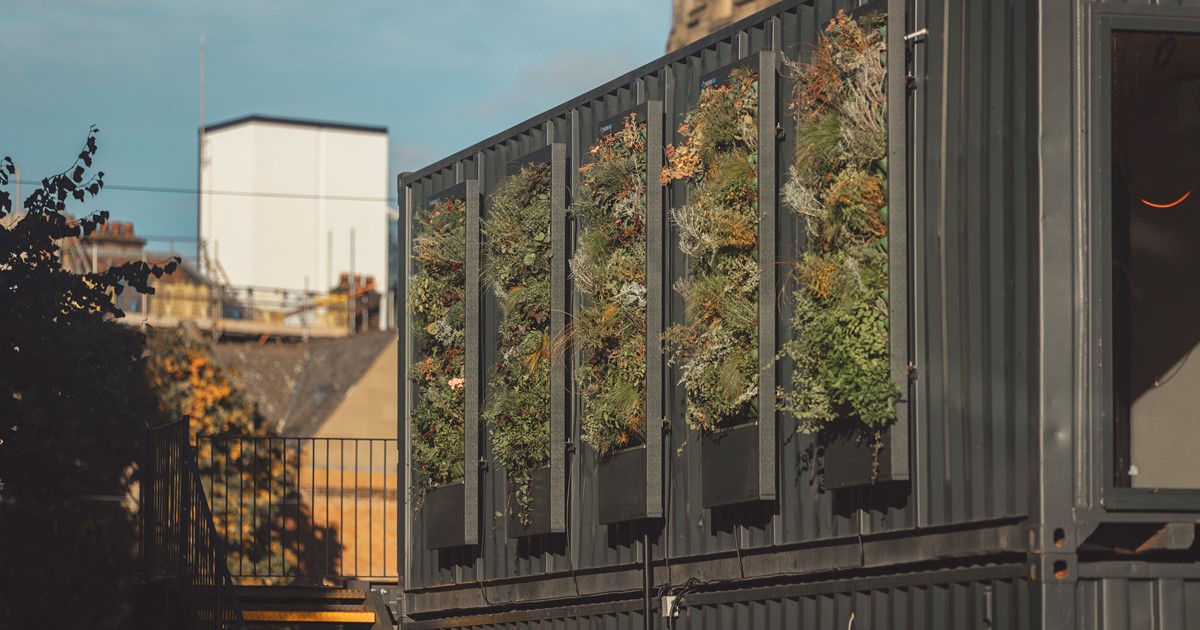 The Fargate container doors were opened on Saturday, with vendors welcoming in their first customers.
Visitors were able to try out some of the exciting street food on offer and browse the independent shops for the first time.
Cllr Mazher Iqbal, Co-Chair of the Transport, Regeneration and Climate Policy Committee, said:
"It is fantastic to see customers inside the containers, getting a taste of everything these independent businesses have to offer. Whether you're looking for a bite to eat or do a bit of shopping there is something for everyone and I'm certain people of all ages will be able to enjoy this exciting destination."
What's on offer?
Food
Get Wurst - Bringing a taste of Bavaria to the Steel City with proper Currywurst, banging Bratwurst and serious Schnitzels.
Clapping Seoul - An authentic Korean owned vendor specialising in bringing popular street food to the heart of Sheffield. Including Seoul Baos, rice burritos and dumplings!
Fat Mex - Popular established Mexican street food from Steel Yard Kelham offering Burrito / Tacos / Nachos & Churros!
Retail
Heist - A pop-up from the team behind Heist Brewery celebrating the finest Sheffield ales, lagers and IPAs. Gift sets with a variety of beers intended as perfect birthday or Christmas presents.
JAM Artworks - A unique arts vendor specialising in Sheffield-inspired digital prints, including t-shirts, calendars and beautiful home decorations.
Bramley Park House Plants & Home - Providing tropical greenery for Sheffield's homes, including houseplants, decorative pots, candles and more.
Bar
A terrace bar offering a fine selection of beer, wines and spirts, including quality locally produced offerings.
The food and retail units on the lower deck are now open. The bar on the upper deck expected to open in the coming weeks. While work continues on the first floor, fencing will remain in some areas to allow for the final finishing touches.
For info
The containers on Fargate will be moved to a new location in 2023 when regeneration plans for Fargate begin.
The new location for the containers and a date for the move are yet to be decided.
There are ambitious plans for Fargate, funded through Future High Streets Fund investment. This investment will see the introduction of a cultural hub, named Event Central, which promises to be an opportunity to showcase Sheffield's artistic talent and expected to attract more than 110,000 visitors a year. Alongside this work, pocket parks will be introduced through Fargate, using the design skills and knowledge gained through the Grey to Green scheme. The Council is also working with commercial partners to unlock upper floors and increase access for new homes and offices in key buildings. New, separate front doors will enable easier access to these hidden parts of Fargate that have long been underused. One example of this scheme in action includes Juno Books, an independent intersectional feminist and queer bookshop, which opened its doors on Chapel Walk this month.
Sheffield City Council successfully bid for £15.8m Future High Streets Fund in 2021. The funding requires plans to be delivered by March 2024.