Funding to explore bringing back the Eurasian Beaver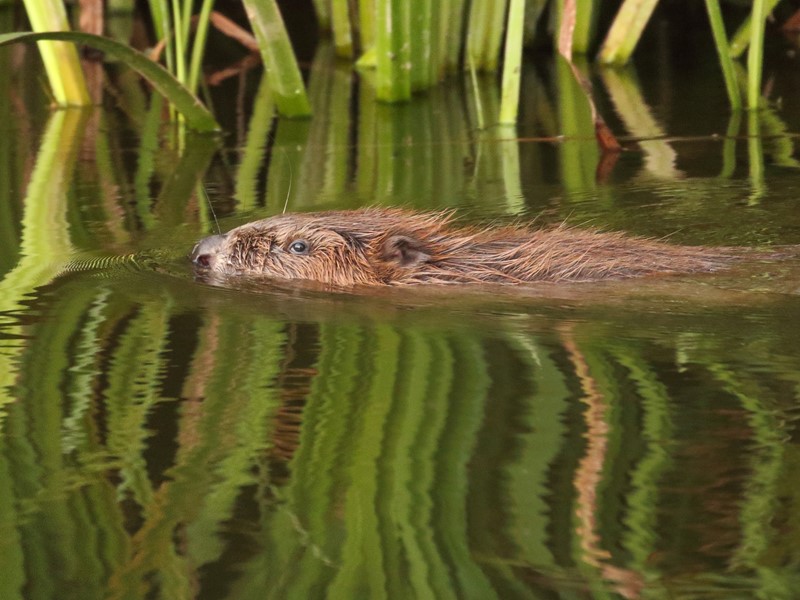 Sheffield City Council has been awarded £96,725 to look at the possibility of reintroducing beavers into Sheffield and surrounding areas because of the extensive, positive influence that they have on the environment and ecosystems.
The successful bid to the Yorkshire Regional Flood & Coastal Committee will see the council work with neighbouring local authorities and agencies such as Natural England and The Environment Agency to gain a greater understanding of the benefits that beavers have on our landscapes.
The study will look at how the building dams can improve water quality and reduce flooding, and how beaver habitats positively impact on a multitude of wildlife all helping to tackle our nature and climate emergencies.
Why Eurasian Beavers?
Wild Eurasian Beavers (Castor Fiber) are a native species and were once an integral part of our UK landscapes but were hunted to extinction around the 16th century. Since then, beavers have been successfully reintroduced and protected in many countries, including Scotland and England where they were granted European Protected Species status in 2022.
Eurasian Beavers are a 'keystone species,' supporting and having a huge positive influence on the environment and ecosystem. The habitats they create can support a whole range of other species from invertebrates such as dragonflies through to mammals such as the Water Vole (Arvicola amphibius) and birds such as the Willow Tit (Poecile montanus). Some of these species are endangered or at risk themselves and need this ecosystem to survive.
Beavers are vegetarians who create and live in wetland environments. As one of nature's great 'eco-engineers' they offer a 'nature-based solution' to help with managing water flow, rivers, and wetland areas. The wetlands created by beavers help to store large volumes of water, slowing the flow of water downstream at times of heavy rainfall and providing water storage in times of drought, something which also acts as a fire break in hot summers.
Created using coppiced trees and branches, the dams help to filter water, improve water quality, and hold back silt, which reduces blockages further downstream. They store water efficiently, which contributes heavily to the creation and maintenance of wetlands, which are themselves areas of biodiverse ecosystems that are full of life.
With successful beaver reintroduction projects happening in Devon, UK, in places like the Willington Wetlands Nature Reserve in Derbyshire, the River Otter in Devon and Cropton Forest in North Yorkshire, it is the right time to consider the benefits that Europe's largest rodent could have in Sheffield and the surrounding areas.
Working with The Sheffield and Rotherham Wildlife Trust and specialist beaver expert consultants, the University of Exeter and Derek Gow Associates, initial feasibility study work has started looking at whether some of Sheffield's upland areas can provide suitable beaver habitat. The next phase will include further ecological study, an engagement programme, and recommendations.
Councillor Richard Williams, Chair of the Communities, Parks and Leisure Policy Committee, said:
"We have declared both a 'nature' and a 'climate' emergency in Sheffield and this incredible mammal has some special skills which could play a vital part in tackling these crises at the same time.
"It is crucial that we look at schemes that support our ambitions to tackle the environmental crises we face. We've seen the results of beaver introduction in other areas of the UK and the evidence shows how their natural skills can support our environment, our wildlife, and communities.
"Further work is needed before decisions can be made about whether a reintroduction project could happen in Sheffield, but the work carried out so far is a very important first step. We are proud to champion projects like this, where our Ecologists can work with partners to look for natural solutions and bring benefits in so many ways."
Angus Hunter, Biodiversity Officer at Sheffield City Council, said: ''Beavers are a native mammal and a long-lost part of our British ecology. They are a keystone species, who continually create and maintain habitats vital to the survival and recovery of thousands of other species of UK wildlife, including many rare and priority animals and plants. 
"They help to reduce flooding by creating dams in upland streams, which increases groundwater aquifers, helping to store water and reduce flooding, which in turn protects our communities, by helping to better manage water resources in times of flood and low rain. These wetlands also provide fire breaks during countryside wildfires and are vital water sources for wildlife in times of summer drought."
Roy Mosley, Head of Conservation at Sheffield and Rotherham Wildlife Trust, said: "Beavers are fantastic 'ecosystem engineers;' their activities create wetlands that benefit a whole host of other mammals, birds, insects, and fish. They also help to reduce downstream flooding and to improve water quality.
"It's worth noting they only eat plants, so they are not a threat to fish or fisheries. Our Blacka Moor nature reserve is one of the areas being looked at and the early indications suggest that the habitat is suitable."
More information about beavers and the project
The project funded by the YRFCC would start from the beginning of 2024 and funding is subject to Environment Agency approval processes.
The funding will support SCC to work with universities and research agencies on a potentially ground-breaking scientific research project on the impacts of beaver on other wildlife and water flows in upland environments.

A five-year trial project led by Devon Wildlife Trust, the University of Exeter and Derek Gow Associates was completed in 2020 to demonstrate the positive effects beavers have on the landscape. This was the first legally sanctioned reintroduction of an extinct native mammal to England. A further reintroduction of the species occurred last year at Willington nature reserve by Derbyshire Wildlife Trust. It is hoped those successes can be replicated in Sheffield.
Other stories you might like