Get set for a festival of football this summer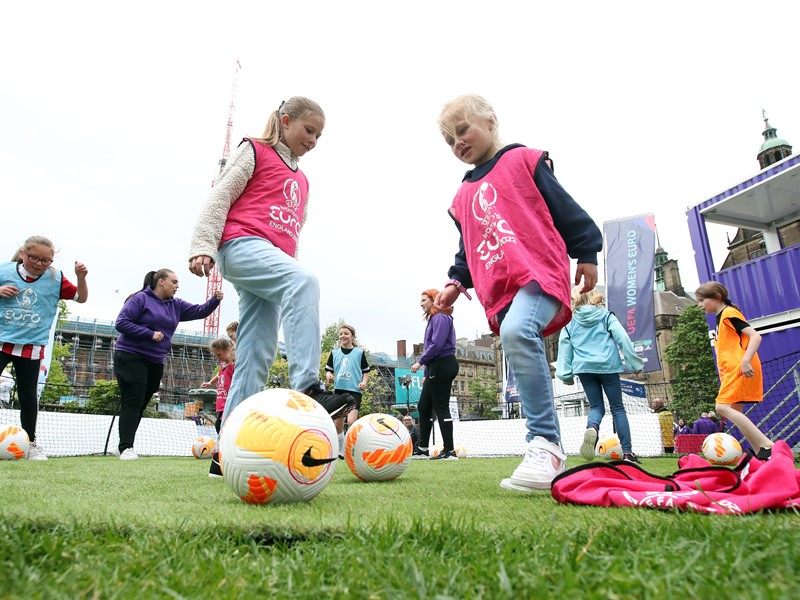 UEFA Women's EURO 2022 unveils Fan Festival schedule taking place in Sheffield and each Host City.
UEFA Women's EURO 2022 has announced Fan Festivals will be popping up across England as the tournament kicks off on 6 July
All 9 host cities will have a Fan Festival offering free entertainment throughout July
At the heart of the festival will be the Fan Parties which will include neutral zones where fans of all nations can gather together 
Tickets for matches are still available at uefa.com/womenseuro/ticketing
UEFA Women's EURO 2022 has announced a huge festival of football this summer, with celebrations taking place across the country when the tournament gets underway at Old Trafford on 6 July. 
All nine host cities across England will stage a series of exciting events for fans to help them get involved in Europe's biggest ever women's sporting event. 
Iconic locations across the country will be transformed into Fan Parties, where supporters of all nations can gather to enjoy food, music and entertainment.
Matchdays won't be the only chance for fans to experience the atmosphere, throughout July the UEFA Women's EURO 2022 events programme will host a range of arts, heritage and music activities all inspired by the record-breaking tournament. 
Councillor Martin Smith, Chair of the Economic Development and Skills Policy Committee at Sheffield City Council, said:
"This is such an exciting time for Sheffield and the whole nation. Whether you're a football fan or not, this summer is a chance for everyone to get involved and see first-hand the phenomenal impact of hosting an international tournament of this scale. 
"Football runs through the veins of this city, and this is our chance to share that with the world. The Fan Festival will unite people to celebrate together, and I know that our local people will embrace this experience and give visiting fans a very warm Sheffield welcome.
"This is a once in a lifetime opportunity that we're really proud to be a part of and we can't wait for kick off."
Sheffield Festival of Football
As Sheffield plays host to four tournament fixtures - three group matches and a semi-final - between 9-26 July, the city will be celebrating across the whole month.
Sheffield's Fan Parties will take place at Devonshire Green on Saturday 9 July, Wednesday 13 July, Sunday 17 July and Tuesday 26 July. Sheffield will host the Netherlands, Sweden and Switzerland teams during the competition, with Home and Away fans able to enjoy:
Live music and entertainment 
Food and drinks originating from host nations
Official UEFA Women's EURO 2022 partner activities including Starling Bank football-themed activities and face painting
As well as match day Fan Parties, activities will take place throughout July as part of the associated cultural and heritage programme. Visiting fans and local people can fully immerse themselves in the festival experience with:
football heritage exhibitions
pop up performances from the Royal Philharmonic Orchestra
theatrical performances with Together in the Square
arts displays and activities, storytelling and more.
Event listings are available at https://www.uefa.com/womenseuro/event-guide/sheffield/
Sheffield BID is providing funding to support the Fan Parties taking place in Sheffield.
Diane Jarvis, Head of Business Operations at Sheffield BID, said:
"We're pleased to be able to support Sheffield's host city status with funding to deliver a city centre Fan Party on each of the four matchdays. This will create a great party atmosphere in the build up to each match and bring more people, both local and new visitors, to Sheffield city centre.
"The Fan Party events are sure to be a big attraction and we are delighted to be playing our part in helping to create such a vibrant and colourful experience. Of course, we also have our fingers crossed that the Lionesses will progress through to the Semi Finals for what would be a truly great occasion for the city!
"Sheffield BID is committed to supporting diverse activities which drive economic growth and support the  vibrancy of our city through collaboration, helping to drive visitor participation, dwell time and spend into our retail, hospitality and leisure sectors to the benefit of all."
UEFA Women's EURO 2022 Tournament Director, Chris Bryant said:
"Showtime is almost upon us. UEFA Women's EURO 2022 will be a landmark, ground-breaking tournament in so many ways and not just for the fantastic football on the pitch. 
"All of our host cities are planning events before, during and after games. Whether you are a diehard football fan or just looking to enjoy your first tournament, we want everyone to share in the momentum of this event. There will be concerts, exhibitions, fan parties, workshops and much more."
Nine host cities will play host to 31 games as well as an action-packed line-up of entertainment for fans to enjoy.
More information about the Fan Parties and the full Fan Festival programme for each city is now available on the official Event Companion on the UEFA Women's EURO mobile app at https://womenseuro.page.link/2sZD
UEFA Women's EURO England 2022 brings the tournament back to England for the first time since 2005. Tickets are on sale now for fans to experience a record-breaking tournament that aims to unite football and communities and amplify the growth of the women's game. 
Prices start at £10 for adults and £5 for under 16s. Visit www.uefa.com/womenseuro/ticketing
For more information about the exciting Arts & Heritage programme running alongside the tournament visit www.thefa.com/weuro2022Arts
Other stories you might like