The Great British September Clean in Sheffield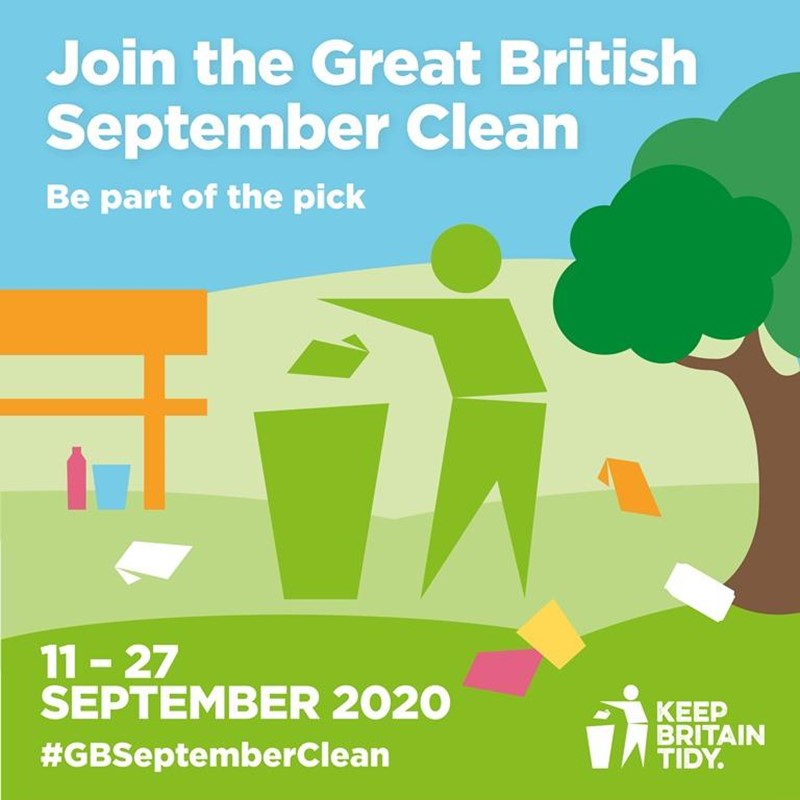 We are calling on all residents to support a national campaign in a bid to help clean up Sheffield communities.
As part of Keep Britain Tidy's Great British September Clean, we will be offering support to those who want to make a difference to litter levels this September, with a focus between the 11th - 27th September, in recognition of a national drive to rid communities of litter.
Earlier this year, we pledged to support the campaign, originally scheduled for Spring 2020, but the impact of Covid 19 meant that many events could not go ahead and so alternative dates this September were confirmed.
How you can help  
For the fourth time since the campaign started, we are encouraging citizens to get involved in litter- picking activities whilst adhering to the current guidelines on social distancing, by picking alone or with small groups of like-minded volunteers.
In previous years, hundreds of people have come out in support of the campaign to help change behaviour when it comes to taking responsibility for the environment, many of whom are involved in litter picking activities all year round.
Cabinet member for Environment, Street Scene and Climate Change at Sheffield City Council, Councillor Mark Jones said:
"The Great British September Clean is a fantastic incentive to get people talking about the importance of keeping areas clean and taking action by disposing of litter in the right way.
"Litter picking has an immediately positive impact on our neighbourhoods and means we can continue to take pride in the city we all call home. However, in these very different times, we must remember to put safety first and follow the guidance around social distancing so that we don't jeopardise our health and that of those around us.
"In recent months, with more and more people spending time outdoors and enjoying the abundance of green spaces we have here in Sheffield, there has been a notable increase in litter being left by a small minority.
"In an ideal world, we wouldn't need to spend money or give up valuable time to clear up after others; yet tackling litter continues to be a huge undertaking for already stretched council services, as well as the volunteers who selflessly dedicate their own time to help clean up our streets and parks."
What we are already doing to tackle litter in our city
The Great British September Clean initiative comes at a time when caring for the environment and living more sustainably has never been more important.
And whilst volunteers in Sheffield continue to support the drive for cleaner streets, the council is tackling litter louts head on with well over a thousand Fixed Penalty Notices being issued this year alone.
In addition, routine street cleaning is undertaken by Amey on a continuous basis as part of the Streets Ahead highways maintenance contract and over 100,000 requests for street cleaning have been dealt with since 2012.
Mark Jones continued:
"The Great British September Clean provides us with an opportunity to celebrate the good work that is already being done across Sheffield but it also highlights that there's a long way to go; and it starts with us all taking more responsibility.
"Litter affects us all and so we would like everyone to show their steely support in Sheffield this September."
Darren Butt, Account Director at Amey Streets Ahead said:
"We have been working with local litter picking groups such as Sheffield Litter Pickers since they came together in 2015, providing equipment such as litter pickers, gloves, clear bags and free collection of full bags to ensure they are disposed of properly.
"However, whilst we fully support local communities getting involved in removing litter, there is little doubt that we shouldn't need to. We urge everyone to take responsibility for their own litter by taking it home with them or using one of the many litter bins on our streets."
In addition to litter clearance, Amey support voluntary litter picking groups all year round as well as delivering an education programme throughout schools in Sheffield.
So far, since the start of the contract, they have made 295 school visits, talking to over 63,500 pupils to promote behaviour change when it comes to littering.
For more information on how to get involved with the Great British September Clean, including guidance on Coronavirus safety measures, visit the Great British September Clean site. 
For more information on how litter is being managed in Sheffield visit our Clean Sheffield pages.
Other stories you might like