Greenground Map of Sheffield launched to kick off Love Parks Week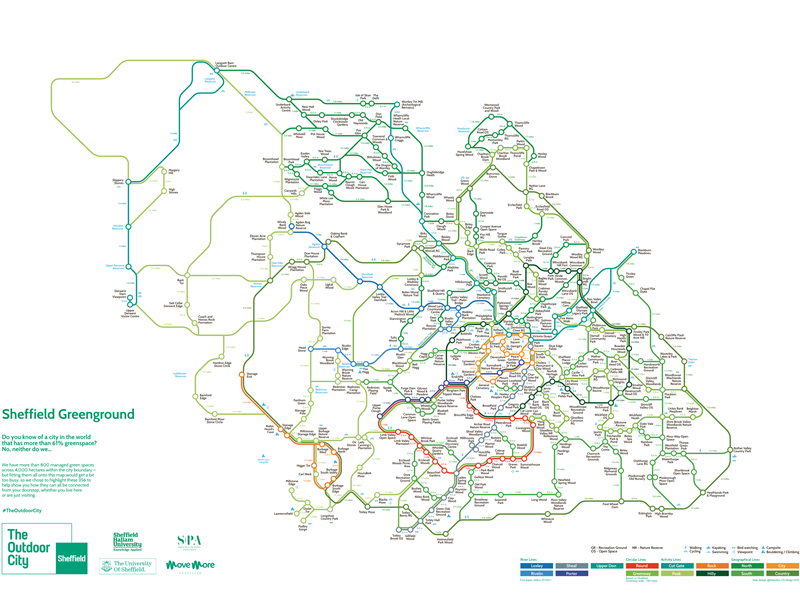 Thanks to generous support from partners in the city, Sheffield City Council has specially commissioned a 'Greenground map' of the city, aiming to showcase how accessible greenspaces are for everyone, everywhere in The Outdoor City.

Available online for anyone to download via The Outdoor City website, and with 22,000 copies being distributed across Sheffield, residents and visitors alike can get a sense of what's on their doorstep, explore new places and be more active – no matter where they are in the city.

Drawing on rivers, activity and geography themes as key 'lines' – as well as featuring the Sheffield Round Walk and Sheffield Greenway Walk, the Greenground map demonstrates how parks, open spaces, recreation grounds, waterways, woodlands, and the Peak District National Park are all accessible for everyone to enjoy, no matter what their background or physical ability. For the more adventurous, it also includes information to indicate where the best spots are for kayaking, bouldering, climbing, birdwatching and biking, as well as key viewpoints of the city and campsites.

The map has been made possible thanks to funding support from The University of Sheffield, Sheffield Hallam University, Move More and The Sheffield Property Association. It is being made available to coincide with the start of 'Love Parks Week', an annual celebration of parks and green spaces led by the charity 'Keep Britain Tidy' which reminds people to love, respect and protect our parks around the country.

Cllr Julie Grocutt, deputy leader of Sheffield City Council said: "The Outdoor City is at the heart of what this city stands for. We are incredibly lucky and well known for having the Peak District in our border, but all parts of our city have incredible greenspaces, ancient woodland and heritage sites on their doorstep. We encourage people to take inspiration from this great map, enjoy Sheffield's abundance of natural beauty and be active in our wonderful city."

Cllr Paul Turpin, Executive Member for Inclusive Economy, Jobs and Skills, said: "Clearly this map promotes physical activity, exploration, health and sustainable travel. But it's important to note that all those things link back to our economy – if we can show people what a great place Sheffield is to live, and help everyone here lead healthier lives, then it will benefit our businesses and exponentially improve our city.
"The Greenground map has also launched just as our Summer in The Outdoor City activity takes off. As we hope to see a rise in domestic tourism, we're making the map available to our key hotels too, as this will make a great 'take home' memento for many people who will no doubt have been surprised at just how much green space there is here and inspired to come back and experience the bits they missed out on."

The printed copies will be distributed through Sheffield's parks networks, independent shops and hospitality venues, libraries, community centres, hotels and the BID shop on Tudor Square. Plans are being looked at for development of the Greenground concept – such as more detailed versions of areas of the city (as it currently only contains around 360 of over 800 green spaces in Sheffield), and the possible printing of a poster version.

The Greenground maps are a concept created by Helen Ilus from Tallinn. Having spent time in London, she wanted to promote the fact that whilst the tube network is great, there are healthier and more enjoyable and sustainable ways to get around via networks of greenspaces. She has since designed maps for Edinburgh and Bristol too – but the Sheffield Greenground map is the first time she has been directly commissioned to create one.

On working on this project, she said: "I've learned so much about Sheffield while making this map and I can honestly say it's the coolest city I've worked with. I don't know any other UK city with so much open space and opportunities to go out and get active. I hope this map will inspire more people to walk & cycle and experience Sheffield as a truly green, connected and open city."
Other stories you might like