Heart of the City: Park to be dedicated to Sheffield's first Chief Fire Officer, John Charles Pound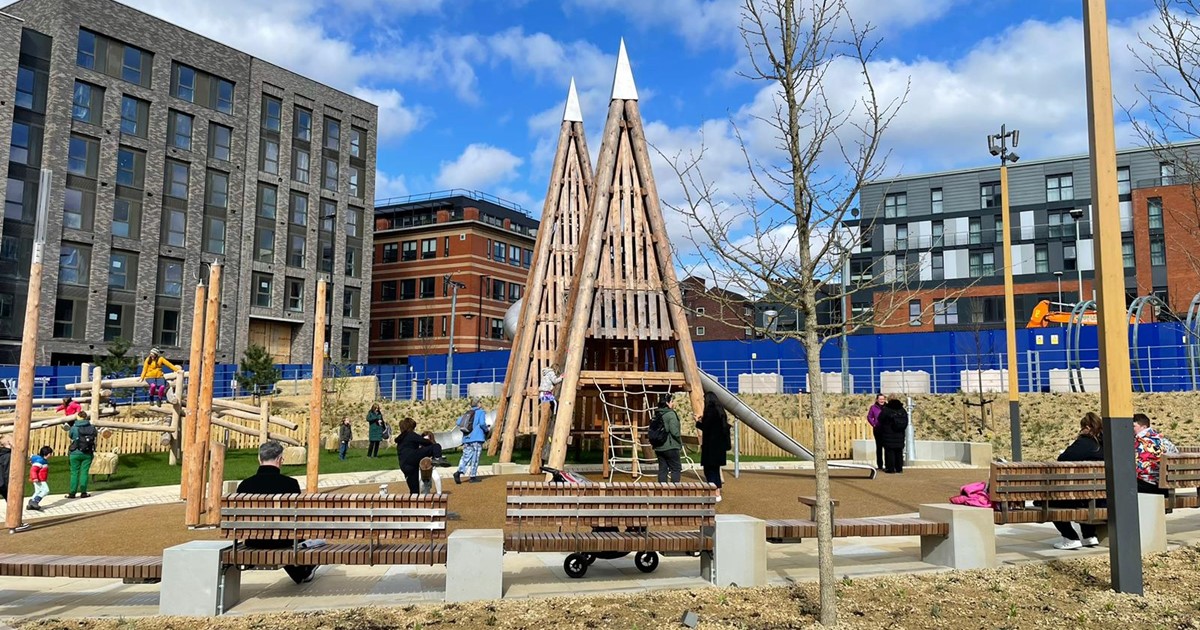 Pound's Park will be dedicated to Sheffield's first Chief Fire Officer, John Charles Pound, in a ceremony on Saturday, May 27th.
A series of performances and events will be hosted and a heritage board will be unveiled in the city's new park from 11am.
Events will be put on by Stand and Be Counted (SBC) Theatre and will include a performance that celebrates the opening of Sheffield's new city centre adventure playground and interactive activities for children and adults. A number of drop in events will also be hosted by RivelinCo in the park in the afternoon.
Joining the event will be representatives from Sheffield City Council as well as Mr Pound's great-grandson Gordon and the current Assistant Chief Fire Officer at South Yorkshire Fire and Rescue Service.
At the ceremony, the park will be dedicated to John Charles Pound (1833-1918), Sheffield's first Chief Fire Officer, who was responsible for creating the city's municipal fire brigade in 1869. The site has a long history with Sheffield's fire service and it's dedication to Mr Pound is a fitting tribute to the man who had a long and eventful career, including several brushes with danger.
A new musical pocket park will also be opening to the public on Saturday, May 27th. The Pocket Park was created in collaboration with the ChangingSheff residents group through Section 106 funding, and provides an exciting new space within the city centre for music and creativity, with a nod to Sheffield's rich musical heritage.
Councillor Ben Miskell, Chair of the Transport, Regeneration and Climate Committee, said: "Pound's Park has already proven to be a hugely popular spot for everyone in the city and shows the level of ambition that we have for our city centre and create an even better place to live, work, shop, study and have fun in.
"The dedication ceremony will be a special moment for the city, recognising John Charles Pound's contribution to Sheffield alongside his great-grandson Gordon. We're so pleased to be able to honour Mr Pound within the park with the unveiling of a new heritage board and some fantastic live performances and events."
Rosie MacPherson, Artistic Director & Joint CEO at Stand & Be Counted Theatre, said: "We are thrilled to present "Press PLAY", a brand new performance party, to launch the opening of Pound's Park. Our Youth Theatre of Sanctuary have been working hard every Saturday, creating a playful celebration, to welcome local families to this exciting city centre park and playground. Children from across the globe, who now call Sheffield home, are ready to show off what space to play means to them and celebrate children and families coming together in Sheffield to enjoy and explore what this great city has to offer."
Andy Strelczenie, Deputy Chief Fire Officer, South Yorkshire Fire and Rescue Service, said: "I know that everyone at South Yorkshire Fire & Rescue feels incredibly proud that our contribution to the city has been recognised through the naming of this park in Charles Pound's honour. Given the long standing history the fire service has working with young people- we're particularly pleased that this site will now bring enjoyment to children for many years to come."
Linda Bloomfield, Director of RivelinCo, said: "We are proud to have worked with communities across the city to co-design some of the permanent artworks in the park, alongside metalwork artist Julian Stocks. Designs by people of all ages in Hillsborough, Heeley, Darnall, Attercliffe and the City Centre have been cast in bronze and installed in the pathways, community poetry adorns the walls, and community prints are showcased too: a reminder that Pounds Park is a place where everyone is welcome."
Other stories you might like