High street set for transformation following successful funding bid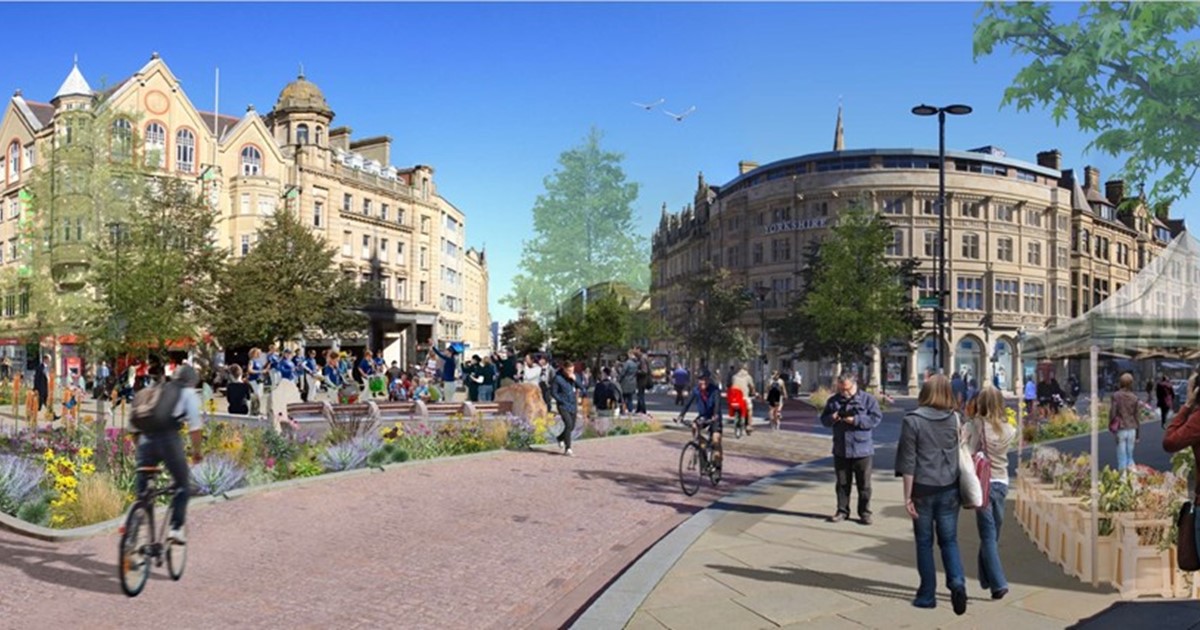 Sheffield City Council has been successful in its bid for £15.8m of funding as part of the Government's Future High Streets Fund, which will be used to rejuvenate Sheffield's high street as part of the continuing transformation of the city centre.
Sheffield's high street, as well as hundreds of businesses across the city, has been hit hard by the pandemic, facing challenges and uncertainty like never before. Many businesses have had to close their doors or radically adapt to become Covid-secure, including moving to online trading, opening with limitations and adaptations and supporting staff to operate safely. 
The new funding will be focussed on reinventing Fargate and High Street as social hubs in the city, with plans to create a new multi-use space 'Event Central', which will be used to host events and exhibitions, as well as offering co-working space and a café. Under the funding requirements, the plans must be delivered by March 2024.
The scheme will also see current redundant space repurposed and refreshed with climate-resilient greenery and seating areas, alongside new lighting to deter crime and make the space more attractive to visitors.
The Future High Streets Fund bid complements the Council's Connecting Sheffield scheme, which will transform the city's travel infrastructure by creating high-quality, safe and convenient walking, cycling and public transport routes into and around the city.
Councillor Bob Johnson, Leader of Sheffield City Council, said:
"The Covid-19 pandemic has been an incredibly challenging time for businesses, and I know that the new lockdown restrictions will impact even further on the vast majority of businesses in Sheffield, many of whom have been unable to open properly for months now.
"However despite the current situation, this scheme provides hope for the future and will assist in the recovery of our local economy in the long term. It reflects the confidence instilled in Sheffield's potential and our place as one of the UK's leading cities and destination for investment.
"We are really pleased that Government has recognised the significance of our bid and awarded us the full amount of requested funding. This will mean continued investment and regeneration in Sheffield for the benefit of all our residents and visitors.
"The traditional high street is changing  across the country, and it's important that we adapt to the changing needs of our residents and visitors and develop space and infrastructure that offers opportunities for a diverse mix of leisure, entertainment and retail.
"Our ambition is to create a future-proof city centre, where people can live, work and spend quality time with friends and family in a safe and pleasing environment. To help us achieve this,  our Future High Streets Fund proposals focus on adapting the underused upper levels of buildings on Fargate and High Street to become much-needed homes and workspaces, as well as improving our city centre spaces so that they are better placed to host quality events and in turn support our local hospitality, retail and leisure businesses."
Councillor Mazher Iqbal, Cabinet Member for Business and Investment at Sheffield City Council, said:
"This is really exciting news for Sheffield and our businesses, and comes in addition to our ongoing investment in our Heart of the City regeneration scheme and that of Aberdeen Standard on The Moor. It has been a fantastic team effort and I'd like to thank our partners at University of Sheffield and all the retailers and property owners who collaborated with us on this bid."
Professor Vanessa Toulmin, Director of City and Culture at the University of Sheffield, said:
"The University is delighted that the support and academic expertise we brought to the Future High Street Fund has made it one of only 15 bids that has been funded in its entirety and that demonstrates the innovative nature of the proposal and also the partnership elements that shine through the bid.  We are also delighted that our architectural and Urban Planning students helped visualise a high street that is as much for the young generation as it is for long term residents and reflects all the elements of the feedback we received from partners and businesses in the City.  I never doubted that the uniqueness of our partnership and the amazing abilities of council officers in urban development would result in a unique, creative and very grounded bid that presents a city centre that Sheffield will be proud of."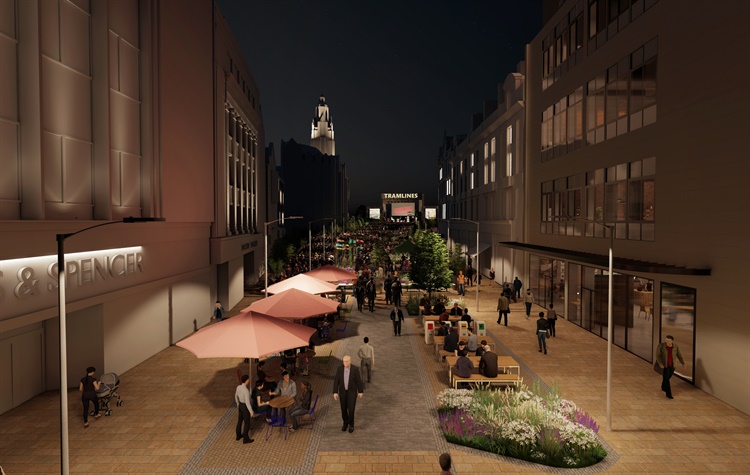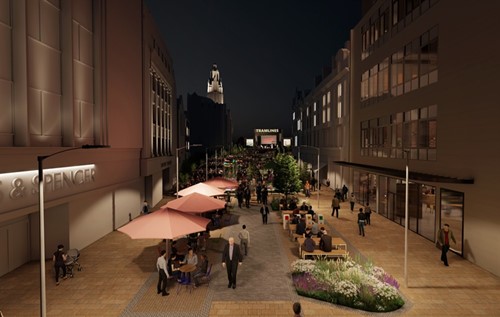 Visualisation of Fargate
John Heller, of Orchard Square, said:
"The award of Future High Street Funding to Sheffield is welcome and exciting news. Having owned Orchard Square for over 20 years we have witnessed first-hand the challenges that parts of the City centre have faced, particularly over the last 5 years.  It is essential that the recent downwards trajectory is reversed through investment into the buildings and public spaces around Fargate and High Street, and the Council is to be commended for making this a reality. Sheffield is a major city with enormous potential and this money will be transformative, helping the City to grow and attract visitors, shoppers and residents for years to come."
You can find more information on the Future High Streets Fund page.
Other stories you might like