Hillsborough playground reopens with ssssspectacular attraction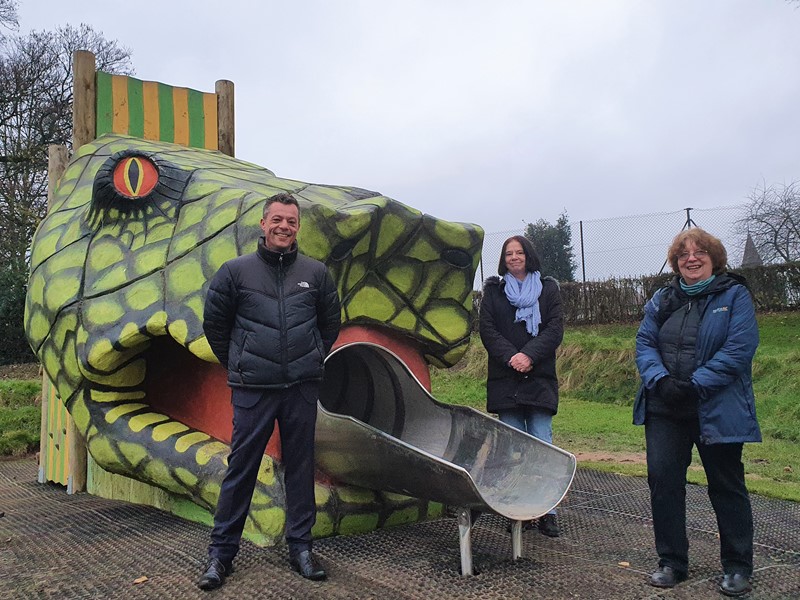 One of Sheffield's most popular parks, Hillsborough Park, is reopening its playground next week, from Monday 14 December, following completion of the first phase of improvements, which have brought a giant snake's head and a brand new obstacle course to the park.
The Parks and Countryside team have been working with the Friends of Hillsborough Park to deliver the £50,000 of improvements with the aim of bringing a unique and exciting attraction to the playground, as well as providing a great space for children to take part in active and imaginative play.
Local people contributed to the playground design during a community event held in the Walled Garden where residents and visitors were able to give their ideas and comments on three different options.
Phase 1 included the installation of the new snake's head and obstacle course, as well as removal and replacement of damaged equipment. These improvements have been made possible from a range of funding including investment from Public Health funding, Section 106, Charitable investments and a donation from Tramlines.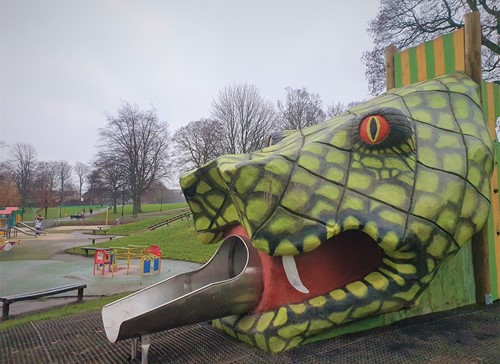 Councillor Mary Lea, Cabinet Member for Culture, Parks and Leisure, said:
"I think we can all agree that this first phase of improvements has already made a huge difference to the playground and I know that local people are very excited to start using the new equipment.
"Parks have been a lifeline for people during this pandemic, for leisure, fun, exercise and fresh air and we understand now more than ever just how important it is that we continue to invest in our fantastic green spaces.
"Hillsborough Park has always been one of the city's most loved parks, and with the new improved playground, plus our plans for phase 2, the All Wheeled bike track and Coach House community café next year, it is going to be a real destination for recreation in 2021."
Councillor Bob Johnson, Cabinet Member for Transport and Development and local councillor Hillsborough ward, said: 
"Hillsborough Park is real local gem, meeting the needs of so many people of all ages. With the first phase of playground improvements now complete, including the great new snake's head slide, it's brilliant that we can reopen and welcome families back on to the play equipment.
"This was designed in partnership with local people, so we're really pleased that they can now enjoy the benefits of this investment and look forward to developing phase two with the local community firmly at the heart of it."
Christine Welburn from the Friends of Hillsborough Park (FoHP) said:
"The FoHP are excited that the first stage of the playground renovation is complete. The new equipment lifts the whole park and the snakes head is stunning. Local families and children deserve to have such an innovative play area. We look forward to the communities' support for fundraising towards the next phase of development."
The focus will now move to the second phase of improvements, that will see the refurbishment of the rest of the playground to include exciting play and musical equipment, a sandpit and new surfacing and markings. It is expected that a further £100,000 of investment is needed to complete phase two.
Cllr Lea added: "We have been very fortunate with phase one to be able to use some of the Public Health money committed in this final year of investment, as well as a generous donation from Tramlines and other funding projects, which we are extremely grateful for. We can't wait to get started on plans for phase two which will provide an outstanding play facility for thousands of children across the city."
Visitors to Sheffield's parks are reminded to adhere to the relevant Tier related restrictions - currently Tier 3 in Sheffield.
For more information contact the council's Parks and Countryside service at parksandcountryside@sheffield.gov.uk or call 0114 2500 500. Follow on social media @parksheffield on Twitter & Instagram, or @sheffieldparks on FB
Other stories you might like