Honouring Holocaust Memorial Day with an online service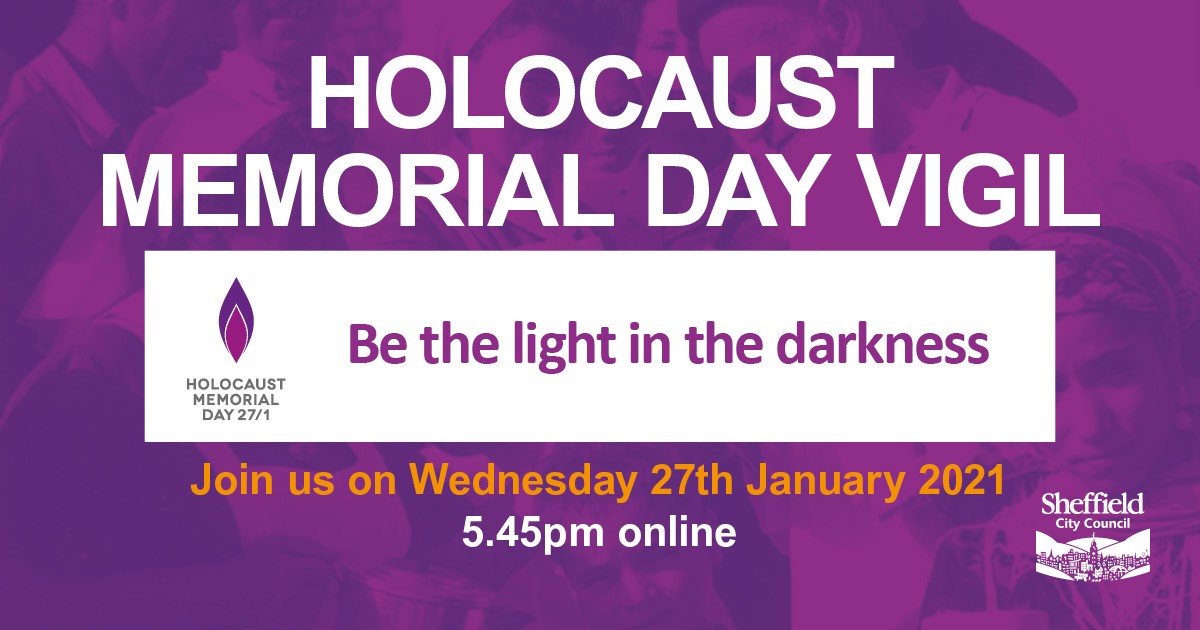 Holocaust Memorial Day takes place on Wednesday January 27, 2021.
It commemorates the devastation of six million Jews killed during the Holocaust, alongside the millions of others who lost their lives under Nazi persecution and in genocides that followed in Cambodia, Rwanda, Bosnia and Darfur.
Each year a theme is chosen for the day and for 2021 it is 'Be the light in the darkness'. The theme is intended to encourage "everyone to reflect on the depths humanity can sink to, but also the ways individuals and communities resisted that darkness to 'be the light' before, during and after genocide."
Due to the ongoing Covid-19 restrictions, the usual commemorative event held at Sheffield's Winter Garden cannot take place. Instead, event organisers are planning to host and stream this year's ceremony online which will be available to watch for free via Zoom from 5:45pm – 7pm on Wednesday 27 January 2021.
The vigil will feature reflections from the Lord Mayor, the Leader of the Council, Jewish Congregations and key members of the local community.
The new format for the event has been created to help curb the spread of Coronavirus across the city whilst ensuring people can still pay their respects and participate safely from home.
Sheffield's Town Hall clock face will also be lit up in the colour purple, the Holocaust Memorial Day branding colour, as a nod to this year's theme.
Leader of the Council, Councillor Bob Johnson said;
"Holocaust Memorial Day provides a significant opportunity for the people of Sheffield to remember the lives and bravery of those who were persecuted in the Holocaust, and subsequent genocides, and to pay tribute to the survivors.
"It is important that we take time to remember and reflect on the events of the past, but that we also acknowledge that tragically, many people are still facing oppression and are forcibly being separated from family, friends and wider-society because of political or religious persecution and war.
"Now, it is more important than ever, that we unite to stop discrimination, hatred and the isolation of people in our society.
"With the current health crisis preventing an in-person ceremony from taking place, we have had to alter the way in which we honour Holocaust Memorial Day this year. I'm sure everyone will appreciate that due to the ongoing pandemic, an online virtual event is the safest way we can mark the occasion.
"I look forward to seeing people from all faiths and communities joining us for this commemorative service from the comfort of their homes."
You can watch the service online here via our web portal.
The events locally are part of international Holocaust Memorial Day commemorations, details of which can be found here https://www.hmd.org.uk/. 
Other stories you might like