International project 'The Walk' brings Little Amal to Sheffield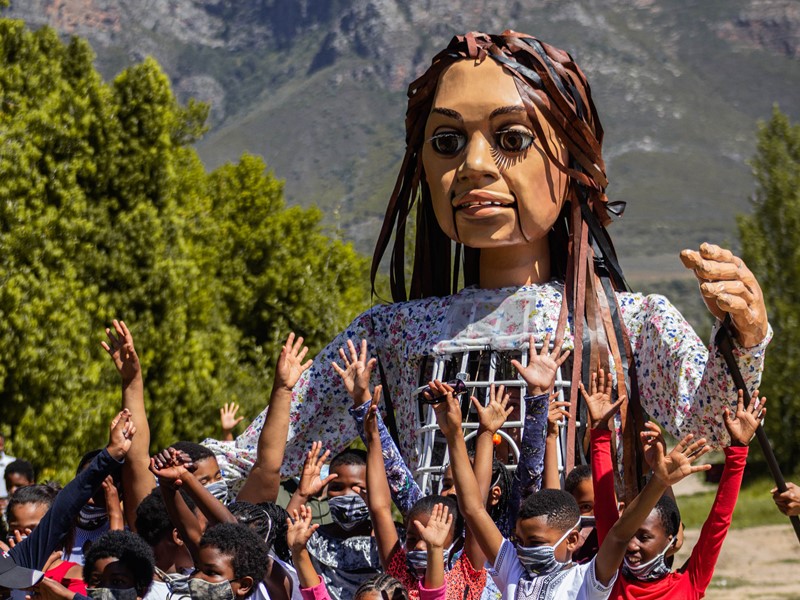 Little Amal to visit Sheffield in penultimate stop of international project The Walk
As part of the extraordinary project The Walk, Sheffield Theatres is proud to welcome Little Amal, a 3.5m puppet of a 10-year-old refugee girl, as she nears the end of her international journey from the Syria-Turkey border to Manchester.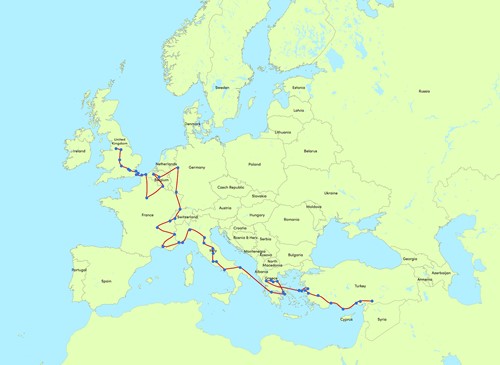 Little Amal's route during The Walk
All are invited to come and see Amal on Friday 29 October and take part in the free community activities on her journey through Sheffield.
Working in partnership with Good Chance - a charity who work with refugees, artists and local communities to tell stories of hope and humanity - Sheffield Theatres will welcome Little Amal to Sheffield, the UK's first City of Sanctuary, sharing with her key elements of the city of Sheffield.
Activities, performances and displays will be coordinated throughout the day in partnership with The University of Sheffield and Off The Shelf, Sheffield Hallam University, Canal and Rivers Trust, DINA, Stand & Be Counted Theatre, and City of Sanctuary, and supported by Sheffield City Council and Yellow Bus Events. Amal will be gifted with contributions and performances from Sheffield People's Theatre, Globalmama, One World Choir, Tin Soldiers, Juwon Ogungbe, Patrick Amber and Nisha Lall Dance.
John Tomlinson, Producer at Sheffield Theatres said:
'We're incredibly honoured to welcome Little Amal to the city we're all so proud of: her visit to Sheffield amplifies the welcome our proud City of Sanctuary offers, and extends open arms to anyone who resonates with what The Walk represents, through the shared language of visual art. Her presence in our communities will resonate with the feeling of togetherness which thrives in Sheffield and we're working hard to ensure Amal will receive a true Yorkshire welcome!'  
Amal's visit to Sheffield begins with a journey by barge up the canal, arriving at Victoria Quays for a celebratory welcome by Stand & Be Counted Theatre company. Ahead of her arrival Canal and River Trust will present free family-friendly activities, from live music and a variety of arts and crafts, to canoeing and more. Amal will then arrive in Tudor Square for sunset. The square will be decorated with an art installation of Quotes of Welcome: warming messages in different languages created by a community engagement project, led by DINA, Sheffield Theatres and Off The Shelf. Amal will dance with Sheffield People's Theatre as part of their performance piece and, when a larger than life fox lantern (created by Patrick Amber) arrives with fellow woodland creatures, they will play a game of hide and seek with Amal before leading her to the Peace Gardens. Films by Sheffield Hallam University will be projected onto the Town Hall whilst Amal conducts a brass band, accompanied by fireworks.
Throughout the afternoon, there will be free creative workshops taking place in Tudor Square from 2.30pm – 5pm, and all are welcome to take part. Ellsemere Youth Group; Furnival Hub Creative Writing Women's Group; Refugee Council Young Men's Group; Pye Bank School; Ship Shape Men's, Women's and Family Groups; Off The Shelf have been working on Quotes of Welcome, a washing line with joyful and welcoming messages. There will also be lantern building, henna pattern workshops, postcard writing and bread baking workshops, involving various community groups including: Highfield Adventure Playground; Pitsmoor Adventure Playground; Heeley Youth Project; Patrick Amber and Abbeyfield House. 
Little Amal was crafted by the highly acclaimed Handspring Puppet Company (War Horse). Amal is the figurehead of the travelling festival of art and hope in support of refugees, with Artistic Direction from Amir Nizar Zuabi. Donations can be made to The Amal Fund, created by Choose Love and Good Chance. 
To see Little Amal on her journey, follow her on social media @WalkWithAmal.
Other stories you might like