Join free live digital event inspired by local stories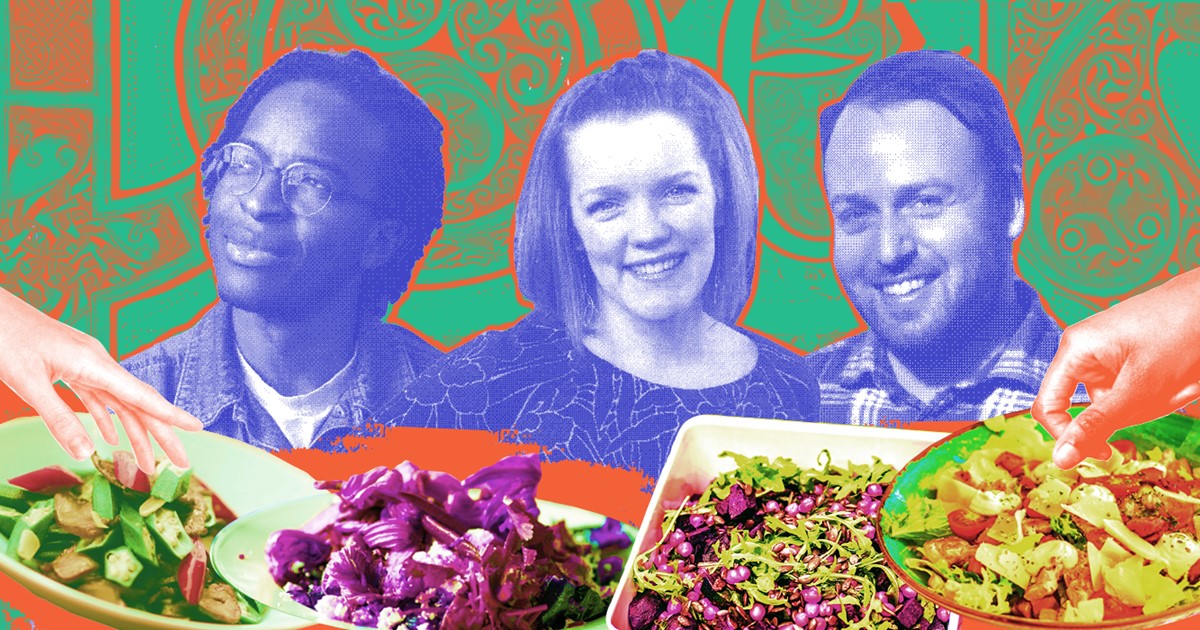 Next month Sheffield Libraries, Archives and Information will host a free digital evening dinner time event with a menu of poetry, language and film in partnership with the British Library, the UK's national library, and produced by Poet in the City, one of the UK's leading poetry organisations.
When the lockdown first hit, Sheffield Central Library had tocancel an Anglo-Saxon inspired immersive feast with live poetry. Instead, Sheffield Libraries found itself supporting local communities as a front-line service, and branch libraries including Firth Park which was at the heart of the project, became a food bank outlet.
In response to this, the commissioned poetry has found a home in a new film inspired by Sheffield's incredible communities and the outstanding efforts of food banks across the city, directed by award-winning film-maker Eelyn Lee. The film will be premiered as part of this live digital event on Thursday 25 February 8pm.  
Digesting History - with recipes, riddles, poetry and film 
Digesting History invites audiences to join a digital dining table from their own homes, where recipes, riddles and brand-new poetry will be shared by Rachel Bower, Kayo Chingonyi and Joe Kriss inspired by their visit to the British Library's 2018 exhibition Anglo-Saxon Kingdoms: Art, Word, War and their conversations with communities across Sheffield.  The new film by Eelyn Lee will showcase collaborations with some of Sheffield's finest artists, including song from the award winning folk singer Rosie Hood, music by composer and sound designer Lee Affen and narration by writer and presenter, Johny Pitts (Afropean). The event will be hosted by Silé Sibanda (BBC Radio Sheffield).
Alongside the film premiere, there will be talks from special guest speakers that explore how the beginnings of English language have impacted Sheffield's dialect, of how the formation of Anglo-Saxon kingdoms prompts thinking about national identity today and how the pandemic has reminded us of the importance of libraries to their communities.
Bringing us all together
Through poetry packages and community recipe sharing, this event will bring the people of Sheffield together. In the lead up to the event, the project is running a call out for recipes that make up the culinary heritage of Sheffield. A selection of these inherited recipes will be included in a community recipe booklet, published and distributed by Sheffield Libraries, marking a unique moment in time for the city. People can give us their recipes on the Digesting History section of Sheffield Libraries' Facebook page or email libraries@sheffield.gov.uk
The first 300 Sheffield residents to sign up for this event will also receive a curated package of poems and recipes delivered to their doors from interactive arts company The Bare Project.
This event is part of Collections in Verse, a programme of poetry events and community engagement inspired by British Library collections and taking place in four cities across the UK. 
Councillor Mary Lea, Cabinet Member for Culture, Parks and Leisure said: "We're delighted that this fabulous feast of an event is still going ahead even though in a different way because of Covid. Not only is it still happening, it's happening live, so that everyone can join in at the same time. We'll have a sense of togetherness in more than one way. We may not be in the same living room as someone else who we would like to be sharing a space with, but this event will make it feel as close to the real thing as possible.
"This project really has the cultural identity of Sheffield at its heart. We are proud to be hosting such an innovative digital performance that people can enjoy in the comfort of their own homes. Our libraries serve our local communities and this project has brought local stories and heritage to life, resulting in an online event that I'm sure will uplift and bring people together."
Ruby Baker, Senior Creative Producer for Poet in The City said: "Digesting History celebrates the wonderful collaboration we've had with libraries across Sheffield. We've uncovered some incredible stories from the people we've encountered along the way and our poets have brought these voices to life in brand new poetry, created specifically for Sheffield. Anglo-Saxon feasts were times when communities would come together to share food and riddles, so even though our dinner table is digital, we can't wait to join audiences across Sheffield for a one-off feast of poetry and film."
If anyone would like to make a contribution to the event they can donate to Open Kitchen Social Club, a community programme that provides food and support for asylum seekers, refugees, migrants and those in need.
To book for the event visit: https://www.poetinthecity.co.uk/Event/digesting-history-event
Other stories you might like