Join This Girl Can 25 miles in December challenge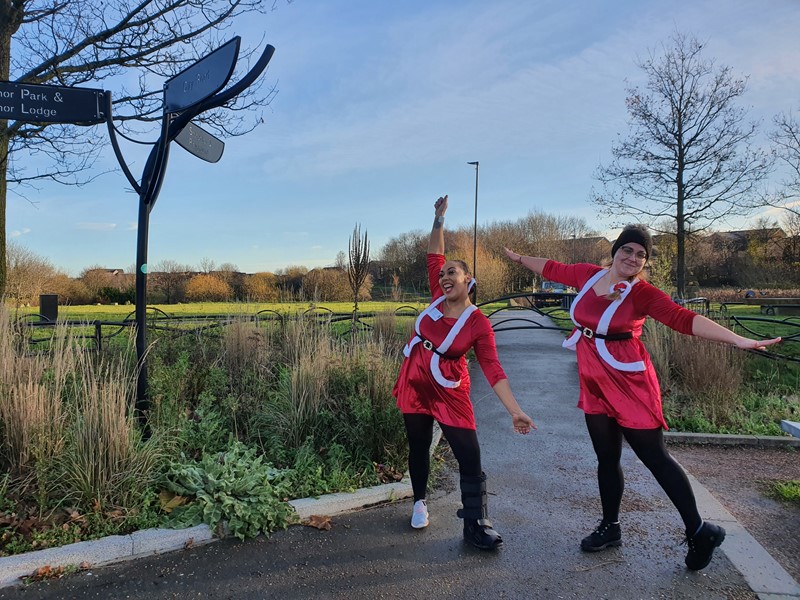 https://youtu.be/Psdj2XhDBZ0
This December, local This Girl Can officers, Monika Katarzyte and Kelly-Anne Sharman from Manor and Castle Development Trust, invite everyone to join them in a festive get active challenge, walking, jogging or running a daily mile for the 25 days of advent.
Kelly-Anne and Monika kick off with mile 1 from Manor Fields Park
Monika said: "To put the fun factor into the festive challenge we are encouraging participants to put their Christmas t-shirts, jumpers, socks and hats, or any other festive clothing from their wardrobes, grab a flask of their favourite hot drink, buddy up with someone special and get out for an adventure. Take photos and upload them to the local This Girl Can Facebook groups to celebrate your everyday achievements, inspire others and countdown to Christmas in style!"
Monika and Kelly-Anne are part of a team of This Girl Can Officers who were recruited in July after Sheffield was awarded £100,000 in This Girl Can funding from Sport England. The This Girl Can Officers deliver the projects through four community organisations; Manor and Castle Development Trust, Shipshape, SOAR and Zest, who are leading the initiative across the city.
Through community outreach work, the officers are establishing groups, encouraging women to do their own thing and connecting with women virtually, supporting them in leading more active and healthy lifestyles.
The officers have already helped many local women take part in new activities by overcoming the barriers they believe stop them from being active and building their confidence to give things a try.
This latest challenge – 25 Miles in December – has been created by Monika and Kelly-Anne who thought it would be a great way to connect with women in their area, they felt that there was so much emphasis right now on what people can't do and wanted to focus on what people could still do. They have shared this with the other This Girl Can Officers who are spreading the word in their local areas. All This Girl Can officers are keen to promote this widely to hopefully inspire women across the city to keep moving throughout December.
Kelly Anne said: "It's surprising how such great ideas come up while simply taking a socially distanced walk with a colleague in the green spaces right on my doorstep. When we came up with this 25 Miles in December challenge, we instantly felt excited about it and eager to share it with our members of This Girl Can group. We are surprised by a great interest of members and other This Girl Can officers around the city. Keep an eye out for our upcoming exciting move more challenges in 2021!"
The girls have created a handy advent calendar, available to download now, they said: "We wanted to help people tick off their daily mile and stay motivated. There's no hidden treats behind our advent tiles but the benefits of daily exercise are a far better reward."
Monika and Kelly-Anne will kick off their 25 miles in their Christmas jumpers, with mile 1 starting from Manor Fields on Tuesday 1 December.
Anyone taking part can do their mile from anywhere at any time of the day, so why not use your daily mile to get out and see more of your local area or discover some of Sheffield's quieter outdoor spaces on the doorstep.
People are also encouraged to get a selfie and share their daily miles on social media using #thisgirlcanmcdt
Councillor Mary Lea, Cabinet Member for Culture, Parks and Leisure at Sheffield City Council, said: "This Girl Can is a fantastic initiative and our local officers are making a huge difference to so many women's lives, giving them the confidence to try new things and providing a support network of like-minded women who inspire each other to carry on and improve.
"The 25 miles in December challenge is the perfect activity to get us all through the Christmas period, where it's easy to stay indoors and hibernate on the sofa. The best thing is a mile a day is achievable for most of us and it can be weaved into our daily routines of the school run or a walk to the shop.
"As well as being achievable, this challenge also supports one of the main factors to leading an active lifestyle – consistency. When we are consistent it becomes the norm and when activity is a normal part of our weekly life, we are far more likely to keep it up.
"I would encourage everyone to get involved, chuck on those festive jumpers and take on the daily mile as we approach the countdown to Christmas."
Anyone who is interested in joining one of the four local This Girl Can Groups can contact them or request to join at:
You can also visit This Girl Can for more information, inspiration and support.
The wider project is funded for one year, during which time the council and community organisations will make the most of other schemes and activities such as Move More Month, Couch to 5k and the Walking for Purpose programme, alongside other city wide physical activity initiatives and events, to motivate and encourage more women to be more active.
Through Move More Sheffield, a citywide strategy being delivered by partners across the Sheffield, our aim is to become the most active city in the UK. And as a result, bring about meaningful improvement in the health, wellbeing and quality of life of everybody living here.
For more information or to find out what's on or how you can get support to take up physical activity, contact Jo Pearce from the Partnerships, Sport and Health Team via email jo.pearce@sheffield.gov.uk
ENDS
Other stories you might like