Kelham community group support Great British September Clean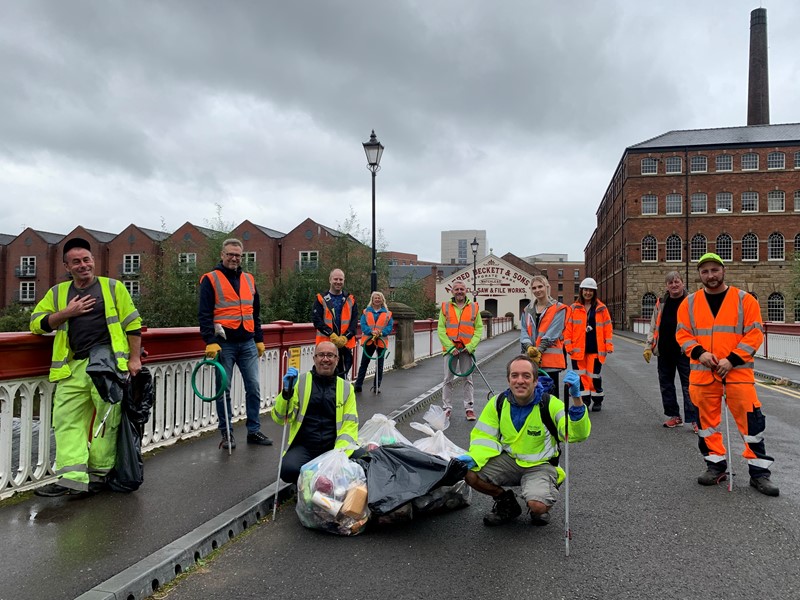 A group of dedicated volunteers from Kelham Island in Sheffield took part in a big clean up this week in support of a national drive to rid local communities of litter.
Members of KINCA (Kelham Island and Neepsend Community Alliance) organised a socially distanced litter pick on Wednesday to help clean up their area as part of the Great British September Clean.
The campaign, which runs from 11th - 27th September, is being organised by Keep Britain Tidy and supported by the council to encourage residents to help make a difference to litter levels this September.
For the fourth time since the campaign started, the council is offering support to those who get involved in litter - picking activities whilst adhering to the current guidelines on social distancing, by picking alone or with small groups of like-minded volunteers.
The dedicated group spent the morning clearing hotspot areas around the river, Neepsend and Kelham Island, collecting seven bags of litter as they went. Joined by council officers as well as Amey operatives, volunteers cleaned their own chosen patches and socially distanced at all times.
Ben McGarry, KINCA Chairperson, said:
"We run a number of community volunteer programmes throughout the year and the litter-pick is one of the most popular. We are very encouraged by the practical support and partnership we receive from the City Council and AMEY in recognition of all the hard work our community members do to keep the area clean and welcoming for visitors, as well as residents."
In previous years, hundreds of people across Sheffield have come out in support of the Great British Clean to help change behaviour when it comes to taking responsibility for the environment, many of whom are involved in litter picking activities all year round.
KINCA's priority is the conservation, protection and improvement of the physical and natural environment around the Kelham Island vicinity. Working with a number of partners across the city, the group dedicate their time to improving the community for everyone to enjoy.
The dedicated group organise a litter-pick, in accordance with changing COVID-19 restrictions, the second Saturday of each month. During lockdown, many community members also wanted to combine their exercise walk with a litter-pick, with one member doing this every day.
Cabinet member for Environment, Street Scene and Climate Change at Sheffield City Council, Councillor Mark Jones said:
"The Great British September Clean is a fantastic initiative to help clean up local areas and  encourage people to think differently about how they dispose of their rubbish.
"We all have a part to play in keeping our neighbourhoods litter - free and it's thanks to the dedicated volunteers we have here in Sheffield that we can all continue to enjoy our city.
"KINCA do a tremendous job year round to ensure their area remains clean and tidy for residents and visitors alike. The dedication and passion they have for the environment around Kelham Island and Neepsend is truly commendable and they set a great example for those thinking of litter picking or helping out in their own areas."
Get involved
To support the Great British September Clean, sign up today at: https://www.sheffield.gov.uk/home/pollution-nuisance/organise-litter-picks
For advice on how to support litter picking  in the safest way possible whilst adhering to guidelines on social distancing, visit: https://www.keepbritaintidy.org/get-involved/support-our-campaigns/great-british-spring-clean/coronavirus-guidance
Other stories you might like