Kick-off approaches for a re-vamped football hub in Sheffield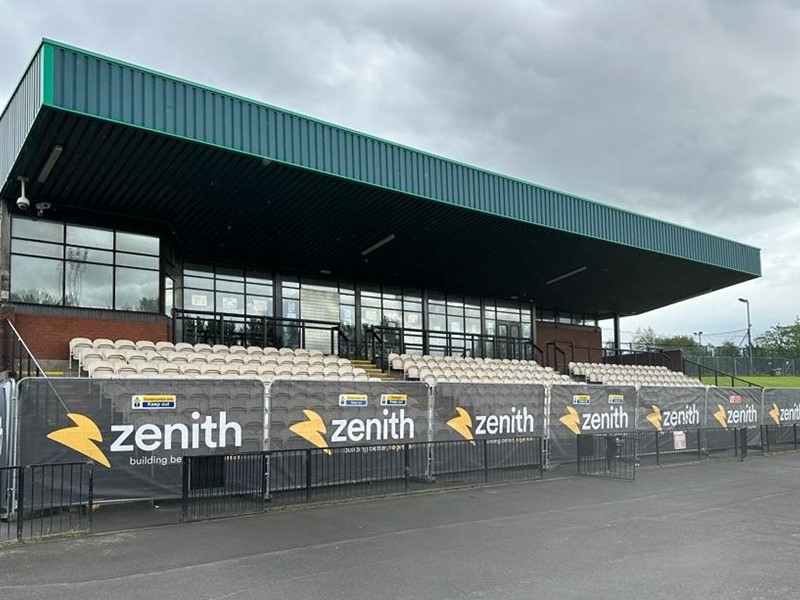 The refurbishment of the Woodbourn Road football site in Darnall has started as part of a project led by the Premier League, The Football Association and Government's Football Foundation in partnership with Sheffield City Council.
The £2.8 million scheme will see the installation of seven LED floodlit small-sided football turf pitches - six 5 v 5 and one 7 v 7 pitch. In addition, the existing two-storey pavilion will undergo major refurbishment to provide a new reception, café, meeting space, multi faith room and changing facilities. The pavilion will also provide much-needed ancillary facilities for the athletics community that use Sheffield Hallam University's 400m track on the site.
This well-loved community facility will provide playing opportunities for people of all ages. Activity will range from turn up and play sessions, activities for young people by local youth organisation, Darnall Education and Sports Academy (DESA) and Sheffield United Community Foundation (SUCF) which will run Premier League Kicks sessions.  Activity will also include coaching by local clubs Aden Steelers, Darnall FA, Darnall Diamonds, and Sheffield City.
Activities at the football hub
The site will host a new weekly coaching programme for disabled young people by SUCF and a new Pan-disability league in partnership with Sheffield and Hallamshire County FA will become a regular fixture providing competitive football for players aged 16 years and over.
Once completed, Woodbourn Road will be run alongside Sheffield's three existing football hub sites at Graves, Thorncliffe and Westfield.
Robert Sullivan, Chief Executive of the Football Foundation, said: "The news that the council have approved plans for this site will provide a boost for grassroots sport in South Yorkshire.
"Funding from the Premier League, The FA, Sheffield City Council, and the Government, through Sport England, has played a vital role in making this project a reality. Thanks to their investment facilities like this will have a transformative impact on people's physical and mental health, bringing them together and benefitting local economies. It's essential communities up and down the country have great places to play."
Councillor Richard Williams, Chair of the Communities, Parks and Leisure Committee at Sheffield City Council, said: "This is a fantastic scheme that will benefit so many. We know how important football is to the community, it allows people to have fun, keep fit and importantly, it's low-cost to play.
"We're so grateful for this investment, the funding will go a long way for the community, allowing people to play football in top quality facilities alongside an exciting programme of sessions run by experienced organisations."
Richard North, Sports Operations Manager at Sheffield Hallam University, said: "This investment will be welcomed by the full athletic community who will benefit from the improved changing rooms, showering facilities, toilets, and the additional social hub. These new facilities are anticipated to enhance the local Sheffield Hallam student, athlete, coach, and spectator experience who regularly use the track and for visitors to the facility during local and regional athletic competitions."
Abdul Malik, from Darnall Education and Sports Academy (DESA) explained, "The new facility will give DESA access to top-notch facilities and resources. Together, we aspire to build a vibrant and inclusive footballing community that fosters personal growth, skill development, and a sense of belonging for individuals from all backgrounds. This project represents a significant milestone in our ongoing mission to promote physical well-being and inspire our local community."
About the Football Foundation
The Football Foundation is the Premier League, The FA and Government's charity that delivers outstanding grassroots facilities, more and better places to play, transforming lives and communities where it is needed most.
The Foundation's goal is to unlock the power of pitches ensuring everyone has a great place to play regardless of gender, race, disability, or place.
Since its creation in 2000, the Foundation has awarded more than 23,000 grants to improve facilities worth more than £877 million – including 1,000 3G football turf pitches, 11,000 natural grass pitches and 1,300 changing rooms. This has attracted an additional £1.23bn of partnership funding – totalling over £2 billion investment in grassroots football so far.
In partnership with local authorities, County FAs and other community stakeholders, the Foundation has created Local Football Facility Plans for every local authority in England. These Plans act as a blueprint for providing the grassroots football facility improvements that each community needs and deserves across the country.
Visit footballfoundation.org.uk for more information on the Foundation and view the Plan for your local area.