Lifelong learners celebrated at awards ceremony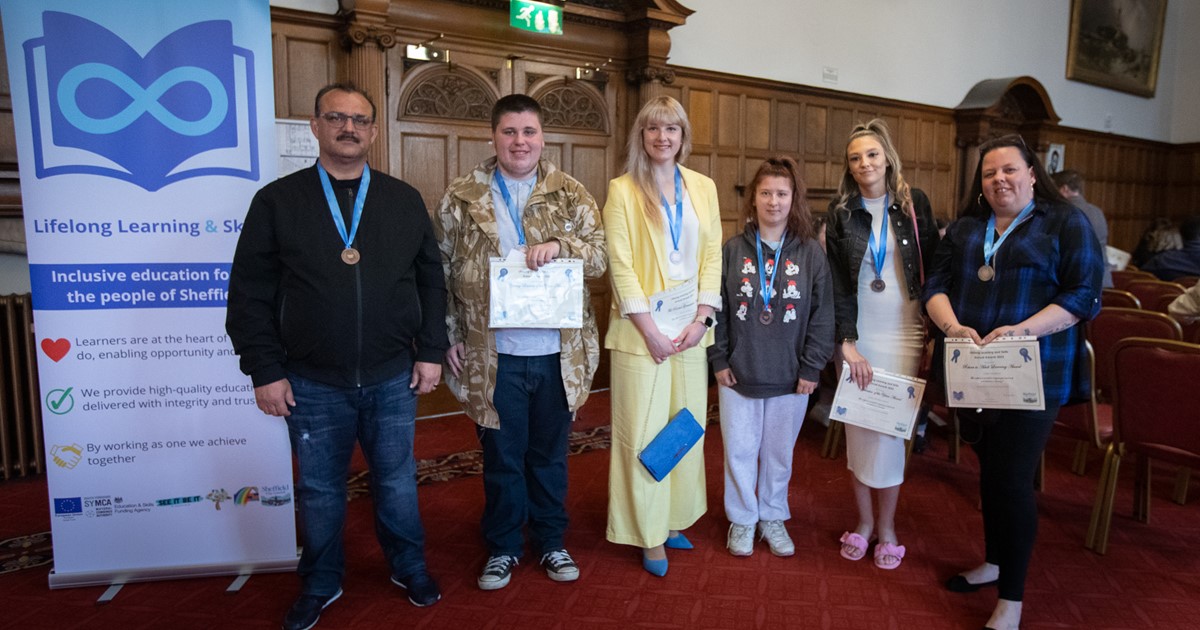 Learners from across Sheffield have been recognised in an awards ceremony that celebrates lifelong learning and skills.
Lifelong Learning is a Sheffield City Council service that supports people aged 16 and up to gain new skills, build on existing qualifications and find routes to a career that works for them. They provide apprenticeships, education programmes for young people with special educational needs, family learning and adult learning that is delivered in communities across the city.
Councillor Martin Smith, Chair of the Economic Development and Skills Committee, said: "Lifelong Learning provides people with the opportunity to upskill and reskill throughout their lives. It gives people the flexibility and guidance they need to succeed in a career they love by providing flexible routes to education.
"These awards are a fantastic celebration of Sheffielders who have shown commitment, tenacity and worked hard to get the qualifications they need to thrive in the world of work. They are also testament to the incredible work of the Lifelong Learning service, who provide invaluable advice and education to people who want to improve their skills in adulthood.
"I would like to congratulate all the winners and wish all Sheffield's lifelong learners the very best with their future endeavours."
Winners included:
Outstanding Individual Learner Award
Awarded to two learners who demonstrated an outstanding commitment to learning or personal development through their learning. 
Kenzie Tansley – Sheaf Training
Ahmed Fawad Amin – FACES ESOL Learn
Young Learner of the Year
This award recognises young people who set themselves challenging goals and strive to achieve them with the right attitude and support. 
Liam Hallows – Sheaf Training
Apprentice of the Year Award
This award is for an apprentice that has demonstrated highly positive actions, excelling in their commitment as an apprentice. 
Lauren Davidson-Marriott – CDC
Return to Adult Learning Award
This award recognises adults can achieve great things at any point and that there are many different options for returning to the learning environment.
Adele Sanderson – An Apprentice at CDC
The Rachel Greenslade Award for Literacy
This award is dedicated to Rachel Greenslade, a very special person who worked with the Lifelong Learning team. This award recognises those who have demonstrated commitment to their love of learning through literacy, and the difference it can make to the enjoyment of life.
Molly Gordon – Sheaf Training
Oksana Stafidova – FACES ESOL and English
Learning for Work Award
This recognises learners who achieve qualifications or have gained valuable skills for employment. 
Isa Mahroof – Traineeship
Declan Johnson, Sophie Hill, Umra Raheel and Charlie Davis – all from Sheaf Training
Social Impact Award
This has been awarded for creating and innovating during a learning experience and having a positive impact on their community.
Sara Taherkhani – FACES Functional English
Project / Group Achievement
Showing us all that teamwork and resilience can create a difference to their learning and have a positive impact on others around them. 
Sarah Naylor, Chelsea Pilkington, Kelly Wildgoose, Ayesha Zeeshan, Alina-Sorina Pavel, Sowmya Pratapagiri
FACES ESOL – put forward by Martina Bramhall
Ramuna Ali, Laileh Obeid, Nora Hicho Ihsain, Fawzia Nasser Ali, Naima Allafi, Basma Aboamead, Asia Alyazidi, Sairan Amin, Linda Hussein, Amira Saeed, Rim Sailan, Halimeh Said, Shelar Azizi, Ana Carolina Santana da Silva
Sheaf Personal Progression Plus – put forward by Libby Hamblin
Millie Senior, Bradley Worthy, Jack Nicklin-Taylor, Fela Adetoye-Smart
Mo Travis-Wild, Liam Hartley, Hannah Wootton
Kevin Straughan Award for Positive Progression
Another special award for the recognition that learning can influence positivity and aid personal progression to achieve great things.
Hamed Davami – FACES Child Care & Health Care
Elizabeth Watkinson – FACES Family learning
The Everest Award
This is for those overcoming barriers or difficulties.
Qurat Ul-Ain Aamir – Sheaf Training
Toni Hardy – Sheaf Training
The Service Choice Award
This is chosen this year by the Head of the Lifelong Learning Service. This is the winner of winners and has been awarded for the most outstanding contribution to her learning journey.
Other stories you might like