Local primary school receives Queen's Green Canopy Jubilee celebration tree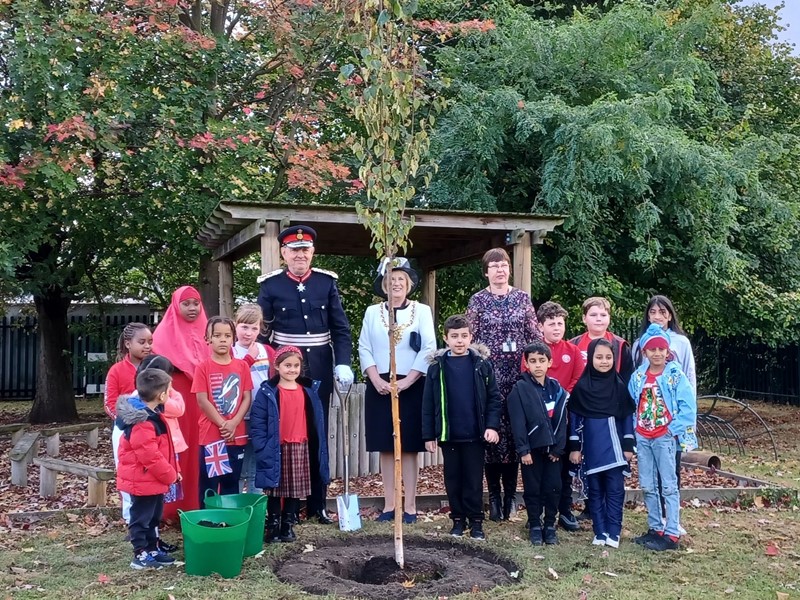 Acres Hill Community Primary School in Darnall has planted Sheffield's Queen's Green Canopy Tree during a ceremonial tree planting event yesterday (Monday 4 October).
The Queen's Green Canopy is a unique tree planting initiative created to mark the Queen's Platinum Jubilee celebration in 2022. The initiative invites people from across the UK to 'Plant a Tree for the Jubilee'.
The initiative aims to highlight the educational aspects of trees and the significance of giving young people access to nature, and inspire young people as the future custodians of the UK's green spaces, forests and woodlands.
To celebrate the tree planting Acres Hill Community School has organised a street party as part of the tree planting ceremony where the tree, a Betula ermanii (Golden Birch), was presented by the Lord-Lieutenant of South Yorkshire, on behalf of Her Majesty.
The Lord-Lieutenant of South Yorkshire Mr. Andrew Coombe, said:
"I was delighted to be able to present Acres Hill Community Primary School with a tree, on behalf of Her Majesty The Queen as part of the Queens Green Canopy, which is being created to mark Her Majesty's Platinum Jubilee in 2022."
Lord Mayor of Sheffield, Councillor Gail Smith joined the Lord-Lieutenant for the ceremony to celebrate the tree planting, which coincides with the beginning of the tree planting seasons and launches the start of multiple tree planting projects at Acres Hill Community Primary School and Mather Road Park, all supported by Sheffield's City Council's Community Forestry Team.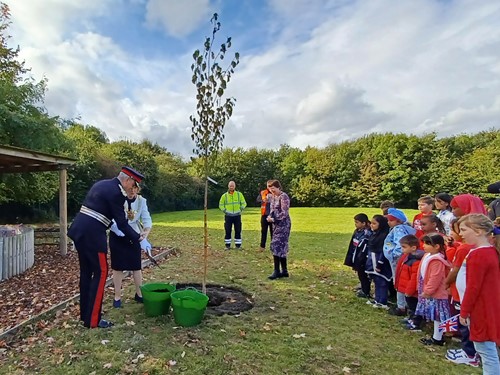 Lord-Lieutenant of South Yorkshire, Lord Mayor of Sheffield and pupils at Acres Hill Community Primary School plant Queen's Green Canopy tree
Mrs Cath Whittingham, Headteacher at Acres Hill said:
"We are really excited that Acres Hill Community Primary School has been chosen from all the schools across Sheffield as the site for planting a special Queen's Green Canopy (QGC) tree to celebrate Queen Elizabeth II's Platinum Jubilee.
"It is such an honour to welcome the Lord-Lieutenant of South Yorkshire, who is coming to present the tree on behalf of the Queen. The whole school will be joining in the ceremony and enjoying a Jubilee Street Party to mark the occasion. Later in the year, we will also be planting trees provided by the Woodland Trust, to add even more variety to the trees we are already so lucky to have in our school grounds. The children love playing in the wooded areas at break times and have a fantastic time in their weekly Forest School sessions."
Acres Hill pupils said:
(Gabriela) "I like Forest School because it is so much fun and we get to play in the woods."
(Albert) "At playtime, you can go in the trees and play hide and seek with your friends."
(Fareeha) "I'm excited for the Jubilee tree day, because we'll have fun."
Forest School Lead, Harvey Thind explained that children spending time outdoors definitely improves their happiness, well-being and willingness to learn.
Sheffield Parks and Countryside Community Forestry Team are working with Acres Hill school this year to enhance a Forest School area within the schools' grounds with tree planting. They are also working with the school alongside the council's Sports, Leisure & Health Team and the local Tenants and Residents Association to plant a fruit orchard and build a new playground within Mather Road Park, which is adjacent to the school.
Councillor Alison Teal, Executive Member for Sustainable Neighbourhoods, Wellbeing, Parks and Leisure at Sheffield City Council, said:
"We are thrilled to celebrate this fantastic national initiative that highlights the importance of trees, through an education programme that will inspire our younger generation to get involved and really champion the care of our trees, woodlands and green spaces.
"This perfectly complements the planned forestry work at Acres Hill Primary and in the local Darnall area where we are enhancing the natural environment at the school and the community park.
"Our community forestry team work hard across the city, using their knowledge and expertise to plant and manage the right trees, in the right locations at the right time, so that they can flourish and be enjoyed now and for generations to come."
Sheffield Community Forestry team support tree planting across the city. The team are planting more than 10,000 trees with communities during the tree planting season from November to March. This forms part of Sheffield's commitment in the Trees and Woodland strategy, to plant 100,000 trees over a 10-year period.
To find out more and get involved in Community Forestry in Sheffield, contact Sheffield Parks and Countryside on 0114 2500 500 or email parksandcountryside@sheffield.gov.uk.
Other stories you might like