Marking the one-year anniversary of Covid-19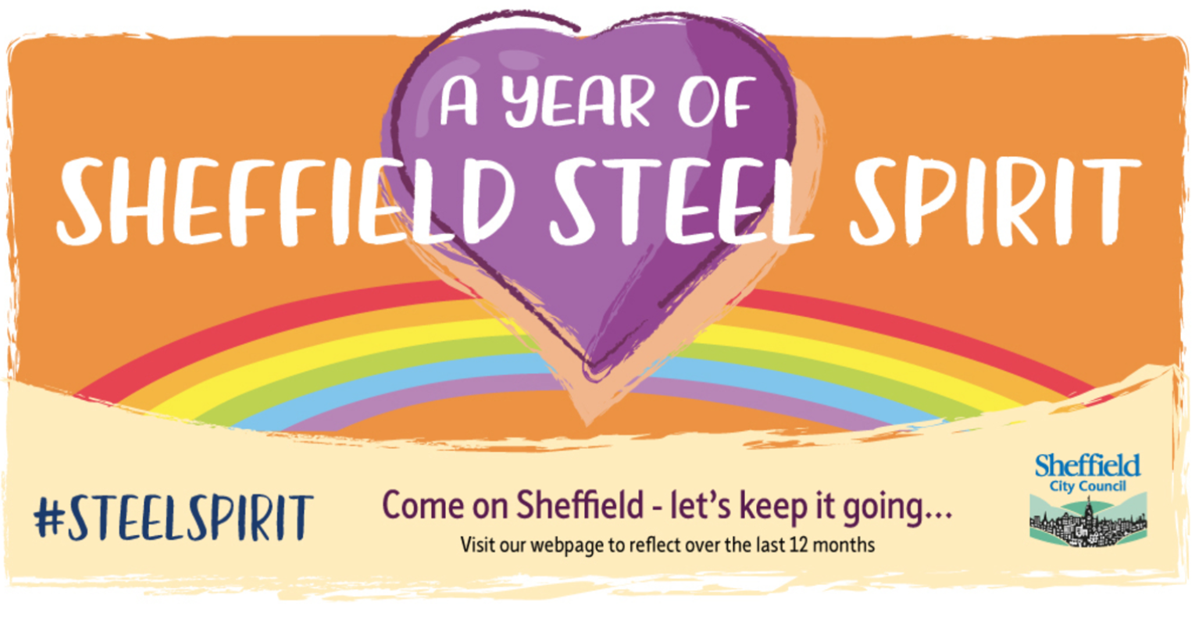 On 23rd March it will be a year since the announcement of the UK's first Covid-19 lockdown and no-one imagined the dramatic impact this would have on our lives and the tragedy that the virus would bring.
Next week we are marking its one-year anniversary by remembering those who we have lost, thanking people across the city for everything that they have done to protect others from the virus and showing our gratitude to those working in the NHS, the care sector and other frontline key worker roles who have shown true steel spirit.
The last 12 months have highlighted just how critical these roles are to all of us, day in, day out. Whilst coping with the demands that Covid-19 placed on their own everyday lives they have worked in these roles to make people better and give them the care or services that they need. 
We have been highlighting the stories that people have shared with us about their experiences during lockdowns and how they have adapted a very different way of life for just over a year.
We've heard from all kinds of people finding themselves in different situations during the pandemic. Louise told us: "I moved to Sheffield in June 2020, after living in France for 14 years. I'm a Londoner, so Yorkshire is completely new to me. My daughter and her family live here and having them as my "bubble" has saved me from descending into depression. My daughter studied medicine at Sheffield University and never left. It has been hard settling into a new city under Covid restrictions. It has been impossible to make new friends of my own, but I have joined the WI in Wadsley. Mostly, I am at home alone. I am also blessed with a lovely neighbour, a Sheffielder in her 80s and her daughter, who takes her out twice a week."
Daniel told us: "I help my Mum out with the Sheffield City Knights Project 3 days a week. It's a social group for adults with different disabilities. Usually, I help make tea and food for the members and we go on trips out with Sheffield Community Transport. I'd also go out with my girlfriend to the cinema. Now I pass the time on the computer or watching T.V, but I really miss the project. People call me on the phone and ask when it will be open again but I keep telling them we need to keep closed until it's safe. A lot of members of the Project are finding it difficult. If you feel sad, listen to music and sing along. There are lots of things online for singing. Once I was singing Can't Help Falling in Love by Elvis, and everyone said, "Wow Dan, is that Elvis reborn?!" It's good to keep active too. We've also just joined a dance session run by Sheffield Cycling for All. The instructor is so cheerful and bright, and we have so much fun. We've done the Can-can and an African dance class!" 
Covid-19 anniversary page of Sheffield Steel Spirit stories
There are many more stories and to capture as many as possible, we've set up a Steel Spirit anniversary page: https://www.sheffield.gov.uk/home/campaigns/steelspiritanniversary.html where we're asking people to carry on sharing their stories with us by emailing covidcasestudies@sheffield.gov.uk. We'll then add their community spirit stories and pictures to the page - we would love to hear about any more great community spirit stories, no matter how large or small. These collected stories will become part of Sheffield historical record documenting people's experiences and how they felt during Covid lockdowns.
How to offer support or be a volunteer
So many people have offered support or volunteered in the last year in all sorts of ways, whether that has been helping with shopping, collecting medication, offering a kind word or just giving a little of their time for someone else. Residents who would like to offer their help as a volunteer or get involved in their community can contact the Community helpline on 0114 2734567 for more information.
We know that there are people in the city who are finding it difficult paying for food and other essentials due to Covid-19. There is a Covid-19 Hardship Related Assistance provided under the Local Assistance Scheme (LAS) to support residents with this and if you need help to apply for the COVID-19 Hardship Related Assistance call us on 0114 273 4567 (Option 0) and we will go through it with you. You can find more information about eligibility at https://www.sheffield.gov.uk/home/your-city-council/coronavirus-hub/support-for-people
Councillor Bob Johnson, Leader of Sheffield City Council said: "I thank everyone in this city who has nursed, cared for, provided for and looked out for those around them, whether in paid or unpaid roles across our communities. The impact that this hard work and dedication has had and is having on the people in Sheffield is something that we will never be able to show enough gratitude for. It has saved lives and showed us all what we can achieve together to get through very tough times. At this one-year anniversary we remember those who have died and those who have lost family members or friends. We're thinking of you and how hard it must be. As a council, we will continue to do everything we can in the city to support and provide what's needed for our residents while we work through this stage of Covid and like you, we all look forward to when we can return to normality and be with one another once again."
As a city, we're considering how to create a tribute that will honour what people have been through, and the community spirit we've always known we had, but that has shone brighter than ever these last few months.
Other stories you might like