More tennis courts open to all after refurbishment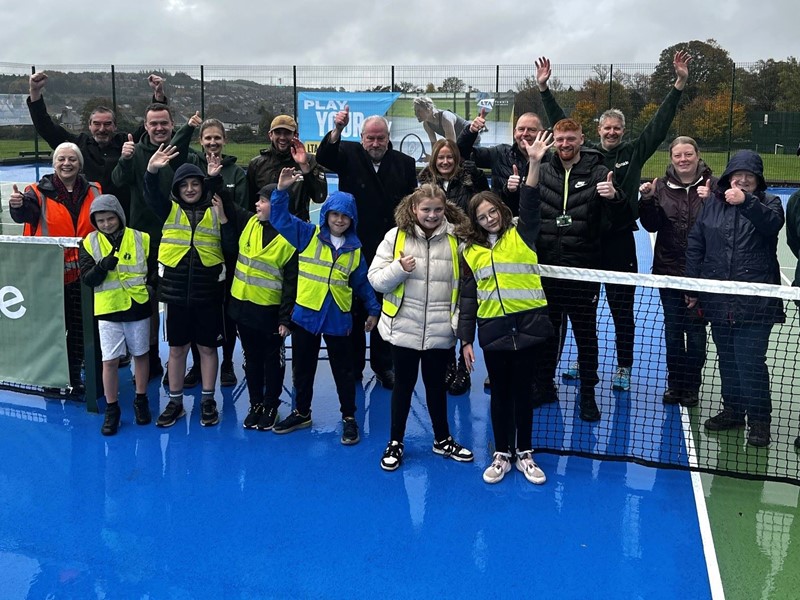 Hollinsend Park Tennis Court has officially reopened after renovations funded by the Lawn Tennis Association (LTA) Tennis Foundation, Government funding and Sheffield City Council.
The latest additions bring the total number of newly refurbished pay and play court sites across the city to nine, with the £125,000 investment at Hollinsend breathing more new life into tennis provision across the city. Of the £125,703 invested in Hollinsend Park, over £74,000 has come from the Council, with remaining funds coming from a nationwide programme delivered by the LTA.
The refurbishments at Hollinsend Park have taken place at the same time as Ecclesfield Park's tennis courts, which are in the final stages of completion.
Councillor Richard Williams, Chair of Communities, Parks and Leisure Committee, said: "This is fantastic news for Hollinsend Park. Local, high-quality accessible sports facilities are key to supporting health and wellbeing and I am delighted that our tennis courts are being made suitable for future tennis stars now and long into the future.
"Providing high quality sports facilities in parks across Sheffield is an important part of our Green and Open Space Strategy. These refurbished courts will allow more people to take up playing tennis within their local community, being active and gaining the health and wellbeing benefits that this activity creates."
All courts can be booked through Play tennis in Sheffield with Premier Tennis (tennissheffield.com). New booking systems and gate access technology are making easier for people to get on court by booking in advance to guarantee availability.
Courts will be charged at £6 per hour for casual users and regular players can also save money by purchasing a Sheffield Parks Tennis Pass
The income received will go towards making sure that the courts are maintained at their new high standard for years to come.
The Council and Courtside CIC will work with the LTA to deliver a range of activities across the park sites that will include free weekly coached tennis sessions for all ages and experience with equipment provided. The new courts will host Local Tennis Leagues, giving people the opportunity to get involved in friendly and social local competitions.
Park tennis courts are seen as vital in providing opportunities for children and adults to get active, delivering significant physical and mental health and wellbeing benefits to participants. Accessible facilities in parks are considered particularly crucial in ensuring that sport is available to all irrespective of cost.
The project is part of the biggest ever nationwide investment by the UK Government and LTA Tennis Foundation, delivered by the LTA, to refurbish over 2,000 public tennis courts across Great Britain, and open up the sport to more people. This investment will see existing park tennis courts in poor or unplayable condition brought back to life for the benefit of communities across the country through renovation works, and improved court accessibility with new gate-access technology and booking systems.
Julie Porter, Chief Operating Officer at the LTA, said: "After months of hard work, we're delighted to see park tennis courts across Sheffield officially back open to the public, and in better shape than ever.
"Public tennis courts are such vital facilities for getting active and we want as many people as possible, of all ages and abilities, to pick up a racket and enjoy playing tennis. Thanks to this investment the sport will be opened up to more players, for years to come."
The Rt Hon Stuart Andrew, Parliamentary Under Secretary of State at the Department for Digital, Culture, Media and Sport, said:
"We are committed to levelling up access to sport which is so important for the nation's physical and mental health. The Government and the LTA are working together to deliver thousands of refurbished courts across Great Britain, supported by £30 million of investment including in Sheffield.
"These improved tennis facilities will provide the local community with fun opportunities to get active and potentially become the next Andy Murray or Emma Raducanu."
Notes to Editors:
The council appointed Parks Tennis Community Interest Company Courtside CIC in 2017 to deliver affordable tennis programmes across the city, supported by funding from the LTA, to refurbish 22 courts across 5 parks.
The investment has been provided from the UK Government and LTA Tennis Foundation's Park Tennis Project, being delivered by the LTA.
The LTA is the National Governing Body of tennis for Great Britain. We are here to govern and grow tennis, from grassroots participation through to the professional game. The LTA says: "Our vision is "Tennis Opened Up" and we're on a mission to grow tennis by making it relevant, accessible, welcoming and enjoyable.  We work with schools, with volunteers, with coaches and with venues across the whole country. We also represent the interests of over 1,000,000 Members, men and women, girls and boys, playing on more than 23,000 courts." For further information about the LTA and tennis in Britain, visit www.lta.org.uk or follow on Twitter @the_LTA.
Other stories you might like