New plans for Shalesmoor to unlock travel potential

Plans to make significant changes to the road layout at Shalesmoor are underway, as proposals are shaped to transform travel in the area.
The council is pursuing Government funding to remove the current roundabout, creating more space for public transport, a dedicated cycle link, improved crossing points and ensure that traffic is redistributed to the most appropriate road.
Plans include improvements to the existing cycle and walking network, making it safer and easier to travel by bike towards and through the city centre, and proposals to create better pedestrian crossings that are accessible and easy to follow.  Included in the plan is a new pedestrian and cycle crossing on Rutland Road and a dedicated, protected cycle lane which ties into the Connecting Sheffield Kelham Neepsend project.
For motorised transport, bus priority is being designed into the junction by providing bus lanes at critical points. Car movements are being simplified and a right turn is being proposed from Rutland Road to Penistone Road. In addition, traffic light phasing and queuing arrangements are being reconfigured to ease traffic flow.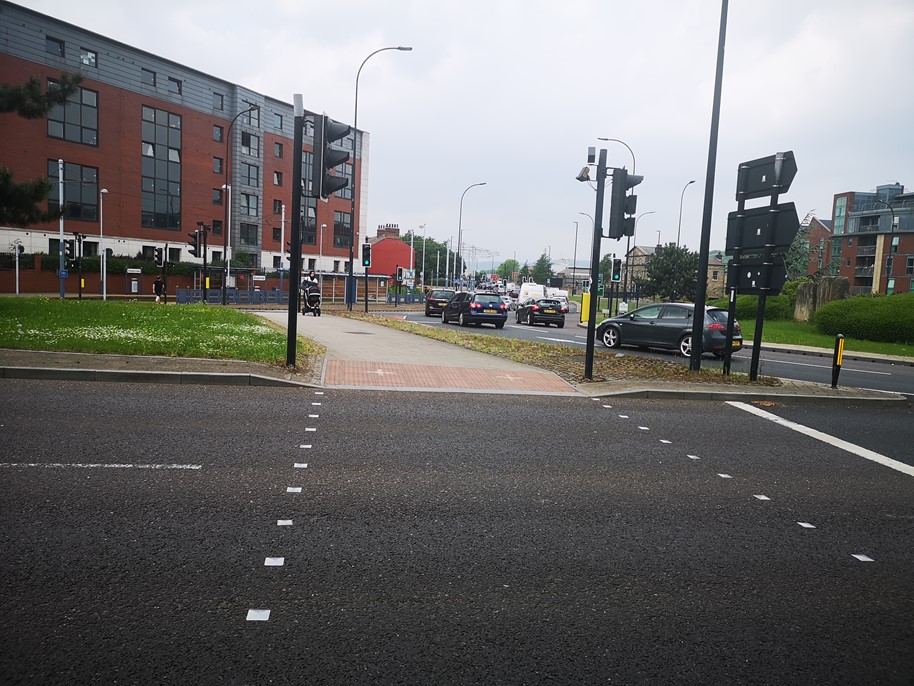 The improvement to Shalesmoor, Penistone Road and Rutland Road will support the continued growth of the Kelham, Neepsend and the Council's ambitions for the wider city centre.   This is in line with recent announcements of the Government's Levelling Up agenda, to release brownfield land in sustainable locations which can deliver housing units and provide access to employment opportunities.  
The proposal considers the Department for Transport's new approach to transport investment, whereby the scheme must deliver a balanced improvement for all highway users. This is aligned to the council's ambitions to create a sustainable transport network across the city to improve health, quality of life and the environment. This new scheme is still part of the wider action that's being taken, through the Connecting Sheffield programme and Clean Air Zone.
The outline business case will be submitted to Government in Spring 2022, with plenty of opportunity for the feedback received to be included within the next phase of the design process.
Councillor Douglas Johnson, Executive Member for Climate Change, Environment and Transport at Sheffield City Council, said: "We have a vision for a better network for cycling, walking and public transport. At present, the Shalesmoor roundabout is difficult and inconvenient for people who walk or cycle with long and confusing detours away from where they want to go.   
"This is an opportunity to build segregated cycle lanes to ensure everyone's safety. At the same time, it is important to get buses and trams through this important junction without delay in order to contribute to a faster and more reliable public transport network.
"This is part of rethinking our infrastructure to meet our current and future needs and I'm looking forward to seeing the plans take shape after this initial round of consultation."
John Young, Commercial Director, Stagecoach Yorkshire said: "We welcome the scheme proposals. They are further evidence of our strong partnership working with our colleagues at SCC to speed up bus journey times to benefit bus users. Faster journey times and enhanced reliability will encourage more people to try the bus."
Nigel Eggleton, Managing Director, First South Yorkshire, said: "We fully support and are pleased to see the upcoming introduction of the new Shalesmoor bus priority scheme as it is expected to vastly improve reliability and offer speedier journeys along a corridor that can get congested at busy times of the day."
The bid is expected to reach the Department for Transport by March 2022. Further consultation would take place if funding is agreed.
What changes can you expect to see if approved?
Pedestrians
More direct pedestrian routes to and from Shalesmoor tram stop
Higher quality materials used for pavements
Upgrades to Rutland Road crossing - improving access to wider area including routes towards Herries Road and to the Peak District
Cyclists
Segregated cycle lanes alongside the A61
New crossing at Rutland Road, improving Penistone Road cycle route 
Quieter and safer route for cyclists towards West Bar and out to Hillsborough
Improved access to Upper Don Valley and wider recreational cycling network
Bedford Street - segregated cycle lane and greenery
New Toucan crossings suitable for pedestrians and cyclists
Tram users
Changes to passenger experience
Improved signage
Improved walking routes to tram stops 
New lighting, planting and drainage to make the area feel safer and look more attractive
Improvements to tram reliability and operation
Bus users
Simplification of bus routes
Introduction of bus lane bypass
Bus detection built into traffic lights
Improved bus journey times and reliability
Easier changes between buses and trams
Motorists
Major changes to junction layout and operation 
Switch from traffic light controlled roundabout to a light controlled junction
Free-flowing left lanes to reduce traffic by bypassing traffic lights
Additional lanes to make movement easier
Dynamic traffic lights which change depending on traffic levels
Right turn road from Rutland Road to Shalesmoor
More information on the Shalesmoor Gateway scheme and the full plans are available here.
Other stories you might like