Northern leaders unite to unlock potential and improve lives across the region

City Leaders from across the north joined forces yesterday at Convention of the North, demanding that levelling up is hard wired into UK Law, to improve people's lives across the region.
Sheffield City Council Leader, Terry Fox, Deputy Leader, Julie Grocutt and Chief Executive, Kate Josephs united with leaders from other northern towns and cities, working together towards a new approach in securing a better future for the North.
As well as unlocking the vast potential of the North's assets, the approach would focus on improving lives by closing the gap across areas where the region is currently being overlooked.
Councillor Terry Fox, Leader of Sheffield City Council, said:
"It's really important that we as northern leaders come together and unite in our ambition to close the gaps that hold us back, and cause negative impacts on people's lives.
"In Sheffield we're working hard to support local people and businesses as they struggle through the cost-of-living crisis. A strong recovery relies on levelling up, enabling improved life expectancy, increased average earnings, better access to education and skills, and a fit for purpose public transport system.
"We know how much our own cities have to offer, how many untapped assets and resources we have, and how skilled, talented and hardworking our people are. This cannot continue to go unrecognised and unrewarded.
"You can look in any direction in our city to see the investment, the development, how much we are moving forward and shaping our future vision for Sheffield, and it's not far off now. All our hard work is coming together and there is so much opportunity.
"Cities like Sheffield need to be empowered to take back control of their own finances, rather than having to survive on sporadic government handouts, so we can deliver strong, thriving neighbourhoods and grow our local economy.
"We were overlooked in the recent levelling up funding awards but we won't give up on Sheffield, and collectively we won't give up our quest to level up the North and show that our region is a stronghold of the UK's future economy. The Government just needs to look up and see it."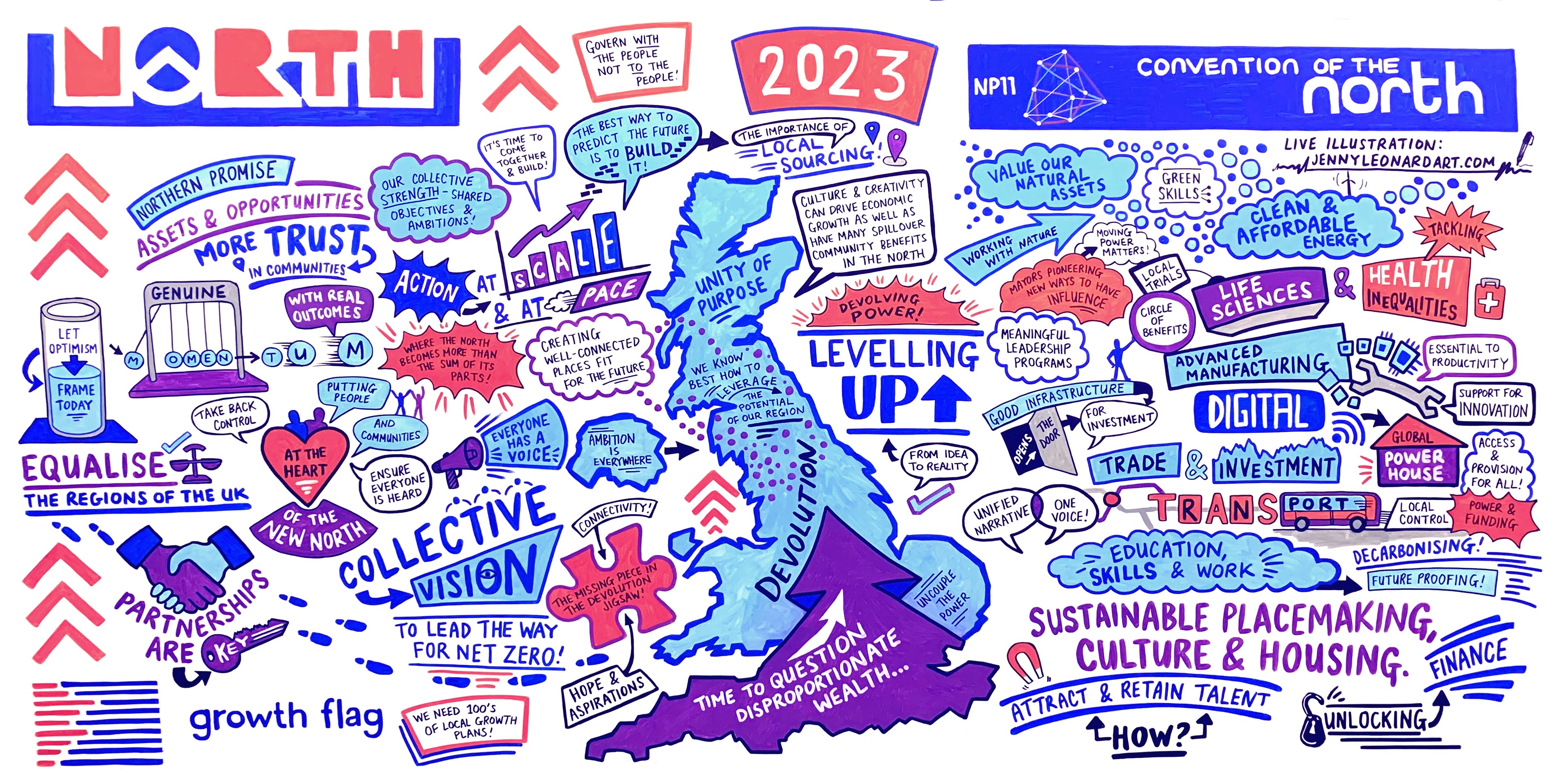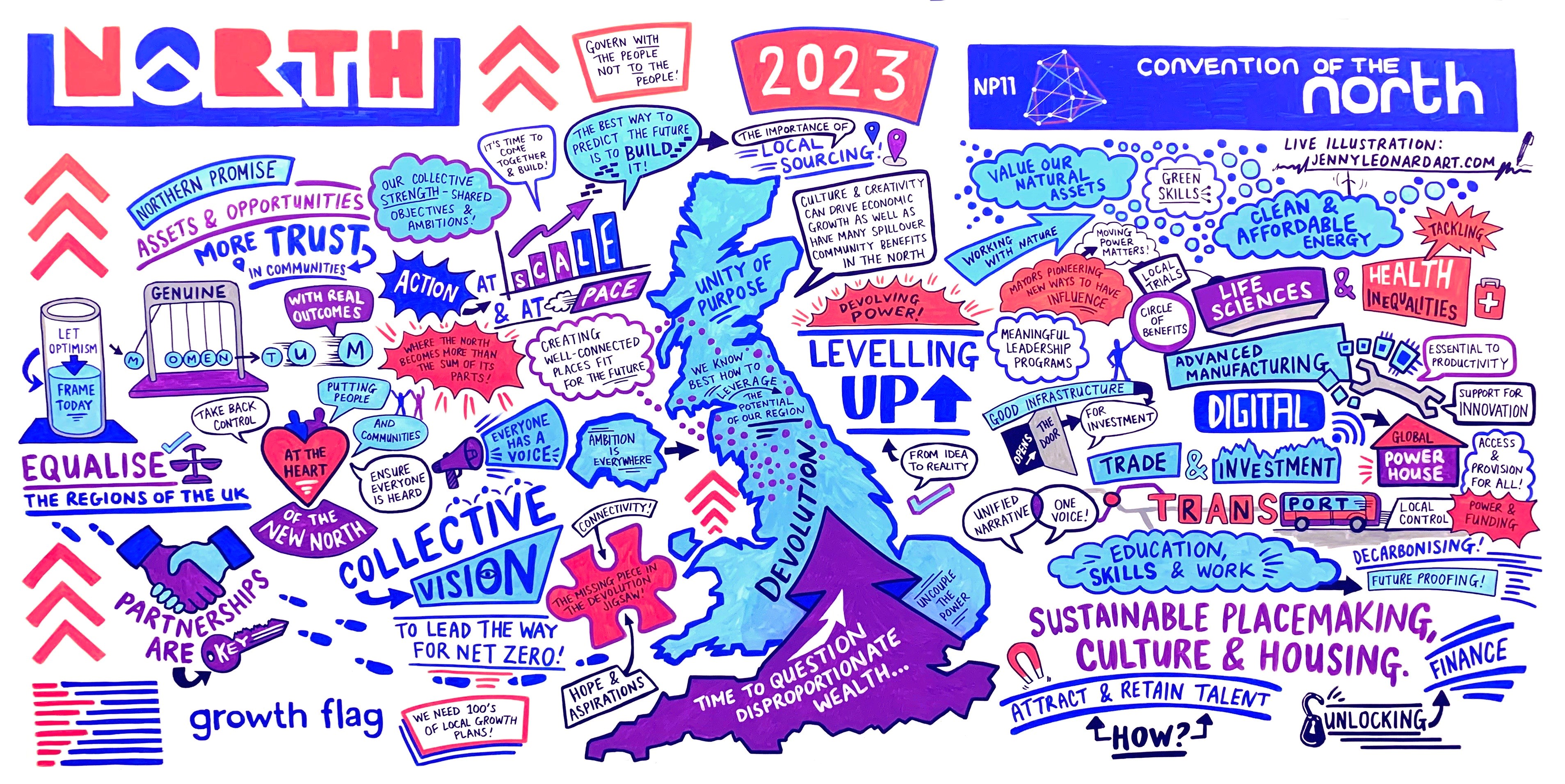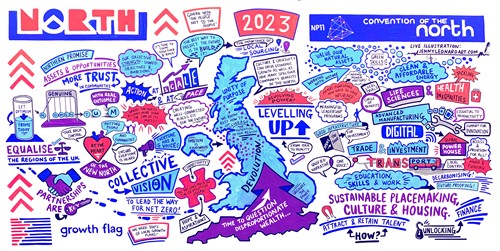 Illustration of the Convention of the North 2023 highlights, by Jenny Leonard Art
Convention of the North is the region's major annual gathering, bringing together business, political and civic leaders to discuss the opportunities and challenges facing the North. As well as key figures from the Government and Opposition, the Convention hears from Northern Mayors, Council Leaders, leading businesspeople and representatives of the VCSE sector as the North shapes its agenda for 2023.
Read the full statement from Northern Mayors released on the day of the Convention.
Other stories you might like