Nyara School of Arts awarded funding for Windrush Archives project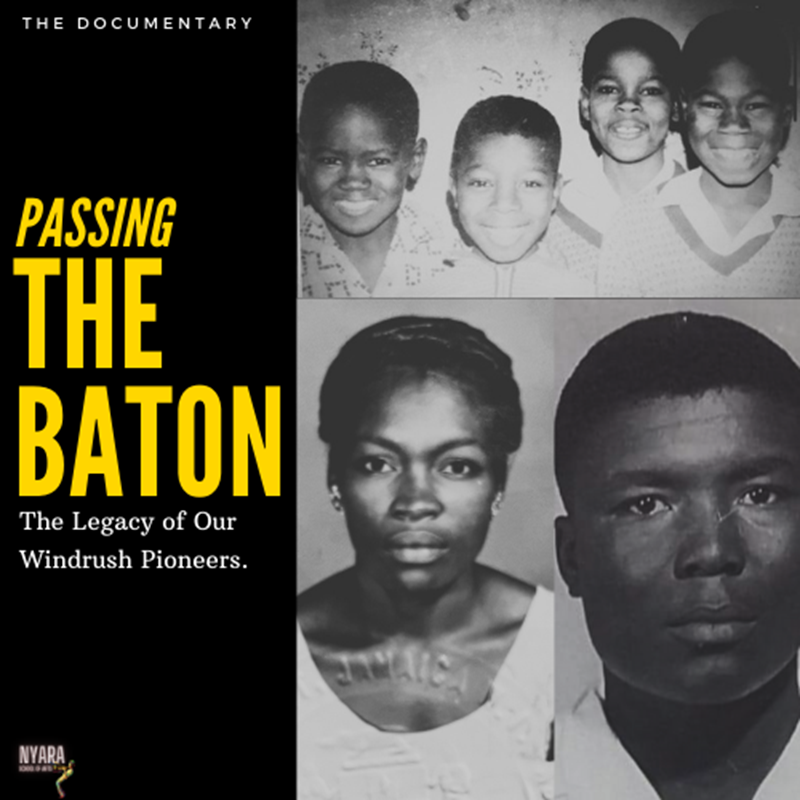 Sheffield based African Diaspora Arts & Heritage organisation, Nyara School of Arts has been chosen to receive £10,000 of funding to deliver a cultural heritage project capturing and documenting the stories and memories of the Windrush Generation in Sheffield.
Nyara were unanimously chosen by a panel of local African Caribbean community members, supported by Sheffield City Council officers, following a bidding process for the exciting cultural history project.
The open invitation asked for expressions of interest to create an arts-based community project which would result in enhancing Sheffield City Archives Black History content, with a particular focus on Windrush memories.
The bid by Nyara Arts Collective; Passing The Baton: The Legacy of the Windrush Pioneers, brings together members of Sheffield's Caribbean community of different ages and with different experiences to produce a film and interviews for Sheffield Archives. The film will also be toured around different areas of Sheffield to take it back to the people who featured in it.
The film will focus on the legacy of the Windrush generation in Sheffield and how they shaped the city by bringing pieces of the Caribbean to Sheffield in arts, culture, fashion, food and the ways in which they rebuilt post-war Britain. People across the Caribbean community will be interviewed, covering areas such as the establishment of the New Testmanent Church in Sheffield, famous blues bars and clubs, fashion and language and how this legacy has influenced arts and culture in Sheffield, across the North and wider Britain.
As well as working with local rappers and artists of Caribbean heritage, the project will bring together local community members aged between 15 - 65+ to write a feature piece for the film and screenings during Black History Month, bridging the gap between the older and younger generation by connecting them through the arts.
The panel said that Passing The Baton stood out because of its intergenerational work, creativity and fresh approach, emphasis on giving something back to the individuals and communities who participated in it, provision of training and payment to interns and the lasting product it would deliver for the archive and community groups.
Councillor Abtisam Mohamed, Leadership Advisor for the Co-operative Executive on Poverty, Fairness and Equality at Sheffield City Council, said: "I'm thrilled to announce that Nyara Arts Collective has been awarded the funding to bring their Windrush memories project on to our screens and into our archives, telling the significant stories of our cultural history.
"Their bid was so full of creativity and understanding of how to represent our BAME communities and will unite young and old together over their heritage. I'm so excited to see these important memories brought to life, creating a lasting record to be proud of for future generations.
"I'd like to thank all those who put forward expressions of interest, I'm sorry we can't take them all forward, but it was fantastic to see so much passion from our BAME community groups.
"We'll be sharing more details as the project progresses and can't wait to celebrate the diversity and vibrancy that the Windrush Generation brought to our city so many years ago, during Black History Month."
Danae Wellington, Director of Nyara, said:
We're really humbled that Nyara gets the opportunity to help tell the stories of the Windrush and Caribbean elders here in Sheffield and to have those stories be a part of the Sheffield Archives. It's important that their legacy is documented, preserved, and celebrated so that the generations that follow them can see their roots and the shoulders that they stand. With this project, we hope it will encourage and motivate young people from African-Caribbean backgrounds and the wider Sheffield community to access the archives so that they can learn more about the rich Caribbean history, heritage and culture that shaped them, this city, and Britain.
We're full of gratitude to be able to bring these stories to life through film and to take it right back to the communities in which they built their home away from home. We plan to film a documentary called Passing The Baton, with the help of some incredible Sheffield artists and creatives, and to host community screenings across Sheffield which will bring the communities and people of all ages together to celebrate the lives and stories of our elders."
After securing £5,000 from Windrush Grant funding, Sheffield City Council also contributed £5,000 in match funding. The contract was originally awarded to Ignite, who withdrew from the project following complaints that the organisation was not involved in the BAME community.
Sheffield City Council acknowledged and apologised for the way the original contract had been awarded and formed a new panel of African Caribbean community members and organisations to put a more suitable application process and criteria in place and select an appropriate organisation to deliver the work.
Cllr Mohamed added: "We completely understood the concerns raised by our BAME communities and organisations and fully acknowledge the oversight we made at the time. It has given us the opportunity to learn from that and helped us shape a better approach to the recording and collation of historical data, that gives a reflection of the rich and diverse history of our multicultural communities here in Sheffield.
"We're so grateful for the input of everyone who has been involved in this process and how they have helped us better understand and reach out, albeit against the clock, but in the right ways to the right people. I hope that the results of this project will demonstrate our commitment to getting things right and accepting when we need to change."
Criteria of the bid application process stated that all projects must demonstrate:
Connection and reach to Sheffield's Black, African and Caribbean communities
Ability to work collaboratively with BAME community organisations in the city and engage as widely as possible
Depth of knowledge of Windrush generation/Black history and archiving practices
Ability to deliver the project on time (by 31st October) and to budget (£10,000)
How you will measure your success
Nyara put forward costs of £8,950 to deliver the film project but will be awarded the full £10,000 to allow for extra elements such as better accessibility or bringing the project to life online.
Other stories you might like