On your marks get set for biggest year of events in city's history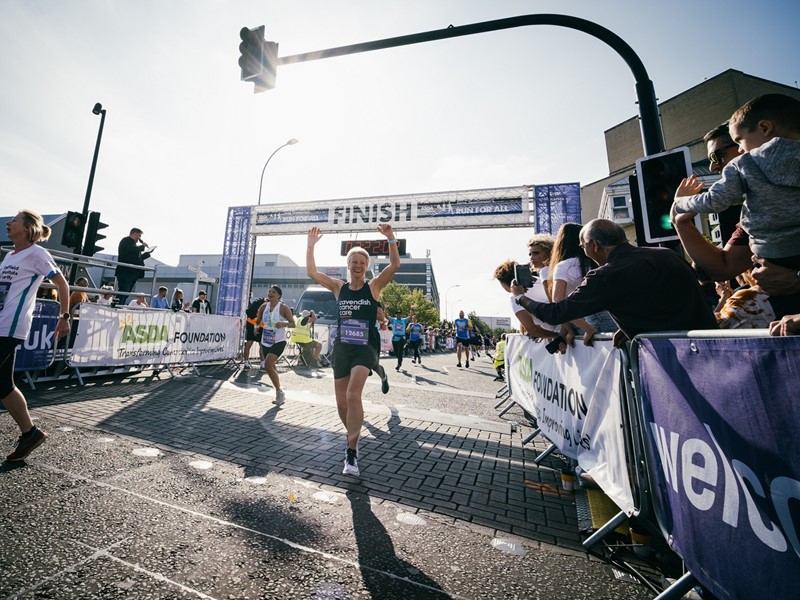 This Sunday the Run For All Sheffield Half Marathon will kick off the biggest year of major events that the city has ever seen – with international sport taking centre stage.
The World Snooker Championship, Olympic Legacy 10yr Anniversary, UEFA Women's EUROS, Tramlines, Art in the Gardens, Off The Shelf literary festival, the Rugby League World Cup, Out of This World and so much more are on this year's bill.
The city has played host to the World Snooker Championship for the last 45 years, as well as many national tournaments such as the British Swimming Championships and British Figure Skating Championships. This year Sheffield will shine on the international stage after securing host city status for the UEFA Women's EUROs with 4 matches being played at Bramall Lane in July, and the Rugby League World Cup with fixtures across the men's and wheelchair tournament during October and November
Councillor Mazher Iqbal, Executive Member for City Futures: Development, Culture and Regeneration at Sheffield City Council, said: "Sheffield has always been known as a city of sport and has a reputation for hosting major public events, but this year the city's sporting prowess and cultural credentials will collide like never before, bringing the most exciting programme of events and activities residents and visitors have ever experienced.
"We have a fantastic year ahead with some of the biggest sporting events Sheffield has ever seen, and alongside those we'll be delivering cultural programmes and legacy initiatives that mean these events will make a lasting difference to our communities and get more and more people inspired, involved and enjoying sport.
"Starting with the Sheffield Half Marathon which sees thousands of runners take to our streets, and raises huge amounts for many different charities, our events give people something to aim for, goals and ambitions, and whether taking part or spectating they give us all something to look forward to.
"Whether you're into sport, art, music, culture, food, drink, the outdoors, theatre, literature, I could go on, I can promise you that Sheffield has something on offer, week in week out."
Councillor Iqbal met with local runner Nigel Barnes today, who is taking part in the half marathon in a bathtub. Three friends - Jon Ward, Daniel Newton and Scott Blanks - will push him around the 13mile hilly course, along with rubber ducks to hand out to spectators. The group are raising money for the Stroke Association, Rethink Mental Illness, Alzheimer's Society and Alzheimer's Research UK. Races like the Half Marathon, 10k and Race For Life raise significant funds for hundreds of charities every year.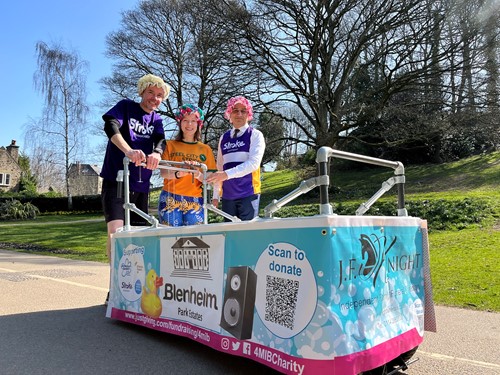 Cllr Mazher Iqbal met up with Nigel Barnes today as he prepares for the Sheffield Half Marathon in a bathtub
Events make a significant contribution to the host city's local economy, supporting the hospitality industry across hotels, bars, restaurants, cafes and clubs, as well as local operators and suppliers in specialist areas. Last year during recovery from the Covid19 pandemic Sheffield's Summer in the Outdoor City campaign bringing all the city's events together under one programme, provided a platform to re-establish events and saw new attractions like Hedgerow and Pollen Market become firm favourites.
Cllr Iqbal continued: "Just as importantly, the events we host give a huge boost to our economy. We have some of the best, award winning bars and restaurants in the country and as well as bringing local people out to support our businesses, events attract millions of visitors to the city. This year we expect to see a record number of international visitors during the UEFA Women's EURO and Rugby League World Cup and we can't wait to welcome them.
"We're very proud of our diverse and vibrant events programme that embraces and celebrates cultures from all nations, and we want everyone to celebrate with us. I can't wait to get involved throughout the year and to see everyone else having a great time, feeling inspired and sharing our wonderful city."
The Sheffield Half Marathon takes place this Sunday from 9.30am. Rolling road closures will be in place across the route.
Other 2022 events include The World Snooker Championship, Highland Fling, Weston May Fayre, Sheffield Food Festival, DocFest, Music in the Gardens, Bloomin Marvellous, Bassfest, Grand Prix cycling race, Tramlines and the Fringe at Tramlines, Art in the Gardens, Sheffield 10k, Off the Shelf, Out of This World, Christmas Lights Switch On and many more.
For all the latest information about events in Sheffield sign up to our email news alerts or keep an eye on Sheffield Events Facebook.
Visit Welcome to Sheffield to find out more about what's on and to find places to stay and things to do in Sheffield this year.
Other stories you might like