Our statement on Red Wednesday
Councillor Terry Fox, Cabinet Member for Finance, Resources and Governance, said:
"As the world stands still, it is important now more than ever to come together and strive towards positive change, to listen and to learn from one another.
Unfortunately, the devastating persecution of faith communities and people of faith still takes place throughout many parts of the world, the hurt and harm they experience is a continuous battle and afront to fundamental freedoms. We stand together with Christians and other religious minorities who are persecuted for their faith.
The persecution of Christians and of people of all religions will not go unnoticed as we call for an end to any violations against people because of their faith or beliefs
We stand together with all religions and the freedom to hold beliefs."
#RedWednesday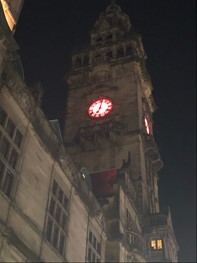 Sheffield Town Hall clock face lit up in red in recognition of Red Wednesday
Co-signed:
Venerable Malcolm Chamberlain, Archdeacon of Sheffield & Rotherham
Abdool Gooljar, Islamic Society of Britain
Louis Farrington, Sacred Heart Catholic Church Hillsborough
Jonathan Dunning, Meadowhead Christian Fellowship
Rev Helena Roulston, Coordinating Chaplain, Sheffield Hallam University
Mohammad Ali, PMC
Rev. Andy Poultney, Parson Cross Pioneer Minister
The Rt Revd Dr Pete Wilcox, Bishop of Sheffield
Patsy Cunningham, Sheffield & District Reform Jewish Congregation
The Rt Revd Ralph Heskett, Bishop of Hallam
Dr Vithal Patel, Hindu Community
Rev. Dr Jim Master, City Life International Church
Marjorie Skidmore, St Matthew's Church
Rev Suzanne Nockels, Sheffield Congregational Churches
Other stories you might like