Permanent Covid Memorial sculpture unveiled in Balm Green Gardens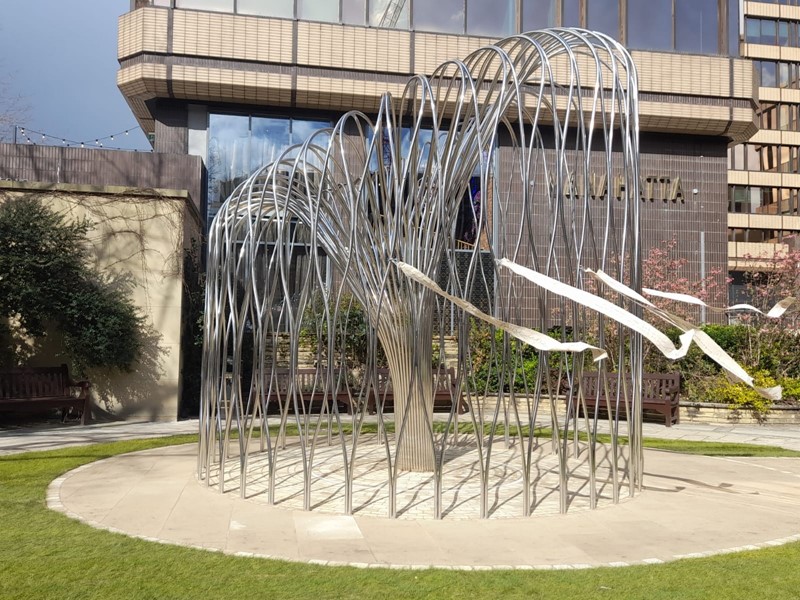 An unveiling ceremony of Sheffield's new permanent Covid Memorial sculpture took place today, led by the Leader of Sheffield City Council, Councillor Terry Fox and Lord Mayor, Councillor Sioned-Mair Richards.
The unique memorial, commissioned by Sheffield City Council and designed by George King of George King Architects is located in Balm Green Gardens and will be a meaningful, long-lasting, and creative tribute to those who have lost their lives, those who have worked above and beyond to keep people as safe as possible and those who have been affected by Covid.
Made in Sheffield out of stainless steel, the sculpture was made by Steel Line Limited, who brought George's drawings to life and created the 4 metres by 4 metres memorial artwork over a number of weeks to ensure that it would be in place by today, 23rd March, three years ago to the day that the first lockdown was announced.
George said: "When we thought about Covid and how the pandemic affected so many people, the willow tree idea was powerful to us. A willow has a strong trunk which symbolises how people worked together to create the strength that was needed at such a difficult time. It is also a flexible and resilient tree, whilst also being delicate. When a storm hits, the tree bends with it. Its long branches sweep all the way to the ground and when it rains the droplets fall all the way down the branches like tears to the ground. When you stand underneath a willow tree you feel embraced and protected.
"It's an honour to have been selected to create this sculpture and it's a big responsibility. Covid affected everyone, and we have taken this project seriously to reflect people's experiences. It's been so special to work with local steel and special metals fabricators, Steel Line Limited, who have been incredible. They have worked long hours in the last few weeks to turn my design into something exceptional and their dedication and craftsmanship is second to none. It's been a pleasure to see their work on the sculpture take shape and to see its completion. It's a very special, significant piece of art."
"We hope that people will be proud of the final piece, made in Sheffield for the people of Sheffield."
The memorial is constructed using stainless steel to reflect the city's heritage. Its design allows people to connect with it either by reading the messages it holds or by attaching temporary messages or ribbons. Work will carry on over the coming months across Sheffield's communities focusing on how people can build a meaningful connection with the memorial.
Sitting within the planted garden, the sculpture will be accessible to everyone and will provide a focal point to the space for people to pay their respects, place tributes and memories and be a symbol that people from all cultures can understand and relate to.
Balm Green Gardens was gifted to Sheffield in 1937, after J. G. Graves negotiated the purchase of the small piece of land from the adjacent Grand Hotel. At the time he said: "It will, I hope, provide a note of quiet sympathy which will be in harmony with the feelings of those who visit the War Memorial in the spirit of a visit to a sacred place."
For this Covid Memorial project, the gardens have been upgraded to create better accessibility for anyone with a disability. Final works including planting and paving will be completed over the next few weeks in and around the gardens and the sculpture.
Councillor Terry Fox, Leader of Sheffield City Council, said: "Today has been quite something. To see the installation of such an important piece of sculpture, created in Sheffield by a local company out of stainless steel for the people of Sheffield feels like such an apt way to remember family members, friends and colleagues who are no longer with us. Thank you to everyone who has made this possible today.
"My thoughts are with everyone who lost someone to Covid, those who are struggling with bereavement and those who are here and living with the effects of Covid. I'd like to think that the ceremony today, with the speeches, the stories, the songs from Beck Primary School and the reflections written on the tree ribbons have touched people and brought us together to show our respect for those who have lost their lives and those who have worked solidly throughout the pandemic to keep people as safe as possible.
"This memorial will now be a place where anyone can go and just stand and look at it, or stand inside it, to reflect, be thoughtful and show compassion. Covid was difficult for everyone in all sorts of ways, but for some people its effects will last a lifetime. We know that some groups were disproportionately affected by Covid, and we are committed to making sure their voices are reflected in this memorial and committed to reducing the inequalities we see in the city as much as we can."
Other stories you might like