Plans revealed for first Active Neighbourhood in Sheffield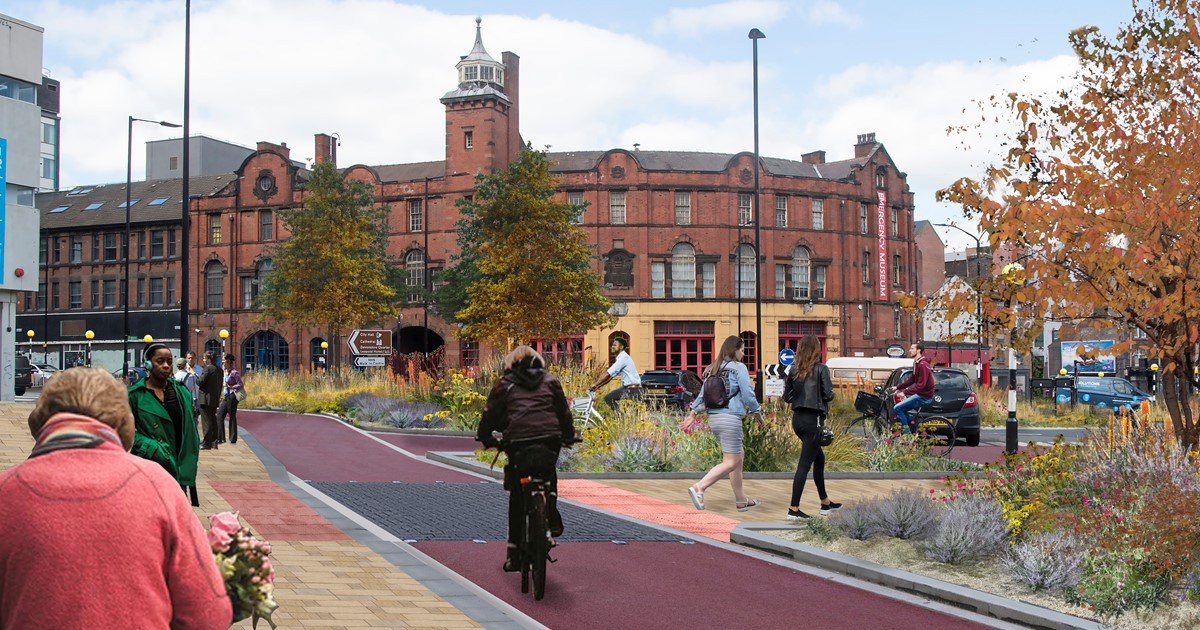 Proposals to create an Active Neighbourhood in the Kelham and Neepsend area are launched today so that people can have their say on the plans.  
The proposals are part of the Council's Connecting Sheffield 'Kelham – Neepsend – City Centre' project to improve sustainable travel, create safer and more attractive travel routes into and around the area. Notably for walking, cycling and to make bus routes quicker and more direct.
As part of the project, an Active Neighbourhood is proposed, which would be established by stopping cars taking short cuts through the area. The reduction in traffic is mainly created by road closures, which prevent cars cutting through whilst allowing access for businesses, residents, and visitors.
Evidence shared by other places across the country show that Active Neighbourhoods, also known as Low Traffic Neighbourhoods, see more people walking and cycling around the area as a safer and healthier environment is created.
The plans for the area also feature a priority bus route to improve travel time to the city centre and a largely segregated lane for cycling, as well as Sheffield's first 'Dutch-style' roundabout and improvements for pedestrians that include a continuous foot path through Burngreave as far as Abbeyfield Park. Detailed information on the changes can be found on the Connecting Sheffield website here.
Cllr Julie Grocutt, Cabinet Member for Transport and Development at Sheffield City Council, said:
"Neepsend and Kelham are much loved areas, with their industrial background and mix of great shops, bars and restaurants. Stopping unnecessary journeys through the area will help to establish the area as a safer, healthier, and vibrant place to live, work and visit.
"Some of the proposed changes have already been in place through the last few months as part of emergency social distancing and active travel measures, and we have seen a positive response to them so far. I'd like to encourage residents and visitors to the area to feedback on what is and isn't working so that we can use this information to help shape the permanent plans.
"I am excited about the proposals for the area which feature new initiatives that haven't been tried in the city before. We recognise that change can have its issues, and we need to make sure that any schemes put in place are practical and beneficial to residents and visitors. Therefore. we're asking for as many people as possible to look at the plans and to share your views with us."
Dan Jarvis, Mayor of the Sheffield City Region, said:
"Improving transport connectivity across South Yorkshire is crucial to our future prosperity, and has been one of my top priorities since becoming Mayor.
"After securing £166m in Transforming Cities Fund investment for the region, I'm pleased that we are enabling people to make more journeys on foot and by bike, to and from work and leisure. This scheme is a great example of how we can create more sustainable and active travel routes across Sheffield.
"This will not only benefit the health of our residents, but also help address the climate crisis. I'm determined to build a stronger, greener and fairer future for South Yorkshire and investment in our better public transport is critical to this mission."
Dame Sarah Storey, Sheffield City Region Active Travel Commissioner, said:
"It is fantastic to see the plans for this ambitious scheme being shared. Sheffield City Council have done a brilliant job to include their first Dutch-style roundabout and develop connected routes from the trial scheme that was introduced at Kelham Island last year.
"Connected and continuous infrastructure, with priority crossings for people walking and cycling, ensure that journeys via active modes no longer have to suffer the usual delay and inconvenience, and are crucial to enabling people to leave their cars behind for short, everyday journeys."
The proposals are part of the Council's Connecting Sheffield scheme, which focuses on adapting the city's infrastructure for the future, to allow for walking, cycling and public transport to be the first choice of travel, from commuting to work to meeting friends.
This scheme will help to improve congestion and air quality, as well as encourage a healthier lifestyle, and create more opportunities in work and education. It follows the City Centre consultation which closed on 7th January. This first phase of the Connecting Sheffield project is funded by the Transforming Cities Fund.
The Transforming Cities Fund is a pot of money bid for and won by the Sheffield City Region from the government's Department of Transport. The funding can only be used in areas where there is the opportunity to increase access to work and productivity, in areas of high employment.
'City Centre' and 'Kelham – Neepsend - City Centre' are two of six schemes that will be financed by the Transforming Cities Fund. Details on the remaining plans will be shared for consultation later this year.
The full consultation for Kelham – Neepsend - City Centre can be found on the Connecting Sheffield website here: http://bit.ly/Neepsend-Kelham
You can also feedback your comments or request hard copy information by email: info@connecting-sheffield.co.uk, by phone: 0808 196 5105 or in writing: Freepost, Connecting SHF.
Other stories you might like