Plea to respect staff who are working to improve the city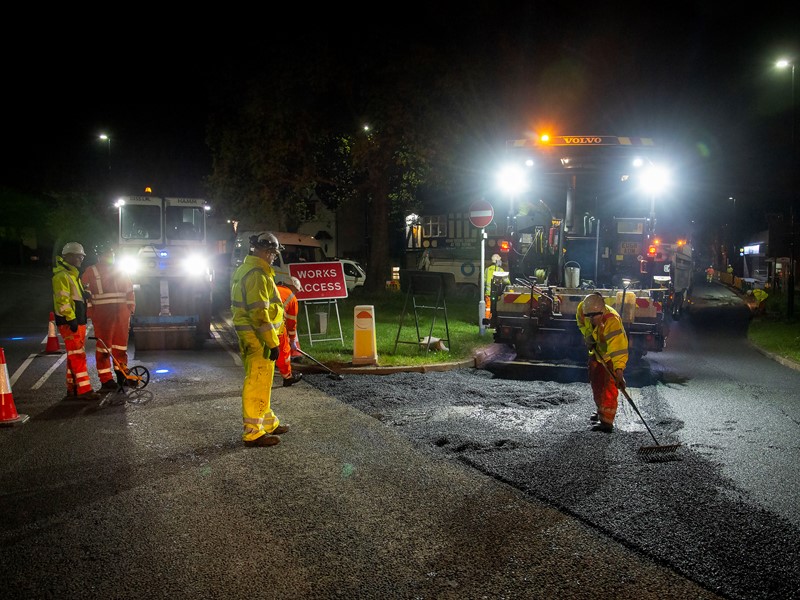 Sheffield City Council is urging residents across the city to increase their awareness, patience and respect for the workforce of two of its biggest service partners, Amey, the Council's highway maintenance contractor delivering the Streets Ahead programme, and Veolia, the Council's Waste Management contractor.
Streets Ahead includes an annual programme of road and pavement surfacing, and since 2012, more than 850 miles of roads and 1,730 miles of pavements in Sheffield have been resurfaced.  Inevitably, roadworks can cause delays due to closures and sometimes have to take place during the day, but where possible, works are completed overnight, especially on busy main roads.
Veolia provide waste and recycling collection services for all 250,000 households in Sheffield, emptying more than 11 million bins each year.  The bin collection process means that large refuse collection vehicles are stationary or slow moving on streets, and this can cause short delays to road users who have to wait behind the vehicles.  Veolia also operate Sheffield's 5 Household Waste Recycling Centres, and although residents are advised not to queue on roads or face fines, the popularity of the sites means that queuing traffic can cause delays.    
Unfortunately, this doesn't deter some motorists from ignoring road closures and stationary vehicles, often mounting the pavement to try to get through, regardless of the dangers posed to themselves, other members of the public as well as Streets Ahead and Veolia workers.
A recent example occurred in the south-east of the city where work was being carried out overnight. The Streets Ahead Supervisor reported a car that had mounted the pavement driving around the road closure point. When they were unable to drive any further, the driver got out of their car, threw traffic cones and barriers at operatives whilst shouting abuse and causing damage to nearby vehicles.
This incident, along with every one that occurs, was reported to the police.
Whilst physical violence of this nature is less prevalent, the most common issue faced by the Streets Ahead and Veolia workforce is verbal abuse, as Darren Butt, Account Director for Streets Ahead says:
"It's a frequent occurrence unfortunately. Our workforce is spat upon, have objects such as bottles thrown at them, and are frequently abused just for doing their jobs.
"Even during these difficult times, when we are continuing to deliver essential services on behalf of the city, this behaviour has continued.
Darren goes on to say, "We hope to further raise awareness of the issues and ask that everyone who comes into contact with our workforce, whether on foot or whilst driving, treats them with respect."
Councillor Mark Jones, Cabinet Member for Environment, Streetscene and Climate Change, said:
"I am enormously grateful for the hard work and dedication shown by Streets Ahead and Veolia workers in making Sheffield, a cleaner and greener city for all residents and visitors. Although traffic delays can be frustrating for everyone, the very least we expect for our workforce is to return home to their families after a day's work, without having their lives put at risk or being subjected to any physical and verbal abuse by the reckless behaviour of a very small minority of people, simply for doing their job.
"I ask that any residents who witness this type of behaviour towards any of our staff, or our partners staff, please report this to South Yorkshire Police to help prevent such incidents."
Amey has launched its 'Stamp It Out' campaign, asking as many people as possible to sign a petition to change the law, to give roadworkers and those working on the frontline greater protection against abuse and violence. The petition needs 10,000 signatures for the subject to be debated in Parliament.
To get involved now with the Stamp it Out Campaign and sign the petition, follow the link here https://petition.parliament.uk/petitions/548480
There are a number of ways to report an incident to South Yorkshire Police. Find out more at:  https://www.southyorks.police.uk/contact-us/report-something/
Other stories you might like