Register with European Union Settlement Scheme (EUSS) to retain your rights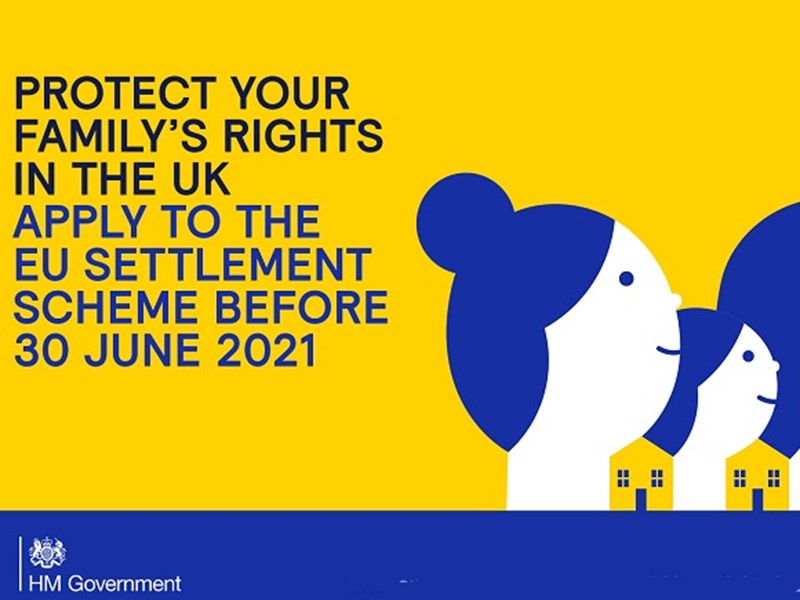 Help is available for all EU citizens in the city who must apply for apply for 'settled status' before the end of June 2021 to retain their right to live in the UK. Many people who have lived here for a long time think that they don't need to apply for this status, but they must apply so that they can continue to live in the UK after June. Over 4.88 million applications have already been made to the EU Settlement Scheme.
Except in a few cases, you need to apply for settled status if you're an EU, EEA or Swiss citizen or if you're not an EU, EEA or Swiss citizen, but your family member is.
This means you need to apply even if you:
were born in the UK but are not a British citizen - you can check if you're a British citizenif you're not sure
are a family member of an EU, EEA or Swiss citizen who does not need to apply - including if they're from Ireland
are an EU, EEA or Swiss citizen with a British citizen family member
If you are an EU citizen and you have children, you need to apply for them separately or if you're an EU, EEA or Swiss citizen and you have a family member who is an eligible person of Northern Ireland, you may be able to choose which way you apply.  You should not assume that because your child was born in this country that they are automatically a British citizen.
Free application process and support is available
Registering under the scheme all needs to be done online so you will need access to the internet and an email address. The outcome of your application will be emailed to you.  We know that this may be a daunting process but please do not put it off – and there is help available to anyone who needs support or advice to complete their application. This has been organised by Sheffield City Council and provided by Citizens Advice Sheffield (CAS).
The CAS Advice Line on 0808 278 7820 will provide straightforward, free help to anyone who needs support and guidance through the application. If you need more than support through the process, including additional advice on issues such as immigration, this is also available from CAS. If needed, CAS will also refer people to either Fir Vale Community Hub or Darnall Wellbeing for more support. They both offer bookable appointments and materials in different languages.
How we have helped
Many people in the city have now been helped to get settled status. One person told us:
"I was struggling with my EU settlement application scheme but didn't know how to go about it and then I remembered there was a time I visited firth park library when I was doing research for my studies. I saw a leaflet about how to get help with the EU settlement scheme at Darnall Well Being. Surprisingly I found the leaflet after a year in my drawer. I called the number on it and the person who answered asked me a few questions and to my surprise... put me on hold, spoke to the Home Office on my behalf, help completed the application with me on phone and I got the confirmation straightaway via email. It didn't end there. She has called me since then to remind me to always check my spam folder in case any Home Office emails have gone into there. I am so so happy with the help I had and will always recommend the service to others struggling. Thank you."
Councillor Paul Wood, Cabinet Member for Neighbourhoods and Community Safety said: "We would urge all EU citizens to check their immigration status and that of everyone in the family. Registering under the EUSS scheme is free and will offer them the same rights as they have at the moment. There's no reason to not apply to the scheme; it will simply mean that by doing so you retain your legal right to live in the UK. We've made sure that there is plenty of help available in Sheffield to make sure that no-one in the city finds that they need to prove their right to live here."
Clare Lodder, Chief Executive of Citizens Advice Sheffield said: "Our advisers are ready to help – even if you are not sure if you need to apply, phone us, email or text us and we will help you sort out your next steps. Where you need us to, we will provide that advice in your own language."
Resources
Posters and other resources advertising the need to apply for settled status are available are available for you to download here.
Other stories you might like