Remembrance Sunday in Sheffield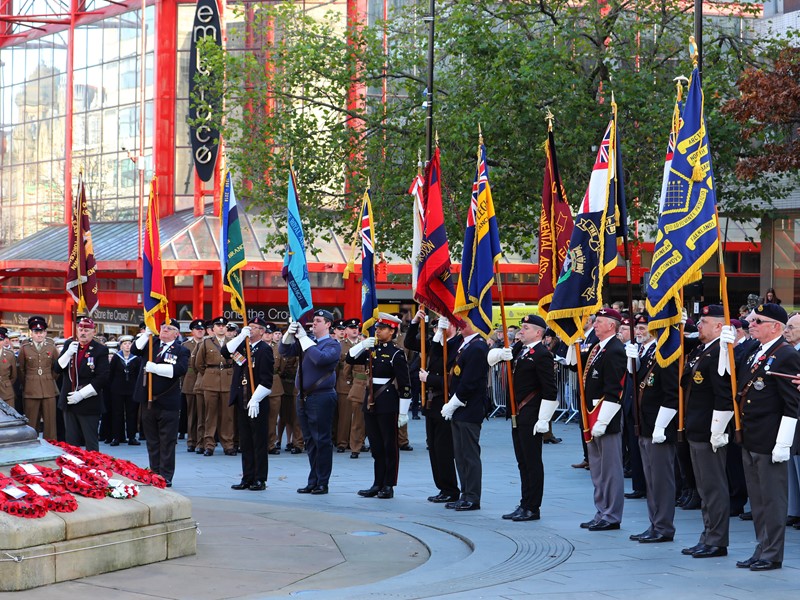 Sheffield will to join together to mark the National Day of Remembrance, at the Cenotaph in Barker's Pool on Sunday 13 November.
The Right Worshipful Lord Mayor of Sheffield, Councillor Sioned Mair-Richards, will be joined by the Lord Lieutenant and Master Cutler, plus veterans, service personnel and cadets to take part in a ceremony, join together in prayer, observe a silence and lay wreaths to remember the service and sacrifice of those in our Armed Forces and those who gave their lives for our country.
Proceedings will start at 10.30am and the service will be complete before 12noon.
Local people are invited to come along to the service and those who want to lay poppies or wreaths can do so at the end of the service.
Lord Mayor of Sheffield, Councillor Sioned-Mair Richards, said: "I'm wearing my poppy to demonstrate my own gratitude and the gratitude of this city to our Armed Forces personnel, veterans and the families of those who have lost loved ones in service.
"I'm proud to be leading the Remembrance Sunday service in Sheffield and invite the city to join me at the Cenotaph, as we come together in honour of all those who have fought bravely, given themselves fearlessly and sacrificed their own lives for the freedom of ours.
"On Remembrance Sunday, and indeed, every day we will reflect together, 'lest we forget'."
Remembrance Sunday Order of Service
At 10.30am Sheffield Citadel Salvation Army Band commences play, while Services and ex-Service Organisations assemble on Holly Street, where they will set off to start the procession from the City Hall to the Cenotaph at 10.47am.
The Exhortation will be spoken at 10.58am, with the Last Post at 10.59am.
Two minutes of silence will be observed at 11am, followed by wreath laying, a series of hymns, poems and readings, ending with a Blessing by the Lord Mayors Chaplain, followed by the National Anthem.
The parade will march from Barkers Pool and will give an 'eyes right' as they pass the Cenotaph, moving towards Leopold Street the parade will give an 'eyes right' to the Lord Lieutenant and the Lord Mayor. 
The parade will dismiss before 12 noon.
Events of the day are also listed on Sheffield Events Facebook page.
Other stories you might like